Your wardrobe isn't the only thing that deserves a bit of a spring upgrade! With the start of a new season just a few weeks away, now is the perfect time to switch up your home decor to reflect the changing weather and embrace all the airy spring vibes. Adding pops of color, fresh scents, lightweight linens, and fresh flowers are always on our spring to-do list, but this year, we tapped some of our favorite interior designers to find out their go-to spring home updates. If you too are ready to refresh your home for the season, adding another throw pillow to your living room and a spring wreath to your front door is just the beginning. Here are all the spring decor ideas designers are using to update their homes this season.
10 Spring Home Decor Ideas To Try In Your Own Home, According to Designers
1. Swap out your art
One of the easiest ways that you can freshen up your decor is by swapping your artwork—whether it be within your gallery wall, on your kitchen counter, above your mantel, or on your side table. Studio McGee styles art so well each season, so we look to them for inspiration for how to style artwork and what to incorporate in the spring to brighten a space. For example, if you currently have dark, moody landscape art on your entryway table, swap it with a print that includes pastel colors throughout instead. Easy changes like this can take your home from muted winter vibes to bright and fresh spring vibes in no time.
2. Change up your candle scents
Whether you keep a candle lit during your daily Zoom calls or always light a favorite fragrance as you wind down for the evening, why not switch up your scents in honor of the new season? Designer Adnan Anwar, who swears by this practice, shared a few of his favorite candle picks for spring. "I tend to switch out the musky, cedary, leathery scents for lighter and more herbal ones," he said. "I especially love garden mint candles."
Designer Leah Phillips agreed. "I switch out those earthy candles for ones that are more floral and bright. I have one called Urban Flower Market that is truly spring in a bottle."
3. Switch your table linens and accents
It doesn't matter if you live solo or share a dining space with four roommates—your kitchen table deserves a little seasonal love! "I'm someone who gets an irrational amount of joy from setting the table for dinner," designer Emma Beryl said. "Even if I'm just ordering a pizza, I really enjoy using nice glassware, napkins, and silverware because it makes the end of the day a little more celebratory."
When spring arrives, Beryl grabs delicate glassware and linen napkins in bright colors from her cabinets. She added, "I especially love to use all shades of blue and green in the spring because it relates to the outdoors and the generally verdant feeling of the season."
4. Add airy touches
Looking for light and airy living room ideas? Tuck those flannel blankets into storage and embrace lighter accents. For designer Danielle Muzynoski, that means giving her space a once-over and opting for timeless home decor that brings airy touches all around. "I'll switch my dark, heavy pottery for a hand-blown glass vase, for example," Muzynoski shared. "Pillows and blankets will be changed to lighter colors and linen textures."
5. Opt for spring-like bed linens
Your winter sheets kept you warm and cozy during the chillier months, but now that spring is here, away they go! "One of the best ways to update your home each season is fresh linens in the bedroom," designer Kathleen Walsh shared. "I have sets for fall and winter as well as spring and summer. They keep my room interesting and help me transition into a seasonal mindset."
If you usually gravitate toward neutral color schemes and paint colors in your home, a subtle touch of color peeking out of your bedding can bring a happy, fresh feeling to your room without it being too much of a contrast. Opt for sheets in shades of light pink, blue, yellow, and green.
6. Incorporate florals
Florals for spring? Groundbreaking (we had to). But seriously, there's a reason why vases full of fresh flowers are a must for designers. "Adding fresh, colorful flowers like tulips or hydrangeas in the primary rooms of my home makes it smell and look like spring," designer Whitney Durham said.
Designer Charli Hantman, on the other hand, is partial to emerald green hydrangeas and anemones. "There is something about how delicate they are that makes me forget the cold winter weather and start dreaming of summer," she said.
But don't worry—there's no need to spend a ton of money during this beautification process. "You can really have fun and get creative with the different colors and varieties of flowers offered at your local deli or supermarket," designer Jennifer Hunter noted. "No need to get too fancy here!"
7. Update your vases
While you're thinking about flowers, you may want to take this opportunity to update your vase collection. Designer Kate Jacobowitz likes to display her fresh flowers in new vases and vessels that she picks up online. "Etsy is such a good source for fun, quirky pottery," she said. "I love pieces with unusual shapes and color combinations grouped together; they are even interesting enough to stand on their own on days when fresh flowers just aren't in the cards!"
8. Lean into plants
If you're more of a plant person, bring on all the green friends this spring! "I'm always looking for ways to incorporate more indoor plants around the house," designer Leah Walder noted. "I'm using them as centerpieces, in my bookshelves, and in baskets by the entryway. It really makes our home feel more alive and ready for spring!" Whether you opt for live plants or realistic faux options, the fresh impact can't be denied.
9. Change out your coffee table books
Don't forget to give your coffee table a springtime refresh, too. "I always change out my coffee table books," said designer Muzynoski. "So while I had all neutrals out for winter, I might pick out some fun colored covers like pinks and greens for spring." Not only will these books work as spring living room decor, but they'll also give you and your guests something pretty to peruse while hanging out on the sofa.
10. Shop your own home
Home design trends make us want to redo our homes constantly, but TBH, you don't need to purchase a single item in order to transform your space for any season, including spring. Designer Ann Flanagan shared a tried-and-true trick that will help add some oomph to your home without breaking the bank. When it's time for a refresh, Flanagan will sort through a bin of home decor she keeps in her basement. "This bin is full of items I love, but not everything I love always has a place," she explained. "I play around by swapping in pieces and others out. Since I don't subscribe to trends, most items are classic, and that way my space feels new without having to go shopping."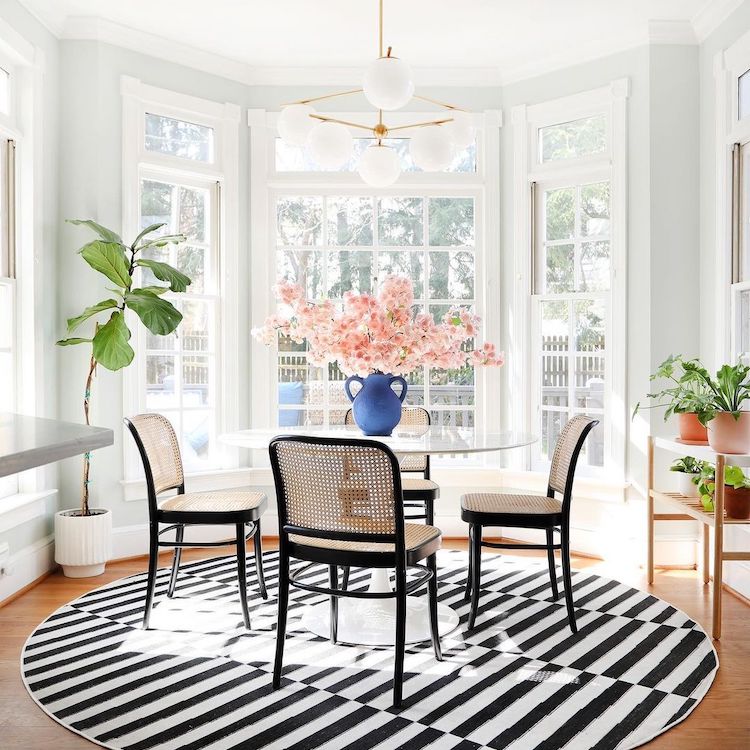 11 Easy Ways to Refresh Your Home for Spring in Just One Day
link