Home design apps have truly revolutionized the way we envision and plan changes to our living spaces. They're like a digital playground for those of us who love to tinker with decor, layouts, and aesthetics. From shopping for the perfect piece of decor to crafting mood boards or even just indulging in some design fun, these apps are a godsend for beginners.
In today's digital age, where we spend over 60% of our time immersed in screens, it's no surprise that our attention spans might be dwindling. But on the flip side, this digital immersion has made tasks like home and interior design more streamlined and efficient. Whether you're designing your dream home or just looking to store a wealth of knowledge, there's an app for that.
These home design apps, available for both Android and iOS, are incredibly detailed. Some allow you to play around with your existing furniture by letting you upload photos of your rooms and virtually redecorate. Others offer comprehensive floor plans and 3D models to help you visualize interior perspectives. But remember, while these tools can open doors to endless creativity, their effectiveness truly lies in the hands of the user. Before diving in, it's worth reflecting on what you're seeking:
Are you looking for architectural guidance or interior design tips? Seeking inspiration or planning a renovation? Dreaming of a grand home or just sketching a basic 2D floor plan? Whatever your needs, there's likely an app out there ready to assist. Happy designing!
Home design apps have truly revolutionized the way we envision and plan changes to our living spaces. They're like a digital playground for those of us who love to tinker with decor, layouts, and aesthetics. From shopping for the perfect piece of decor to crafting mood boards or even just indulging in some design fun, these apps are a godsend for beginners.
I remember when I first moved into my own apartment. It was a quaint little space with a lot of potential, but I was overwhelmed with where to start. My mother, an old-school interior designer, always relied on sketches and mood boards. But I wanted something more interactive. That's when I stumbled upon Homestyler. It was a game-changer for me. I could virtually place furniture, experiment with colors, and even visualize how a particular light fixture would illuminate my living room. It was like having a personal interior designer in my pocket!
In today's digital age, where we spend over 60% of our time immersed in screens, it's no surprise that our attention spans might be dwindling. But on the flip side, this digital immersion has made tasks like home and interior design more streamlined and efficient. Whether you're designing your dream home or just looking to store a wealth of knowledge, there's an app for that.
Here is a list of the 10 best home design apps that designers use in 2023:
Havenly
HomeStyler
RoomPlanner By Ikea
Houzz
MagicPlan
Planner 5D
Room Scan Pro
Rooomy
Charish
Decaso
Which Is the Best Home Design App for Computers?
Designing a home from scratch can be both thrilling and daunting. But thanks to modern technology, homeowners now have a powerful ally not just in their toolbox but on their computers: home design software.
These applications offer a plethora of features, from architectural insights and budgeting tools to DIY tutorials and redesign concepts.Not only do these apps infuse creativity and precision into your projects, but they also optimize time, cut down costs, and enhance efficiency. Ready to embark on your next interior design adventure? Here's a rundown of the top 10 home design software for professionals in 2023:
Foyr Neo
Sketchup
Floorplanner
HouzzPro
SmartDraw
HomebyMe
3DS Max
Revit
AutoCAD
Ivy
Best Apps for Android and iOS:
1. Havenly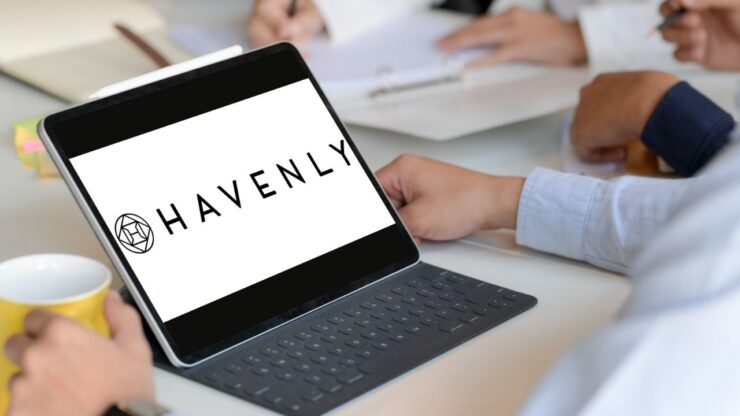 Dive into the world of design with Havenly. Connect with their designers for expert advice, receive a curated shopping list tailored to your taste, and pick out the perfect décor pieces. While the basic version is free, you can elevate your experience with their custom design systems for $79.
Like any service, Havenly has its pros and cons. However, if you're on the hunt for an affordable solution to spruce up your space, it's definitely worth a shot. For a smoother experience, it's a good idea to touch base with their customer support to iron out any potential hiccups.
Available on: App Store
Rating: 4.5 on iOS
Cost: Free with an option to upgrade for $79.
2. Homestyler
Ever dreamt of stepping into the shoes of an interior designer? Homestyler might just be your gateway. Among the myriad of interior design apps and games, Homestyler stands out as a free platform that lets you unleash your creative flair.
Craft your own DIY design projects, save them, and share your visions with friends, family, or professionals. Brought to you by Autodesk, the creators of AutoCAD, this app is rooted in professional-grade design tools tailored for home enthusiasts.
Despite its professional pedigree, Homestyler is user-friendly. Its intuitive drag-and-drop feature makes crafting floor plans and real-life templates a breeze. Especially for those new to the world of virtual design, the 3D floor designer and room creator tools are a boon.
The furnishing and decorating tool is a treasure trove, offering choices from cabinets and appliances to furniture and almost any decor item you can imagine. Once you've decked out your space, you can visualize it with products from various vendors, right down to the area rugs. And when your masterpiece is complete? Simply print it out.
Available on: App Store, Google Play Store
Rating: 4.5 on iOS, 3.6 on Android
Cost: Free
3. RoomPlanner by Ikea
Everyone's favorite furniture store, IKEA, brings to the table its very own design app, infused with its signature style. The IKEA Home Planner is a web-based application that offers a user-friendly interface for crafting your personal space layout.
While it might not be the go-to for seasoned interior designers due to its limited features, it's a delightful tool for beginners, homeowners, and those dabbling in home improvements. Simply input room dimensions, design the walls and floors, and pick your desired items from their extensive gallery.
If you fall in love with your creation, you can even curate a wishlist for your revamped space. The app also boasts specialized planners for kitchens, bedrooms, bathrooms, and storage areas. It's straightforward, free, and a handy companion when budgeting for room makeovers.
Available on: App Store, Google Play Store
Rating: 4.4 on iOS, 4.6 on Android
Cost: Free
4. Houzz
Houzz isn't just an app; it's a reservoir of inspiration. While it leans more towards being a mood board and reference tool than design software, it's an invaluable asset for those seeking design inspiration.
Every grand vision starts with a spark of creativity, and Houzz ensures you're never short of it. With a vast repository of design ideas, recent projects, and product reviews, it's like having an interior design magazine in your pocket.
The app is not only free and user-friendly but also perfectly structured for exploring and visualizing different spaces. Plus, if you're looking to bring your vision to life, Houzz connects you with local professionals, be it designers, architects, or vendors.
Available on: App Store, Google Play Store
Rating: 4.8 on iOS, 4.7 on Android
Cost: Free
5. MagicPlan
MagicPlan is a game-changer for those who dread the complexities of floor planning. Available for both iOS and Android, this app transforms user-scanned images into floor plans, eliminating the need for manual measurements or drawings. It's the go-to for creating up-to-date floor layouts.
While it might not offer the depth of features found in more advanced software, it's a boon for beginners aiming for a quick room design. The app uses the smartphone's camera and GPS to create floor plans with dimensions. By stitching together images, it calculates the room's dimensions, producing a 3D floor plan. Users can even modify these plans, adding elements like plumbing and electrical fixtures. However, remember it's an approximation, so always double-check measurements. For a deeper dive, their tutorials are quite handy.
Available on: App Store, Google Play Store
Rating: 4.7 on iOS, 4.1 on Android
Cost: Free
In-App Purchases:

Sketch Plan (1 Month)

$9.99

Standard Subscription

$9.99

Report Plan (1 Month)

$29.99

Business Subscription

$19.99

Monthly Business Subscription

$19.99

Estimate Plan (1 Month)

$89.99

Standard Subscription

$99.99

Sketch Plan (1 Year)

$99.99

Yearly Business Subscription

$199.99

Business Subscription

$199.99
6. Planner 5D
Planner 5D stands out as one of the most comprehensive free room design apps out there. From crafting basic spaces with walls and doors to diving deep into intricate design ideas, this app has it all. And it's not just limited to interiors; you can also design outdoor spaces and even swimming pools, all rendered in stunning 3D.
The app's gallery is a treasure trove of design inspiration. Explore innovative concepts from the global design community and bring them to life in your space. With its user-friendly interface, 2D and 3D viewing options, a vast catalog of over 4000 items, and cloud storage for projects, Planner 5D is a complete design toolkit. However, to unlock its full potential, there's a fee.
Available on: App Store, Google Play Store
Rating: 4.3 on iOS, 3.5 on Android
Cost: For iOS – Monthly subscription at $9.99 or Yearly subscription at $59.99 (prices may vary by region)
7. Room Scan Pro
RoomScan Pro is a marvel for those who dread the intricacies of measuring rooms. Using the iPhone's built-in technology, it gauges wall heights, lengths, angles, and even doorways. Just tap your phone against each wall, and as you move around the room, the app magically crafts a floor plan. Beyond the touch-to-measure feature, RoomScan Pro offers 3D plans, manual drawing, and even augmented reality scans. It even extends its capabilities to scanning exteriors, gardens, and yards with ExteriorScan & PlotScan.
Available on: App Store
Rating: 4.3 on iOS
Cost: Free with a trial for home and interior design. Post-trial, a payment is required.
In-App Purchases: Full Unlock – $8.49
8. Rooomy
Rooomy, developed by LOFT, is a leap into the future of home design, harnessing the power of augmented reality. This app allows users to transform 2D images or scans into immersive 3D models, offering a tangible sense of space and design. Previously only on iPad, it's now available for iPhone users, making room visualization even more accessible.
Available on: App Store
Rating: 2.7 on iOS
Cost: Free
9. Chairish
Chairish is more than just a design app; it's a marketplace for both vintage and new furniture. Whether you're selling a high-value antique or a piece you've crafted, Chairish is the platform. Listing is free if you're selling fewer than 10 items a month, with Chairish taking a 30% commission. For those with more items, a loyalty subscription is available, offering benefits like faster payments and promoted listings. The app also handles shipping differently, suggesting sellers include shipping costs in the listed price or opt for local pick-up. Payments are processed via PayPal, ensuring security for both buyers and sellers.
Available on: App Store
Rating: 4.9 on iOS
Cost: Free with a paid membership option for added features.
10. Decaso
Decaso stands out as a curated platform for those with a penchant for high-end, authentic brand items. It showcases an exquisite collection from some of the world's most reputable dealers. The app encourages direct interaction, allowing customers to reach out to expert dealers for inquiries and purchases.
With a selection of over 25,000 handpicked items and regular additions, Decaso ensures there's always something fresh to discover. The "View in your room" feature lets users visualize items in their space, and they can even share photos for feedback from friends and family.
The app's user-friendly interface allows for easy filtering by color, type, style, and design. Communication with dealers is seamless, ensuring prompt responses. Users can indulge in vivid imagery, detailed product insights, and even maintain a favorites list with a simple heart icon. The app also keeps track of your browsing history for easy reference.
Available on: App Store
Cost: Free
Best Apps for Mac and Windows:
11. Foyr Neo
Foyr Neo is a designer's dream come true, offering a seamless transition from 2D sketches to lifelike 3D visualizations. Whether you're starting with a basic sketch of room walls or uploading an existing floor plan, Foyr Neo makes it easy to flesh out the details and bring spaces to life.
The platform boasts tools that can transform your ideas into photorealistic visuals in mere minutes. With a Neo membership, users gain access to a vast library of over 50,000 pre-made 3D models. These adjustable objects can be effortlessly dragged and dropped into projects or added to a checklist. For those who prefer a personal touch, the platform allows the creation of custom 3D models, ensuring designs are both unique and precise.
Foyr Neo doesn't stop at individual items. It offers a plethora of pre-designed room styles, encompassing living spaces, bathrooms, offices, and more, curated from global designs. Its groundbreaking AI model ensures unparalleled realism in designs. Plus, the rendering quality is top-notch, achieved in record time.
While it's a web-based platform, it's optimized for desktops and laptops, compatible with both Mac and Windows, and best experienced on the Google Chrome browser.
One of the standout features of Foyr Neo is its generous 14-day trial period, allowing users to experience its capabilities before committing.
12. Sketchup
Sketchup is a powerhouse in the realm of 3D design. It's user-friendly, making the complexities of AR/VR design seem effortless. Whether you're sketching designs manually or leveraging its vast array of tools, Sketchup offers industry-standard capabilities at a reasonable price. While $440 per year might seem steep for hobbyists, for those serious about design, it's worth every penny.
Think of Sketchup as a canvas that brings your visions to life. The free version is expansive, catering to budding home designers with unlimited creative potential. For professionals like architects or interior designers, the premium version offers advanced features, albeit at a cost. Beginners can access it for $10 monthly with basic design tools, while the full suite for advanced designs comes at $1199 annually. It's a premium choice, but its reputation in the design world speaks for itself.
Available on: App Store, Google Play Store
Rating: 4.3 on iOS, 2.6 on Android
Cost: $1199 per year
In-App Purchases: SketchUp Go – $119.99
13. Floorplanner
Floorplanner stands true to its name, offering the optimal platform for crafting floor plans. Within moments, users can transition from 2D blueprints to immersive 3D interior visuals using the intuitive online editor.
While the basic account is free, those seeking enhanced visuals or advanced features will need to upgrade to the paid version. But for those quick sketches or basic layouts, the free version is more than sufficient. Whether you're moving into a new space, planning a wedding, or revamping your living room, Floorplanner has the tools to bring your visions to life. Recreate spaces like homes, gardens, or offices with ease, and furnish them using the extensive item library.
Available on: App Store, Google Play Store
Rating: 2.2 on iOS, 2.5 on Android
Cost: Free
14. HouzzPro
HouzzPro is a premium design software that offers an all-in-one solution for professionals. It not only allows users to monitor and showcase their design projects but also facilitates online payments. With a monthly subscription ranging from $59 to $99, it might seem pricey, but it packs in all the essential features.
While it's user-friendly, the cost might be a deterrent for beginners. However, for established interior design businesses, it's a worthy investment. The platform is tailored for professionals, distinguishing it from casual design tools. Setting up accounts and creating project folders is straightforward, but accessing advanced features comes at a price.
Houzz recently announced the launch of Houzz Pro, a comprehensive suite of tools designed to empower design and renovation professionals in managing their businesses. The Pro calendar, a notable feature, integrates scheduling, making it easier to coordinate with clients and prospects.
Available on: App Store, Google Play Store
Rating: 4.7 on iOS, 4.3 on Android
Cost: Free
In-App Purchases:

Starter Monthly Free Trial

$64.99

Monthly

$39.99

Essential Monthly Free Trial

$84.99

Starter Monthly

$64.99

Annual

$399.99

Houzz Pro Essential

$84.99

Starter Annual

$699.99

Starter Free Trial Annual

$699.99
15. SmartDraw
SmartDraw is more than just a design tool; it's a comprehensive suite for creating project maps, schedules, marketing charts, and flowcharts. Among its diverse offerings is a feature dedicated to designing floor plans and individual room layouts. Whether you're looking to design office spaces, homes, individual rooms, or even building elevations, SmartDraw has got you covered.
It's especially suited for individuals or businesses that prefer a more straightforward approach without delving deep into architectural software. The platform offers a free trial, allowing users to test its capabilities before committing to a purchase. With a vast array of templates, vehicles, building tools, and pre-installed plans, SmartDraw offers nearly limitless design possibilities.
Cost: Free trial available. Subscriptions at $9.95/month or a one-time fee of $297 for a single license.
16. HomebyMe
HomeByMe is an intuitive web-based room design tool that allows users to craft their spaces from the ground up. Starting in 2D, users can lay out rooms, place furniture, and add decorations. Once satisfied, they can elevate their designs into immersive 3D, offering a holistic view of the envisioned space.
This user-friendly app is entirely free, enabling users to sketch their rooms in 2D and populate them with the latest furniture and decor items. While you can use the software on your PC or tablet without an account, creating an account becomes essential if you wish to save your designs or share them.
As you begin to populate your 2D sketch with furniture, the magic unfolds, transforming it into a 3D visualization.
Available on: App Store, Google Play Store
Rating: 4.4 on iOS, 4.2 on Android
Cost: Free with a full version available at $14.99
17. 3DS Max
3ds Max stands tall as a powerhouse in the realm of 3D modeling, animation, and rendering. Developed by Autodesk, the same company behind renowned software like Maya and AutoCAD, 3ds Max is a favorite among game developers, TV studios, and architects.
It's predominantly used for character modeling and animation, as well as for photorealistic rendering of images, be it buildings or other objects. When it comes to 3D modeling, 3ds Max's speed, agility, and versatility are unparalleled. It's a staple in many professional studios, playing a pivotal role in their gaming and movie production pipelines.
3ds Max's reputation in the 3D world is well-earned, given its comprehensive toolset that caters to both novices and seasoned professionals. Whether you're crafting a character for a game or visualizing an architectural marvel, 3ds Max is the go-to software for many.
18. Revit
Revit is a top-tier software tailored for interior design schematics and concepts. It's the perfect fit for professional interior designers who require a deep dive into CAM and CAD design tools. Revit is designed to not only meet but exceed client expectations, ensuring you secure that coveted project. While it comes with a hefty price tag, the value it offers is undeniable.
Memberships start at a substantial $200 per month, granting users the ability to craft high-quality 3D visuals. For those looking to collaborate, there's an option to team up and subscribe for $325 monthly. This makes Revit an excellent choice for team collaborations, especially since it integrates BIM and foundational design principles. The software is intricate, but its 30-day free trial allows users to get a feel before committing to a subscription.
At its core, Revit is an architectural design and documentation software, widely adopted by structural engineers and architects. It's revered for its precision in building modeling, with many professionals favoring BIM over traditional CAD for its efficiency and accuracy.
19. AutoCAD
AutoCAD stands as a pioneer in the realm of computer-aided design (CAD), offering both 2-D and 3-D drafting capabilities. Developed and marketed by Autodesk Inc., AutoCAD revolutionized the design world as one of the earliest CAD programs available for personal computers.
With a monthly subscription set at $210 and an annual rate of $1690, AutoCAD provides robust 2D and 3D CAD programming capabilities. It's a testament to its enduring legacy that it remains a staple in design studios and architectural firms worldwide.
Both iOS and Android users can experience Autodesk's prowess through their respective app stores, making design and drafting accessible on the go.
20. Ivy
Ivy is revolutionizing the interior design landscape. By harnessing the power of technology, it streamlines the operational aspects of an interior design project, allowing designers to focus more on the creative side. The primary aim of Ivy is to alleviate the complexities and challenges traditionally associated with the industry.
Positioned as a business tool, Ivy is a boon for designers burdened with logistical tasks. It offers a centralized platform to manage projects, invoices, expenses, and client interactions. The convenience doesn't stop at desktops; Ivy's mobile application ensures that designers can handle a multitude of tasks on the go.
Whether it's sourcing materials, overseeing projects, tracking time and expenses, or real-time room measurements, Ivy has got it covered. It's a comprehensive solution designed to empower interior designers in today's fast-paced digital age.
Final Words
In the ever-evolving world of design, technology has become an indispensable ally. From the casual homeowner looking to revamp a room to the professional architect planning a skyscraper, there's a digital tool tailored to every need. These apps and software not only streamline the design process but also bring visions to life in ways previously thought impossible.
As we continue to embrace the digital age, it's exciting to think of the innovations that lie ahead. For now, these tools are a testament to the perfect marriage of creativity and technology, making the world of design more accessible and boundless than ever.
link