Our minimalist Thanksgiving decor ideas are perfect for creating a simple and sophisticated seasonal look that prioritizes feelings of calm and coziness. 
Of course, maximalist and turkey-themed Thanksgiving decor is not for everyone, so if minimalism is more your style, we've asked interior designers to share their favorite subtle styling tips to embrace for Thanksgiving celebrations. 
Exploring everything from fresh and contemporary color palettes to putting all your decorating focus into your Thanksgiving table rather than throughout your home, this is how to create a stylish Thanksgiving scheme with a more pared-back approach to decoration.
How to take a minimalist approach to Thanksgiving decor 
Whether you've been looking into modern Thanksgiving decorating ideas and have decided on a more muted and contemporary theme, or are after the perfect seasonal accents to complement your minimalist interior space, explore the best minimalist Thanksgiving decor ideas favored by designers.
1. Create a simple and serene Thanksgiving tablescape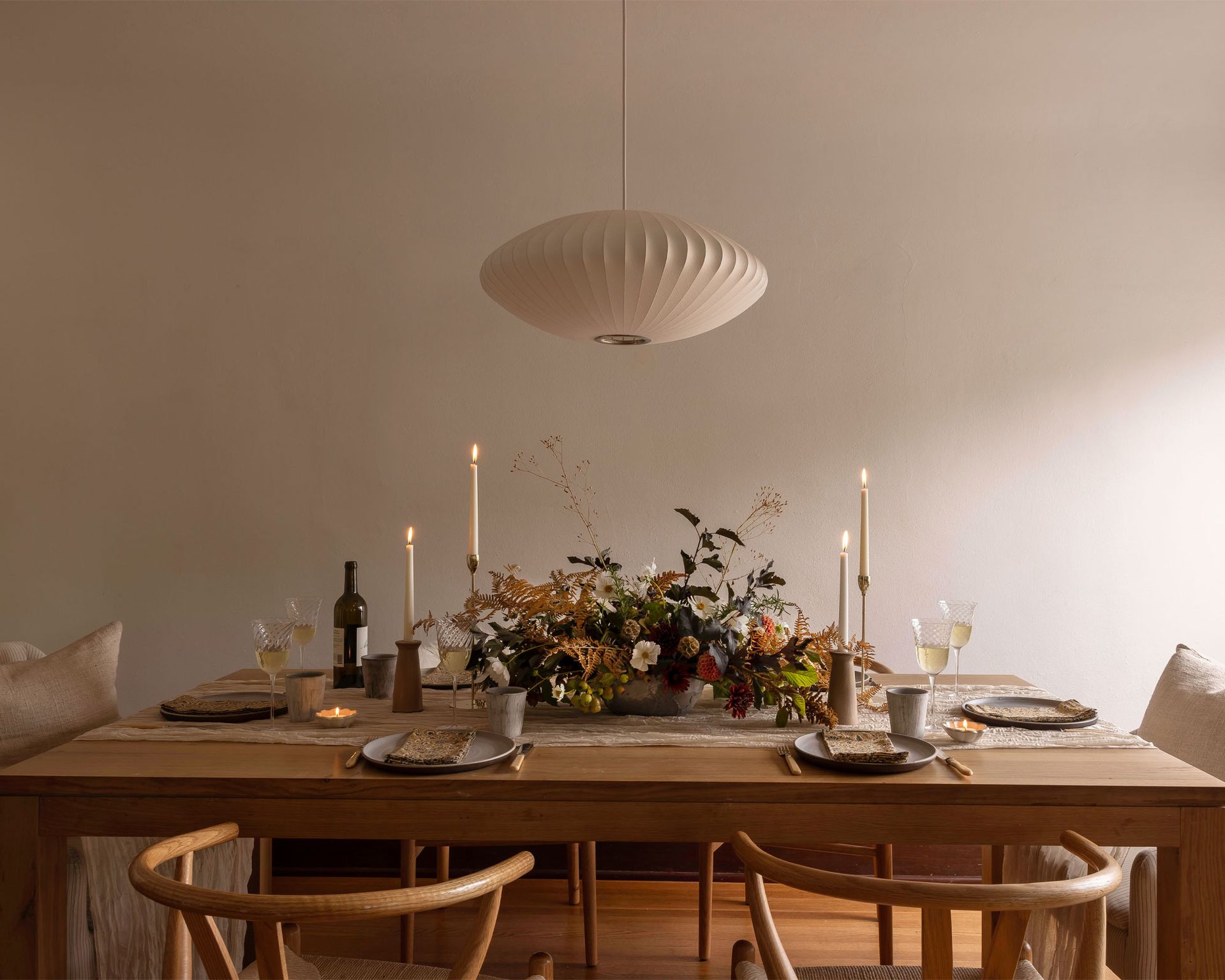 'For a modern aesthetic, clean lines, uncluttered surfaces, and an overall sense of calm are key for a minimal Thanksgiving scheme. In my opinion, the best way to achieve both style and simplicity is by focusing on a beautifully set dining table adorned with clean, minimalist centerpieces,'  suggests Anna Tatsioni, lead interior designer and architect at Decorilla. 
Interior designer Artem Kropovinsky agrees and says, 'Swap ornate tablecloths and heavy fabrics for a fresh and more streamlined look. Linen runners and matte ceramic dishes are ideal for introducing an organic touch to a minimalist table setting.'
Beautifully shown in this dining room styled by Chloe Dean, the rustic wooden table has been accessorized with a cozy, cream runner, neutral tableware and inviting candles, with the stand-out vase of flowers and foliage working as a wonderful Thanksgiving centerpiece.
Founder of NYC-based interior design firm, Arsight, Artem Kropovinsky has a decade of extensive global design experience, connecting a cohesive, collaborative team of passionate professionals, who work on interior projects in the U.S. and worldwide. 
2. Opt for more muted, calming colorways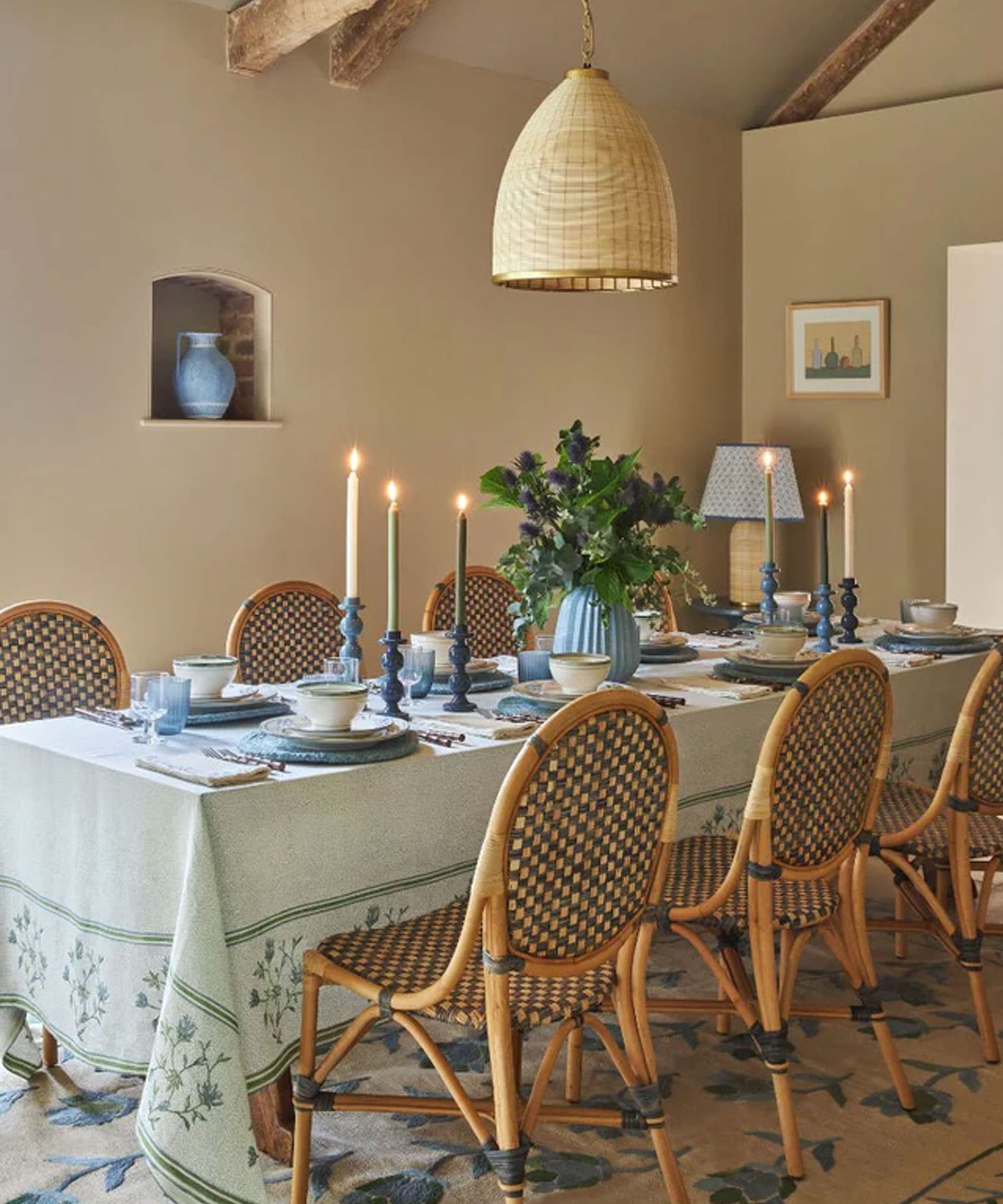 When many of us plan our Thanksgiving decorations, we are drawn to rich palettes of fall colors with plenty of red, yellow, and orange. These warm colors can still work wonderfully in a minimalist space, but if you're wanting your Thanksgiving scheme to feel light and bright, turn to neutral shades or embrace a cool color scheme instead.
'While typical fall trends lean towards darker hues, switching it up to whites, lights, neutrals, and softer colors can add a real relaxed feel to your home for the holidays. Keep coastal colors incorporated into your fall table settings for an unexpected and delightful twist. Think whites, creams, and blues instead of the traditional browns and darks,' says Gaelle Dudley, interior designer, color specialist, and founder of GLDESIGN.
Designer Nikki Rajnovich also agrees and says, 'For minimalist Thanksgiving decor, neutral is the name of the game. Swap the bright colors and go for a neutral palette instead. Think beige, cream, taupe, and soft grays and complement with dashes of copper or cold for added contrast and warmth.'
Gaelle Dudley is the founder and creative director of GLDESIGN, an interior design firm based in Fairfield County, Connecticut. Inspired by her childhood in France, New England shorelines, California Dreams and Florida pastels, Gaelle and the GLDESIGN team weave beach living into every client's home.
3. Decorate with flowers and foliage
One of the easiest ways you can decorate your home for Thanksgiving and celebrate the changing of the seasons is through adorning your home with inviting natural accents. From vases of fall flowers and foliage, to Thanksgiving wreaths and garlands, these organic decorations are perfect for creating a grounding, earthy and simple look – ideal for rustic Thanksgiving decor, too.
'Dried flowers are ideal for adding a decorative touch to a space that embraces a more refined and neutral palette. Dried wildflower stems and wispy pampas grass can easily dress up a minimalist table and add a simple yet whimsical touch to a seasonal setting,' says designer, Gaelle Dudley. We love this dried flower arrangement from Pottery Barn.
Whether you decorate your entryway with vases of dried flowers, or enhance your Thanksgiving table with cuttings of foliage from your yard or garden, bringing the beauty of the outdoors, indoors, will always prove a timeless decorating idea – ideal for minimalists or maximalists.
4. Go for a less is more approach with pumpkins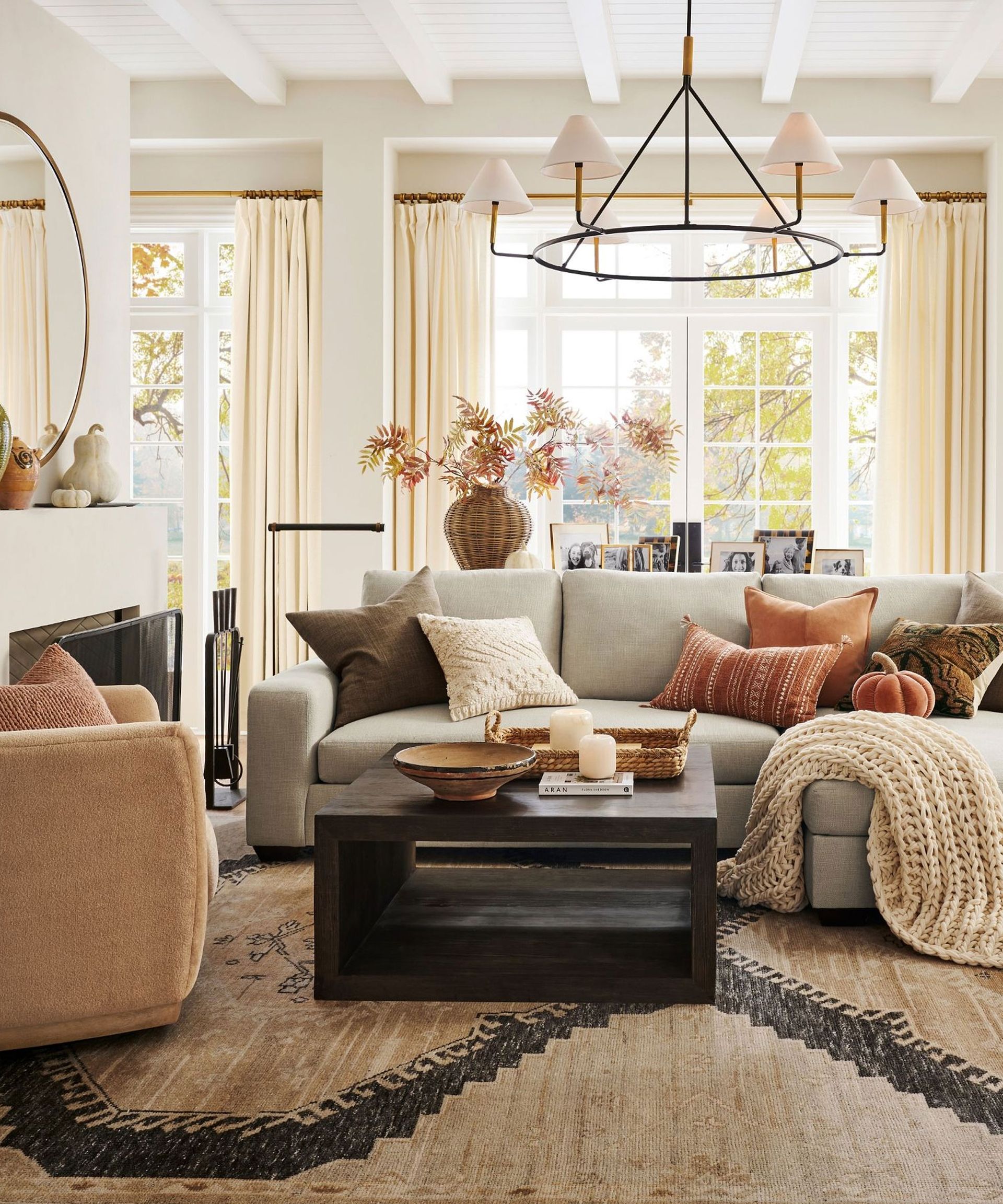 As fun as pumpkin picking can be with friends and family it's very easy to get carried away, and many of us end up taking home way too many pumpkins than necessary. So why not style your space with a more curated collection of these seasonal squashes? 
Whether you decorate with pumpkins outside your front door and embrace a simple, small stack, or use just the one pumpkin as a pumpkin planter for a table centerpiece, as the saying goes, sometimes less is more. 
As well as real pumpkins, faux pumpkins are perfect for coordinating with a minimalist scheme, as you can buy a selection of unique designs in palettes that will effortlessly integrate into your space. 
Can you spot the subtle pumpkin decorations in this living room? From the cozy pumpkin cushion to the small pumpkin ornaments sitting pretty on the mantel, these faux designs are wonderfully subtle and simple.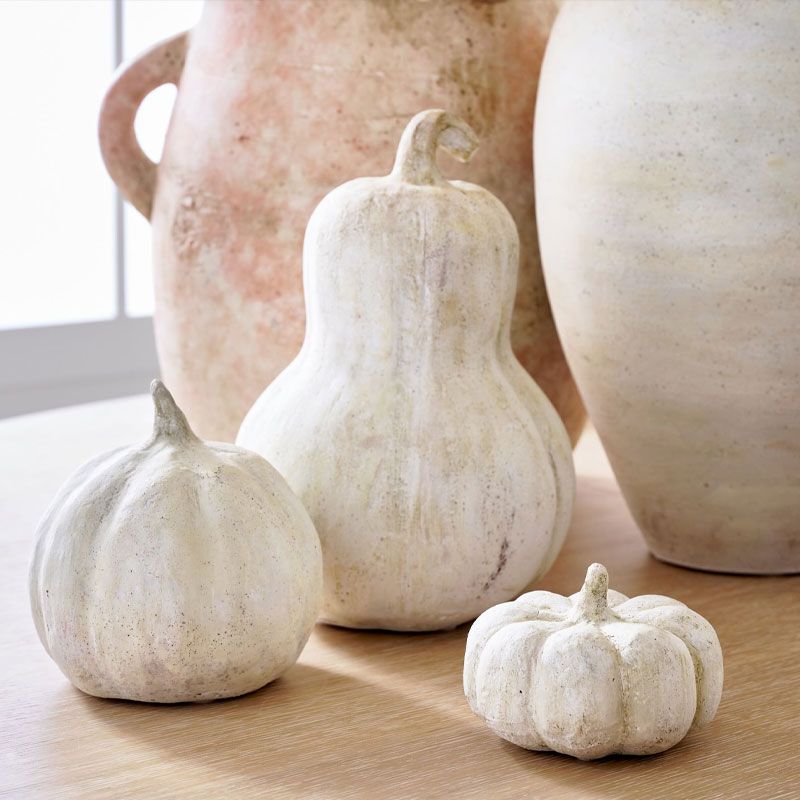 Handcrafted Terracotta Pumpkins
Hollow and lightweight, these pretty pumpkins are handcrafted from red clay and glazed with durable enamel for a tonal finish that captures traces of the maker's hand.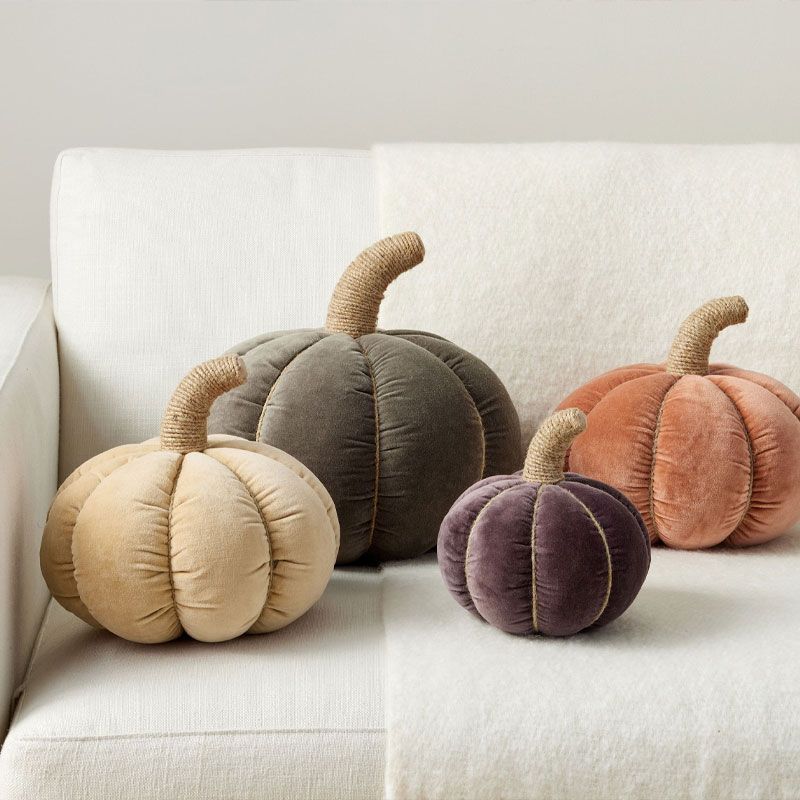 Velvet Pumpkin Shaped Pillow
These pretty pumpkin pillows are perfect for adding a cozy seasonal accent to a sofa, chair, or bed. Made from soft velvet, the designs are available in a palette of harvest-inspired colors.
5. Create a cozy feel with candles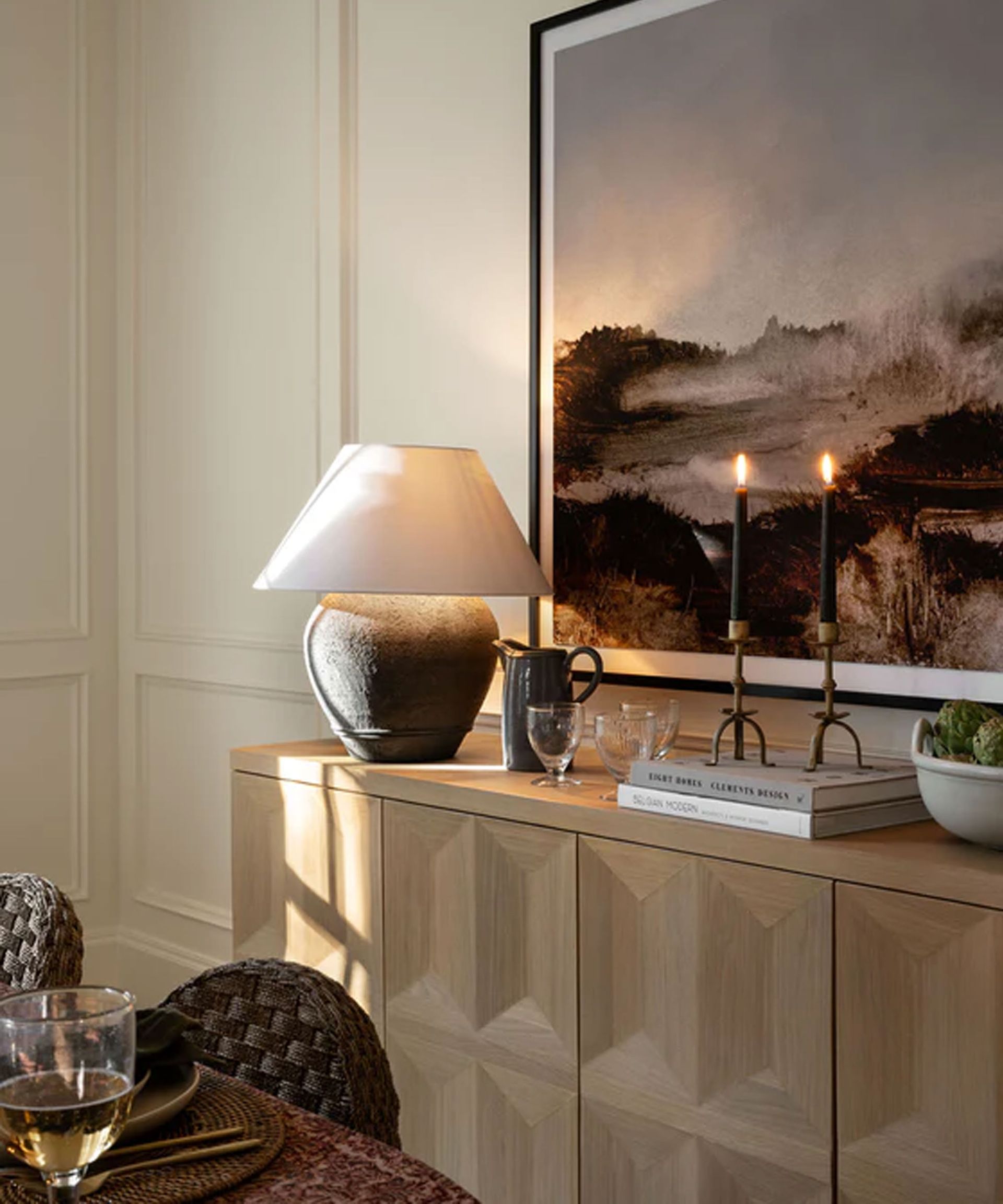 Candles are one of the most versatile decorations to embrace at Thanksgiving – and at any time of year, too. Not only can they create a warm and cozy glow, they can make your home smell nice and can enhance a space with beautiful decoration, color, and shape. We love these elegant taper candleholders from McGee & Co.
'Consider using candles in understated tones, paired with candleholders of varying heights, to offer soft, ambient lighting that complements a minimalist ambiance,' says Artem Kropovinsky. 
Nikki Rajnovich also advises, 'Light up the room with some sleek candle holders and slender candles. Soft, romantic vibes are the way to go for a minimalist look. Remember, unscented candles are best to use at the dining table to keep the focus on the mouthwatering aroma of your Thanksgiving feast.'
6. Focus on decorating one key area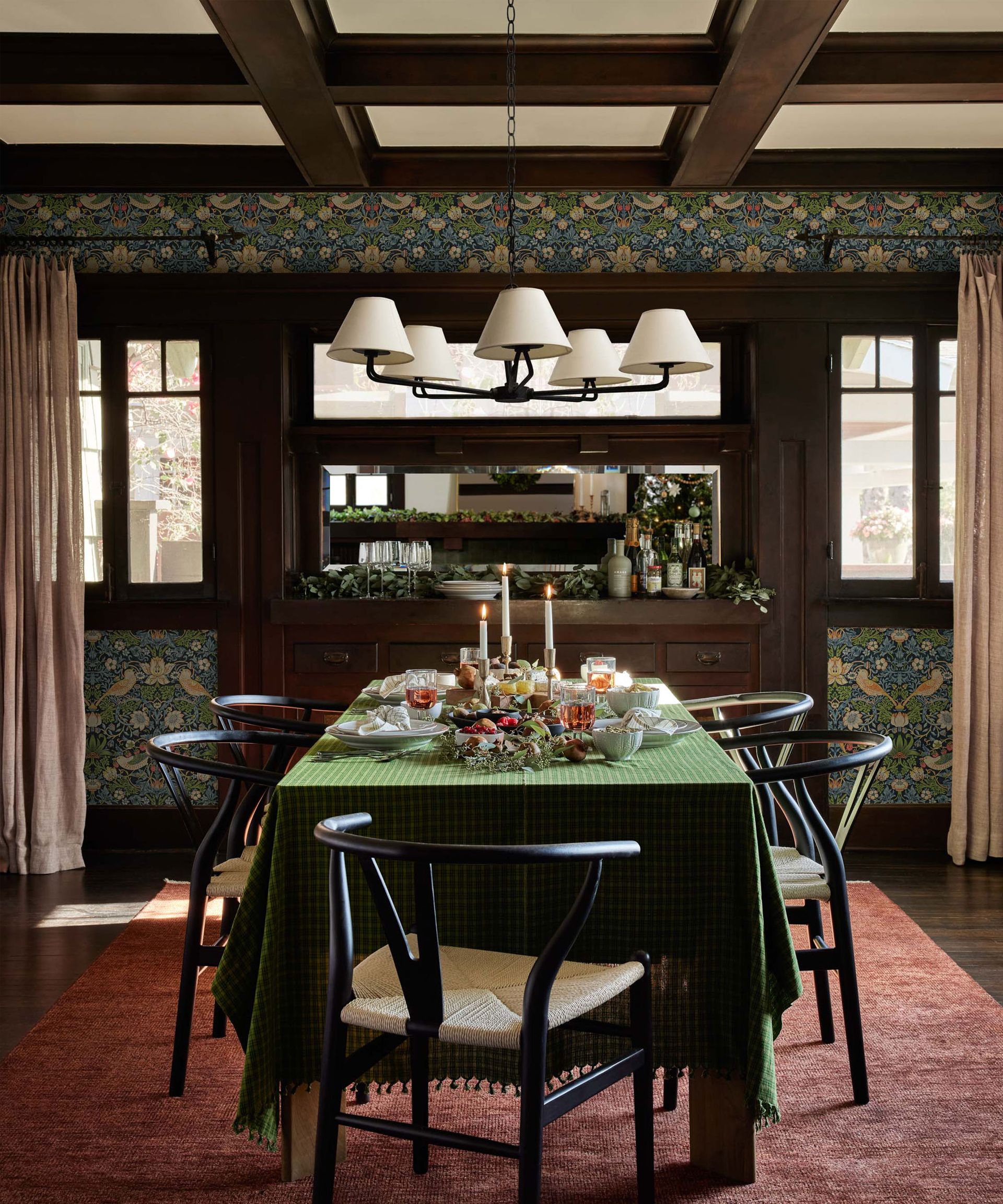 For the ultimate minimalist approach to Thanksgiving decor, refine your decorations to one key area in your home – rather than decorating in multiple locations. 
As Artem Kropovinsky says, 'Sometimes, a singular, well-designed piece, like a ceramic pumpkin on a console, can make a louder statement than an array of decorations.'
If you're hosting Thanksgiving dinner this year, make your table the star of the show, if not, decorate a room in which you spend a great deal of time and where the seasonal decorations can be appreciated in the lead-up up the big day, such as in a living room or kitchen.
FAQs
What colors are good for Thanksgiving decor?
As we have explored in this piece, there are two roads you can go down when it comes to Thanksgiving color schemes: traditional or modern.
Traditional Thanksgiving decor is often centered around rich, warm color schemes that reflect the colors of nature. From beautiful burgundy to deep yellow and orange, look to the colors of the leaves on the trees for inspiration.
A modern Thanksgiving scheme can embrace pretty much any color scheme. From more muted, minimalist spaces that work well with neutrals such as cream, beige and gray, to maximalist decor complemented by bold brights and a mix of contrasting tones, it is completely up to you which colors you choose for the seasonal scheme in your space – there are no rules!
The beauty of many of the best Thanksgiving decorations is that there are so many unique options to choose from, so no matter your desired color scheme or interior style, there will be decorations to suit.
---
Decorating for Thanksgiving is about reflecting your personal style, and while it's a time of year when you can get away with being a bit garish and going all out with the cliche decor, if that's not your style, a minimalist approach can be just as festive and cheering. 
'The goal with a minimalist seasonal scheme is to create a space where the spirit of Thanksgiving truly shines. Embracing simplicity allows us to fully immerse in and enjoy the spirit of the holiday.' concludes Anna Tatsioni.