Give your home an instant refresh with some new small entryway foyer tile ideas. Your entryway is actually more important than you think as it's guests' first impression of your house when they walk in.
As the entrance and exit to your space, the foyer sets the tone for your entire home's design. Giving a little extra love to this area will really go a long way in making your house look elevated and on-trend.
Whether you want to go fun with colors and geometric designs or prefer a tile design that's a bit more classic, here are our small entryway ideas to bring more harmony and sophistication to your pad.
Small entryway foyer tile ideas
I spoke to several design experts to find the best tips and tricks for decorating a small entryway with new tiles. See their advice for finding the most stylish small-space solutions.
1. Get funky with bold designs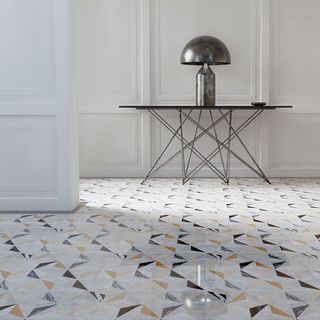 For Eddie Kingsnorth, CEO of architectural rendering firm NoTriangle Studio, a great way to add more visual interest is by going with a geometric design. "Hexagon tile is a unique and stylish way to add visual interest to a small entryway foyer," he says. "The hexagonal shape creates a dynamic pattern that can help to make a small space feel larger and more inviting." 
Home improvement blogger Dominick Femia agrees. "Hexagonal tiles are both trendy and versatile. They can also be arranged in various ways to create intricate patterns and give your entryway a modern touch," he says. 
2. Mix and match patterns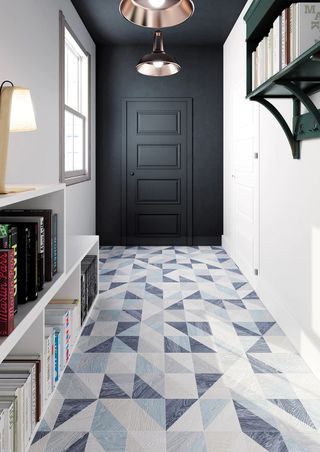 If bright and bold colors aren't your thing but you still want to accomplish a bold design, opt for playing with new sizes and patterns. Principal interior designer Josephina Serra recommends going with a bold, maximalist style. In describing one of their townhouse projects, Serra says "We took a large format tile and had it cut to smaller pieces to make a playful statement". 
For blogger Femia, it's all about thinking outside the box. "Mix and match!" he says. "Experiment with a combination of small and large tiles to create a visually engaging mosaic-like design. You can play with different shapes and colors for a unique aesthetic." 
3. Go traditional with herringbone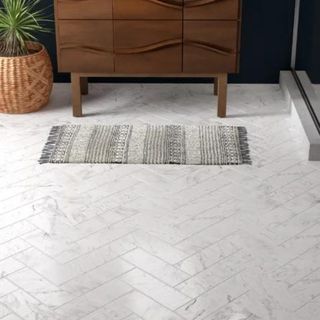 Herringbone, which is a great way to layer tile in a unique yet classic design, is a great way to create a timeless appeal to your entryway. You can even use subway tiles to make the look.
"For a classic and visually appealing look, consider laying the tiles in a herringbone pattern," Femia advises. "This adds a touch of elegance and can make a small entryway appear more spacious." 
4. Timeless natural materials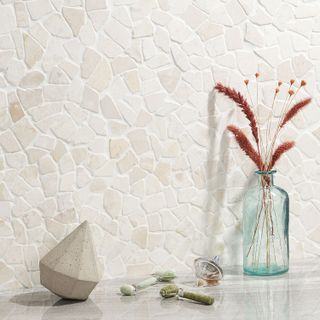 Wading through all the tile options can be a difficult design process which is why Benham recommends going with a timeless option that will last for years to come.
"I have worked in the home remodeling business my whole life, and I can tell you the best tile for entryways that stand the test of time and are durable are natural stones, or at least tile that looks like a natural stone color," he advises. "Slate has always been a popular option."
For Femia, natural stone tiles can also make a statement. "If you prefer a rustic or earthy vibe, natural stone tiles like slate or travertine can add a unique charm to your entryway," he says.
5. Consider heated tiles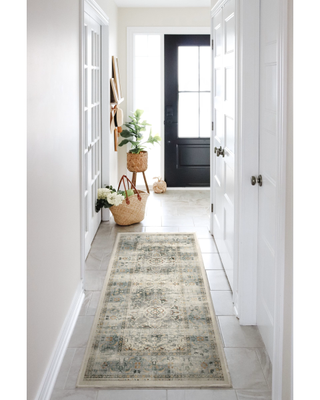 While you may have your shape, color, or type of tile in mind, Benham advises looking into one last element of installing floor tile. 
"The best tip I can offer is not with the type of color of tile you use in your entryway but what you install underneath it," he says. "An eclectic heated system is a great addition to your tiled entryway. It keeps the tile nice and warm. When you remove your shoes, your toes are treated with a warm floor instead of a cold tile."
6. Peel-and-stick tiles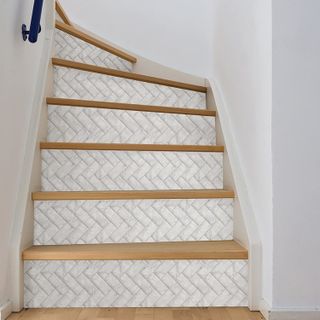 Femia believes that renters shouldn't go without their dream tiled entryway. Peel-and-stick tiles can be a great solution for installing tiles without damage.
"My tip for renters is to look for peel-and-stick tiles that are easy to install and remove without damaging the existing flooring," he says. "They come in various designs and can be an excellent temporary solution." 
Best small entryway tiles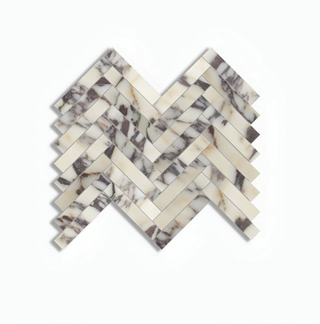 Elegant
1. Calacatta Viola Herringbone
Price: $29.95 per sheet 
When it comes to creating a timeless mosaic, herringbone tiles are a classic choice that can create elegance for your entryway.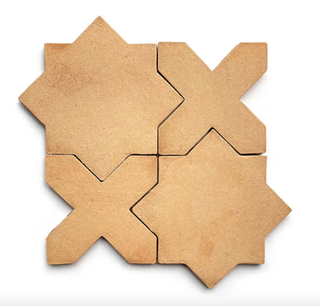 Warm colors
Price: $6.02 per tile 
When it comes to creating an interesting visual element with tiles, colors aren't the only thing that can create a bold statement. With these adobe tiles, the interesting element is in the unique shapes, created to interlock together like a puzzle piece.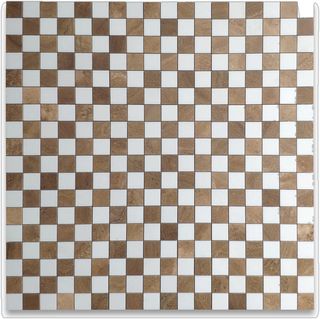 Bold pattern
3. Marble Mosaic Sheet Subway Wall & Floor Tile
Price: $67.99
Mosaic tiles are always a classic. From Ancient Greece to kitchens in Paris, this two-toned motif makes a bold statement that remains timeless for years to come. 
Meet the experts
Josephina Serra is the Principal Interior Designer & Partner at Vancouver-based Form Collective. 
Brian Benham is a mixed media artist working in wood, metals, glass, and stone from his Colorado Studio. He is the owner of Benham Design Concepts. 
Dominick Femia runs dominickfemia.com, a blog dedicated to providing home improvement enthusiasts with valuable tips, tool guides, and DIY project plans. 
Eddie Kingsnorth is the CEO and co-founder of NoTriangle Studio, a company specializing in photorealistic 3D visualization, breathing life into architectural and interior design projects on a global scale. 
FAQs
Can I put tiles on the ceiling of a small entryway?
If tiling your entryway walls or floors isn't an option for you (or you'd rather keep your floors and walls the way they are), then consider tiling the ceiling.
"For a truly unique entryway, don't forget about the ceiling," Femia says. "Consider using decorative ceiling tiles to add character and sophistication to the space."
A great style for ceiling tile is to go with tile designs that are similar to a mural for a touch of elegance and surprise. There's no better way to make a great first impression. 
Where else can I buy small entryway tiles?
If natural stones aren't your design preference, consider opting for vintage tiles or vintage-inspired designs.
These tiles, which can be purchased from marketplaces such as Etsy, are a great way to find a design that won't go out of style.
---
Tiles will really transform the look of your front hallway. But if the tile is a little too cold on your feet or you want to trap all the dirt that gets tracked in, consider adding a small entryway rug to finish off the look.
link