And create beautiful spaces that make people feel good
Reviews and recommendations are unbiased and products are independently selected. Postmedia may earn an affiliate commission from purchases made through links on this page.
Article content
Karly Parker founded Karly Parker Interior Design (KPID) in 2007 with a desire to create beautiful spaces that make people feel good. It's all about having an emotional impact, she says.
Being able to remove some of the stresses and anxiety people feel when renovating or building is a bonus, says Parker. There are so many decisions to make — often it feels like all at once — and budget and material constraints.
Article content
"Building and home renovations can be one of the most stressful life experiences, but it certainly doesn't have to be," she says.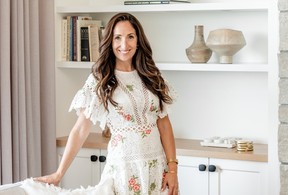 If you remove some of the decision-making pressures and know that you have someone leading your project who can do it well and is as passionate about your vision as you are, you'll remember it as a good experience.
"I always take my role as an interior designer very seriously. Navigating through everyone's emotions, making sure everyone is thriving throughout the process and ensuring the end result is beautiful," she says.
Giving people what they want
Parker says that most KPID clients are busy professionals after a full-service experience. They want to have input, but mostly to leave it to the designer to make the decisions and oversee the project coming to life.
She adds that some clients are very active and want to be involved the whole way through their renovation or build. It just depends on the person.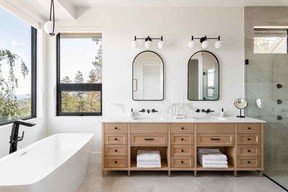 Regardless of the client's needs, Parker says she and her team always "push the boundaries of design."
"This process yields incredible results and happy clients," she says.
Article content
Commercial projects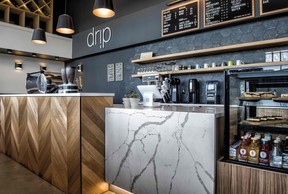 Parker says she's fully aware that not everyone has the budget to hire a professional design firm, which is why she loves doing commercial projects like Drip Coffee and Aura Hair Boutique.
These places offer a space for those in the community to get together, and they "allow everyone the opportunity to experience the KPID atmosphere that we thoughtfully curated," she says.
Design and construction in her bones
Parker grew up in the construction industry, with family members working as contractors as far back as her great-grandfather. He established his firm in 1918, and it's now run by Parker's uncle.
"From a very young age, I found joy in observing construction activities, and have fond memories of being on-site and in the workshop with my grandfather. To this day, the smell of fresh lumber or a newly framed home is one of my favourite aromas," she says.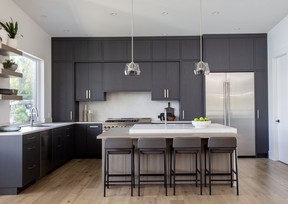 Favourite materials?
Being based in Nanaimo, Parker says KPID supports local artists, artisans, and businesses on Vancouver Island, involving them in the projects they undertake.
Over the years, they've developed solid and meaningful relationships with businesses in their local community, and these people have helped Parker implement her creative vision for different projects, she says:
Article content
"They've allowed me to push the limits and boundaries of design."
What's next for KPID?
They've been lucky enough to work on several multi-family buildings and globally-recognized hospitality projects, says Parker.
These have allowed KPID to showcase their style and service to a much bigger audience, says Parker:
"We aspire to leave a lasting mark on both local communities as well as communities abroad. Creating unforgettable interiors that bring joy to countless people in which they can enjoy time and time again," she says.
Related Stories
The Home Front: New design talent showcased at IDS Vancouver

The Home Front: Etsy Awards judge Sarah Jessica Parker chooses Canadian design
link