Here are some statement pieces you can add to complete your home's look this season
Reviews and recommendations are unbiased and products are independently selected. Postmedia may earn an affiliate commission from purchases made through links on this page.
Article content
Fall is one of my favourite seasons. I like the change to cooler evenings and sunny days, and even more the switch in decor. Toasty hues and cosy finishes start to appear in anticipation of colder months ahead.
Now is the time to tackle your own pads. I'm pleased as punch to say retailers have introduced a plethora of fantastic pieces this fall. I've shuffled through my notes to unveil five of my favourite products and trends. If you're looking to add pizzazz to your home, I've got you covered. Each and every one of these items makes a big statement in a space.
Article content
Make a statement
Trends in upholstered furniture come and go. Lately, we've seen a lot of very plain but textured fabrics, such as bouclé and heavy linen, covering sofas and chairs.
Decorating enthusiasts can rejoice knowing big prints and colour are coming back to the living and family rooms. I remember the 1970s when wide corduroy was the rage. And who can forget the 1980s when plush velour printed with bulrushes and floral was popular.
A most recent discovery (unveiled at the Interior Design Show in Vancouver) is the Montauk Antoine sofa covered in a plush tan-and-cream fabric that recalls a gorgeous rug.
Some people see stones and rocks in the misshapen patches, others mushrooms. The warm colours and psychedelic print teasingly recall the '70s, making a statement in a living room.
Other print trends to look forward to? Large-scale floral and fauna tapestry fabrics and well-worn thick leather. Yes, the '70s and '80s are back.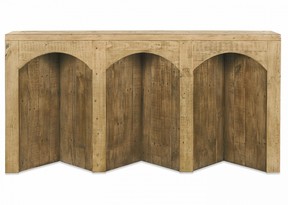 And the most versatile award goes to …
I can blather on about the virtues of a console table — it's one of the most versatile pieces of furniture.
Article content
Use it as a makeup table, a laptop desk, a foyer catch-all or a spot to rest drinks, books, lamps and other pretty things behind the sofa. The slim, elongated console will be your best home friend for life.
Urban Barn's just-released Sorrento Reclaimed Wood, however, is one you won't want to hide away — give this baby centre stage in an entranceway.
Made of reclaimed pine and sporting three architectural arches, the modern sandy-toned console has a well-travelled look and can hold its own in both a modern or traditional setting. And at less than 12 inches deep, it tucks into even the narrowest of spaces.
Trust me, if you get one, everyone will ask what country you travelled to and imported it from. Tell them it was from your local Urban Barn. Go Canada!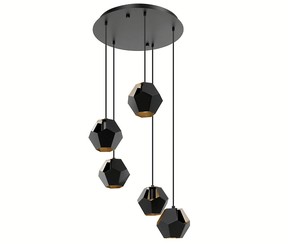 Lighting it up
Multi-light pendants are trending for fall. Essentially, that means one ceiling outlet has three, five or seven drops of lights in it to create a cascading waterfall effect over a kitchen island, dining table or in a double-height foyer.
Matte black is still the it colour for light fixtures, accented with brass or gold for an elegant, contemporary feel.
Article content
Eglo's Rasigures pendant light is one such favourite. The faceted metal shades are lined in gold creating a soft, beautiful glow within a modern shape.
As I've often written before, every room needs a bit of black to create some punch in a room. This one does the trick.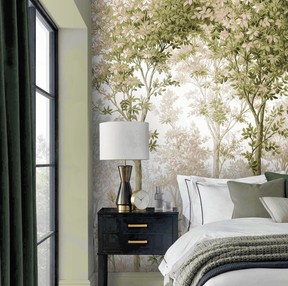 Wonder walls
Need a warm and inviting refresh now that's we're in hibernation season? Look to the walls.
A deep paint tone — charcoal, terracotta or olive — is one way to go. Another is to introduce a nature-inspired mural: Graham & Brown's Coppice Forest Sunset Bespoke Mural conjures a cosy scene in the bedroom. (And it looks amazing enveloped on a dining or family room.)
To reduce waste, each mural is made to order, and is available in various finishes such as durable smooth or fabric-affect fibrous.
I recently discovered that Graham & Brown makes customizable designs. You choose your paper style, size and colourway and they'll ship everything back to you.
Tip: Not sure how to decorate around a mural? Choose one of the top three dominant colours within the mural and use that colour to paint the remaining walls.
Article content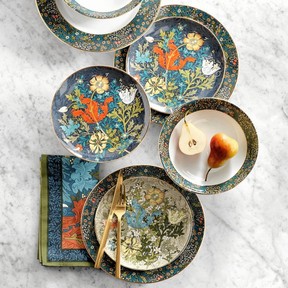 Culinary delights
Nothing makes a bigger statement on the tabletop than brightly coloured or fashionable dishes.
For a long time, the all-natural organic look of matte black, terracotta and sage green pottery dishes has dominated. Well, it's time to wake up the dinner table for fall and winter dinner parties!
The Morris & Co. Cotswold Dinnerware Collection injects a dose of granny-chic and glamour to the tabletop.
Made in Portugal of high-fired glazed porcelain with seven-karat gold rims, this precious-looking dinnerware is dishwasher safe. Now that deserves three cheers for help in the cleanup department.
Do you have a decor dilemma or want more decor inspiration? Follow Karl on Instagram at @Karl_ Lohnes.

link