A fragrance can remind you of a particular person, memory or situation and take you back to that time. Even you have a signature scent that people associate you with but does it really tell about who you are? Let's find!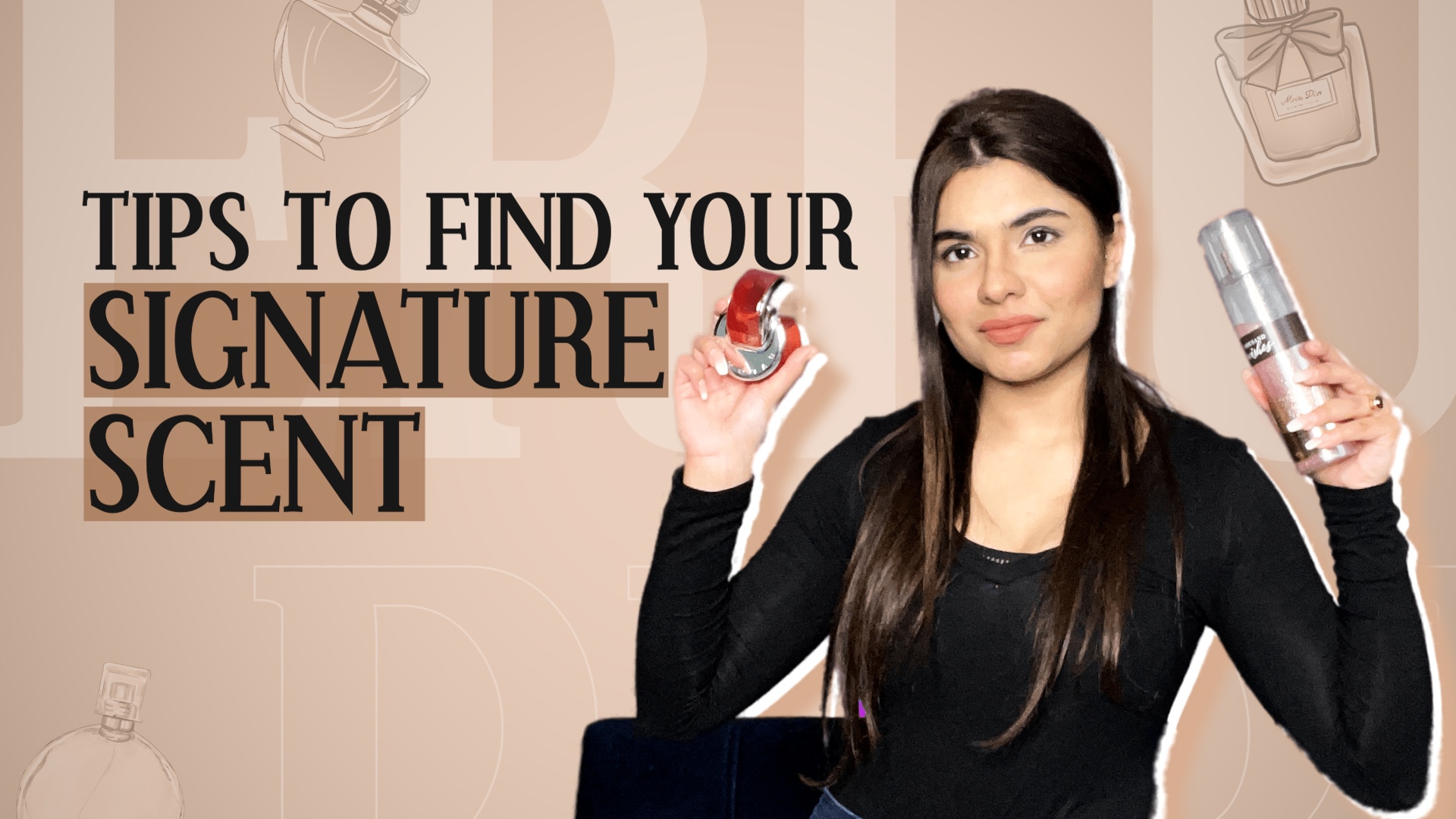 How to find your signature scent?
 Just like your outfit and make up can reveal a lot about your personality similarly, a fragrance is that hidden accessory that can exude a sense of you. In fact, it is a psychological fact that people associate you through your fragrance and perceive you by it.
And since people associate you through your fragrance, how can you go wrong with it? But having a plethora of options to choose from, it definitely is quite difficult to choose your signature fragrance.
But don't worry we are here to help!
1.Try, Test and Buy :
With a wide range of perfumes to choose from, finding your signature perfume is quite a tedious task and what's amusing is that the scent you would fall in love at first sight or smell should I say? Wouldn't be the scent that could have the potential of being married to you. What I mean is that fragrances have three notes : Top note, mid note and base note, the top note is the one that you smell at the test strip and are the ones that makes you buy the perfume. However, it only stays for maximum 20 mins and over time, the scent would totally smell different after mixing with your body chemistry. So, instead of straight away buying the fragrance you like, spend some time with it, move around and come back an hour later to decide, if you still like it. Always remember that finding your signature scent is only possible by going through that journey, so don't be in a rush, keep some patience, you will surely reach there.
2. Consider your personality :
Very much like your outfit exudes your personality; the fragrance also has the potential to portray a sense of you. Make sure that your perfume aligns to who you are, especially because a lot of people are going to associate you through your signature scent.
For example : If are an introvert and you choose a scent that is bold and spicy, it might not reflect your personality and instead of you wearing it, it might wear you out.
3. Consider the weather :
it is important to keep in mind that while you are out on a hunt for signature scent, some fragrances would work well in colder days and some in summers. While in summer, you would lean more towards something fresh and light as the fragrances notes would be stronger due to heat. In winters, a darker, muskier scent would be a better choice , as they take longer to evaporate and take time to build up! Choosing something that can work well in all the temperatures would be your best bet.
4. Longevity :
Even if other factors are in place but your perfume doesn't last long than the entire factors are also irrelevant. There are different types of fragrance in the market, predominantly, EDP, EDC and EDF Eua De Cologne has 2 to 6 % fragrance concentration  and lasts up to 2 hours, eau de toilette has fragrance concentration of 5 to 15% and lasts up to 3 hours and lastly we have, eua de parfum that has fragrance concentration of 15-20% and lasts the most which is 5 to 8 hours.so, choose your fragrances accordingly.
With these tips and tricks , we are sure you would easily find your signature scent! Do let us know in the comment section, if this helped.

link