(Image credit: Daica Ano/ Kengo Kuma & Associates)
Close to nature and beautifully minimalist, the Zen-like interiors featured in a new book offer a glimpse inside the Japanese mindset.
"The home – before it is a place of beauty – is a place for safety, and assessed according to its alignment with its natural surroundings," says Mihoko Iida, whose new book Japanese Interiors takes a look inside some of Japan's most interesting private homes. From urban apartments to mountain and seaside escapes, the spaces featured in the book all share this idea of what home interiors mean in Japan, and how they are informed by a sense of harmony and balance with their surrounding environment. 
More like this:
–          The world's 10 most ingenious buildings
–          How to sleep well and be happy at home
–          The vintage French style resonating now
Alongside the homes' proximity to nature is the pared-back simplicity for which Japanese design has become known. "Minimalism has a long history in Japan," explains author Iida, "rooted in the teachings of Zen Buddhism that came to our country via China, and found a foothold beginning around the 12th Century."
In the book, Iida explains how these ideas aligned with Japan's existing religion, Shintoism, "a nature religion that does not worship a central figure but rather considers all things – man-made and natural – to possess a spiritual essence." Interpretations of this vary, she explains. "A simplified explanation is that nothing should be treated poorly, and therefore it is better to have nothing. Or as Buddha said, 'The less you have, the less you have to worry about'." Many modern minimalist homes in Japan are influenced by shrines and temples as a result. Here are some of the most beautiful and most intriguing.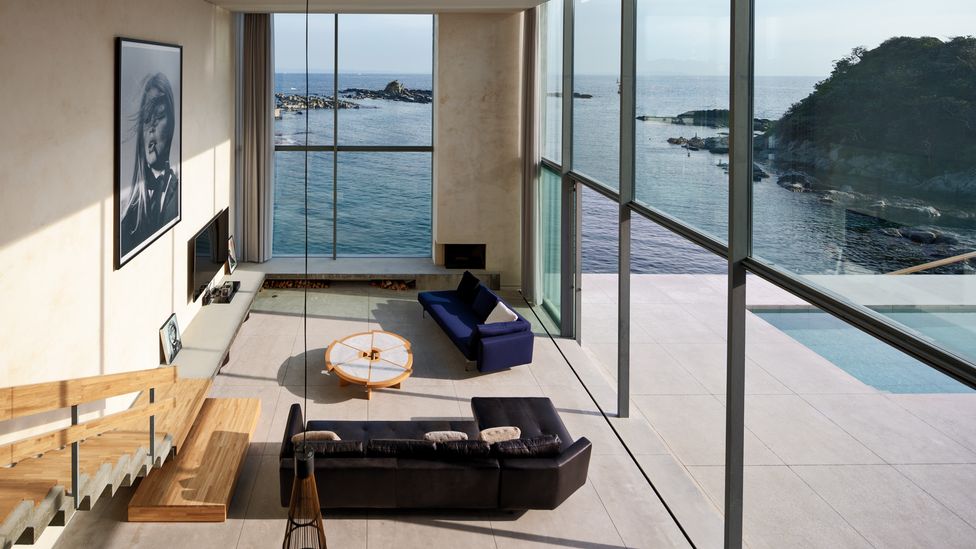 Peninsula House (Credit: Kenichi Suzuki)
Set among the rocks, sea, wind and sky of the Kanto region, Peninsula House is a monolithic structure that seems to rise up from its surroundings. It was designed by Mount Fuji Architects Studio, and has an arresting, Brutalist simplicity. The spaces of the structure are flooded with light on the ocean side, with double-height walls of windows offering epic views of sea and sky. Iida elaborates: "The scene evokes a contemporary take on shakkei, the Japanese concept of scenery borrowed from nature, as is often seen in traditional garden design – with the seascape surrounding the residence, stealing the show as its most defining interior feature."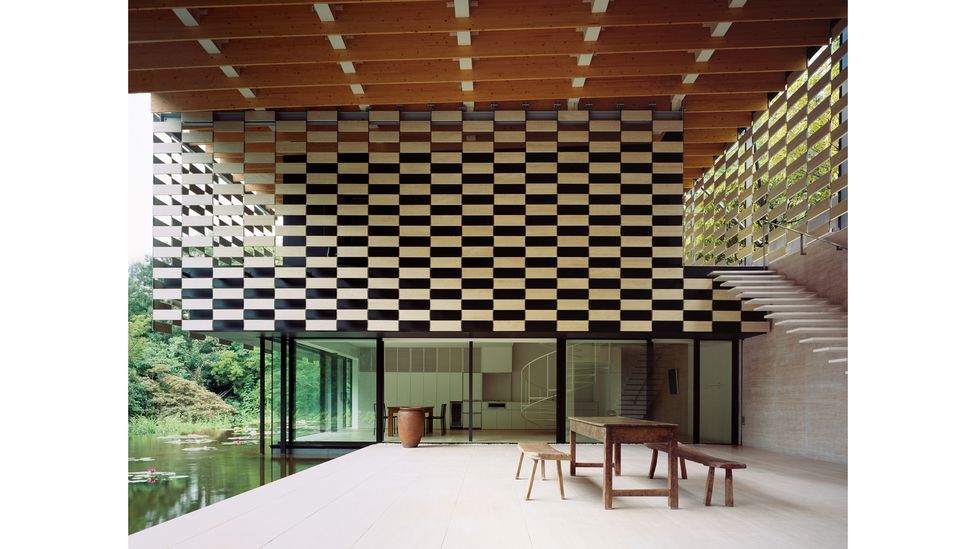 Lotus House (Credit: Daici Ano)
The striking Lotus House was created by award-winning architect Kengo Kuma, and with its innovative, bold checkboard-style walls, it nevertheless blends in with its natural surroundings. The airy home in Eastern Japan faces a pond planted with lotus plants, and is surrounded by dense forest. The residence has, says Iida, "an unusual sense of structural lightness, as though every stone panel… is hovering in the air". Shafts of sunlight, light breezes and forest aromas all seep through the property as a result of this innovative structure.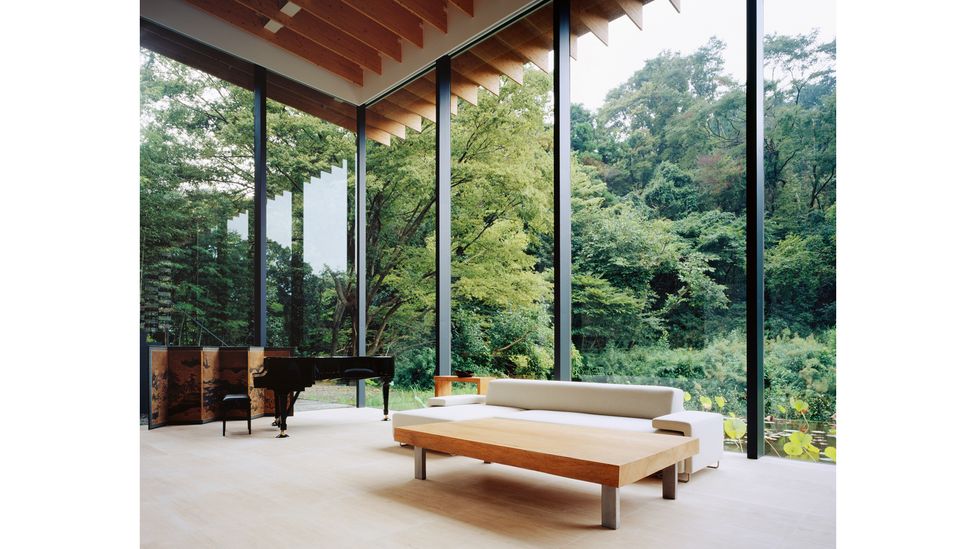 Lotus House (Credit: Daici Ano)
At Lotus House there is a floating staircase on the rear wall, and the living room overlooks the lotus pond. As the architect Kuma puts it: "The lightness of the stone is an expression of the gentle lotus petals." According to Iida, the term 'interiors' is defined rather differently in Japan. "When Japanese people talk about interiors, it's more about where the sunlight enters a room, how the wind travels through the entrance," she explains. "Or creating a space to withstand the natural elements in the mountains or along the coast."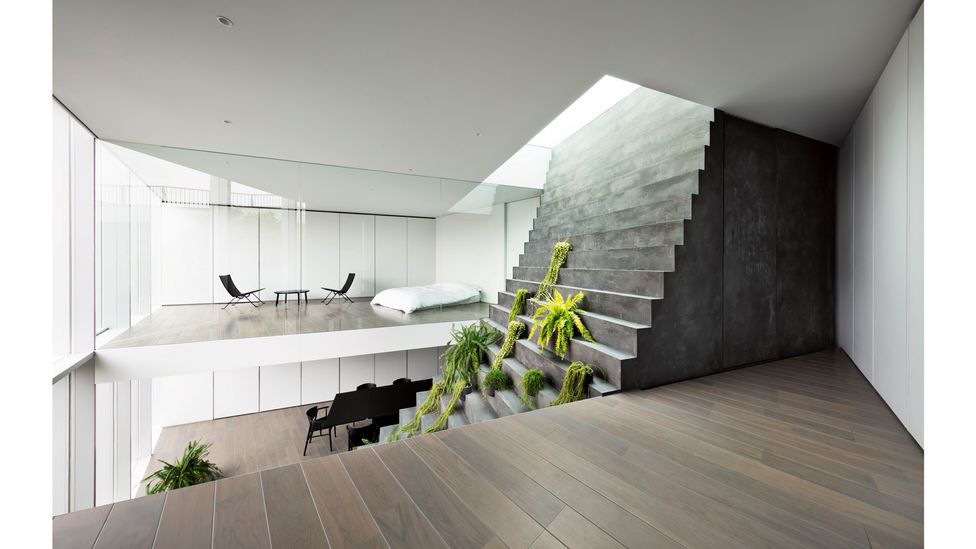 Stairway House (Credit: Shigeo Ogawa)
Another defining element of interiors in Japan is, says Iida, "how limited space is used efficiently within the urban confines of a thriving city such as Tokyo".  Function, playfulness and a quiet minimalism are combined in Stairway House in Tokyo, created by young design studio nendo to accommodate an extended family of various generations. Central to its structure is a vast stairway-like structure starting in the gravel garden and cutting through the whole interior, rising up to the skylight on the ceiling. "As functional as it is surreally playful, the role of the staircase is clear," writes Iida, "to connect the family members within a single yet private series of spaces." The interior is monochromatic and simple, with plants placed across the steps offering greenery. The result, architects nendo explain, is "a space where all three generations could take comfort in each other's subtle presence."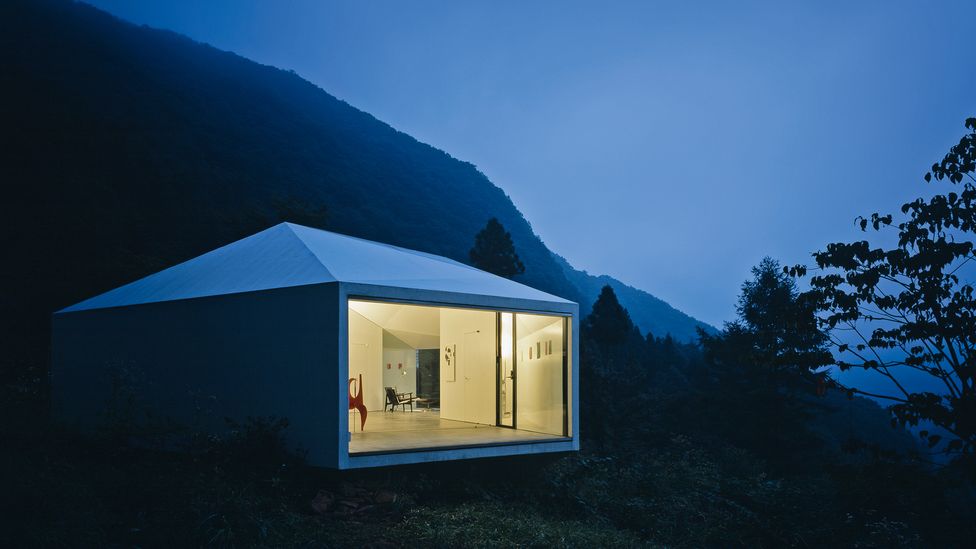 Polygon House (Credit: Makoto Yarnaguchi Architects)
With a futuristic edge, Polygon House sits on a hillside surrounded by forests in Karuizawa, outside Tokyo, and was designed by Makoto Yamaguchi. "Boundaries between inside and out are nearly invisible," explains Iida. "Large south-facing glass windows invite inside charismatic vistas of the changing seasons – from blazing autumnal leaves and leafy summer greens to serene wintertime snowfall." The place, she says, is "imbued with an almost Zen-like minimalist serenity".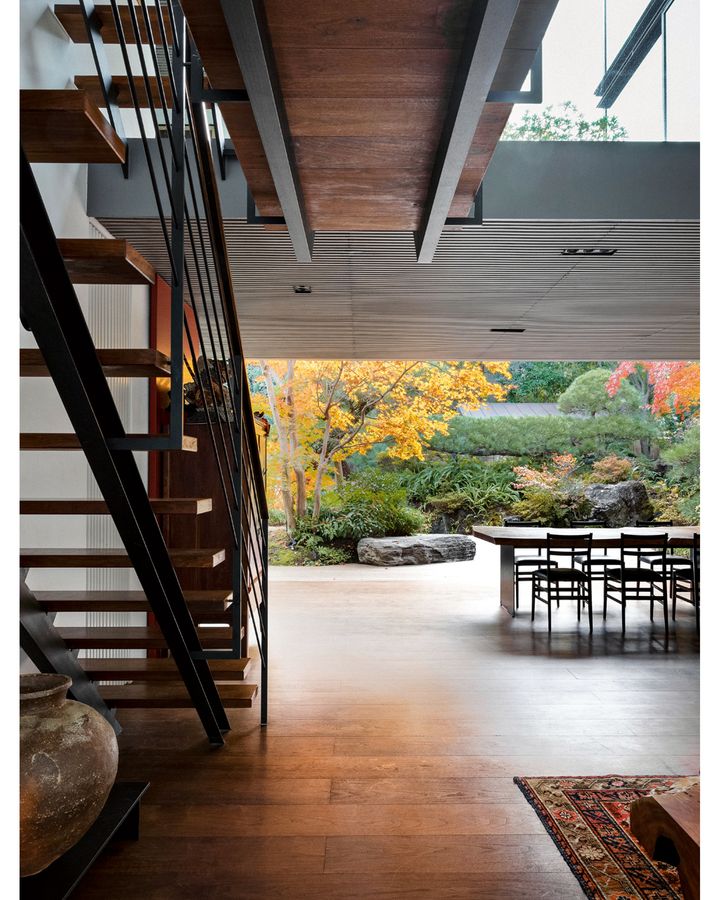 House S (Credit: Ben Richards)
With walls of glass framing lush garden views, House S feels close to the natural world, despite its central Tokyo location. A roomy family home, the residence was designed by Keiji Ashizawa. A bold open staircase connects all three floors, and a long wall of glass spans an entire side of the building. The whole structure is designed to make the most of the proximity to nature.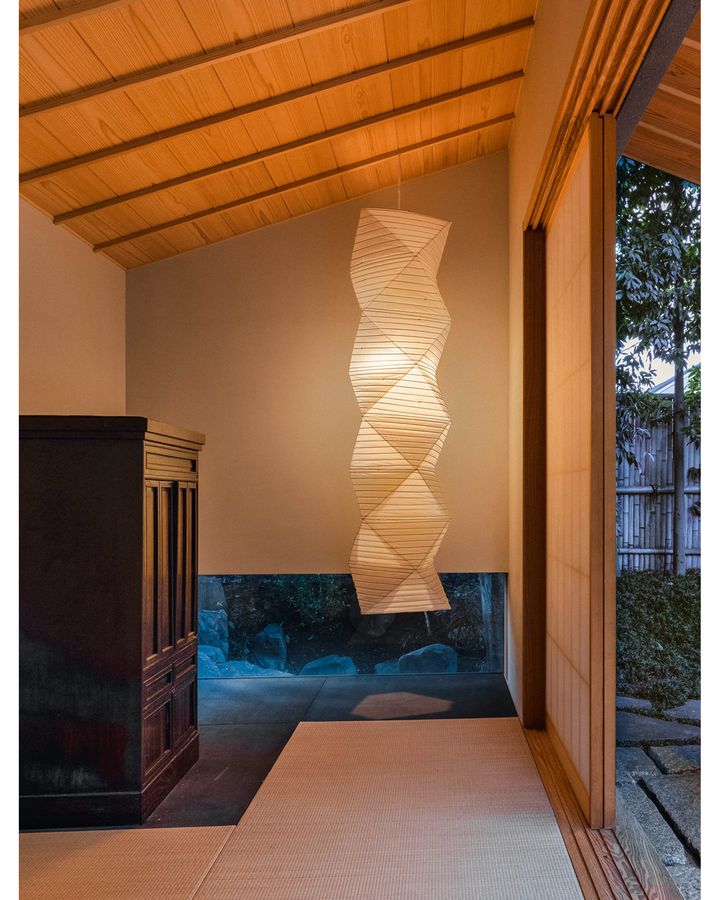 Garden House (Credit: Ben Richards)
Alongside House A, the owners recently added a garden house, a contemporary tea-house-like building surrounded by trees. A simple, one-room structure, it has a tiled roof of steel, underlined with cedar, reflecting its closeness to nature, and giving the interior a textured warmth. Inside there is a blend of traditional touches and sleek modernism. An iconic white paper lantern by master designer Isamu Noguchi is among the classic touches. Surrounded by the stunning garden, it is, says Iida, "the perfect natural escape in the midst of the city".
Japanese Interiors by Mihoko Iida is published by Phaidon.
If you would like to comment on this story or anything else you have seen on BBC Culture, head over to our Facebook page or message us on Twitter.
And if you liked this story, sign up for the weekly bbc.com features newsletter, called The Essential List. A handpicked selection of stories from BBC Future, Culture, Worklife and Travel, delivered to your inbox every Friday.
;