Japandi style is a fusion of Japanese and Scandinavian design that combines the simplicity and functionality of Scandinavian interiors with the elegance and Zen-like minimalism of traditional Japanese design. Japandi homes are characterized by clean lines, neutral colors, and natural materials, creating a sense of calm and serenity in the home.
In recent years, Japandi style has become increasingly popular due to its emphasis on minimalism, functionality, and sustainability. This style reflects the desire for simplicity and mindfulness in an increasingly chaotic world. With its clean lines, simple shapes, and emphasis on natural materials, Japandi style is perfect for creating a peaceful and calming home.
In this article, we will present a beatuiful Japandi style home visualized by Esmael Abdelhamed:
Bright and Airy Living Room
The Japandi home design boasts a bright and airy living room with a stunning treetop view. The linear modular sofa and sculptural lounge chair rest on a deep-textured rug, surrounded by two ottomans that offer additional seating without obstructing the natural light. The living room also features a large palm plant framed by elegant stucco arches, and backlit by a linear wall lamp.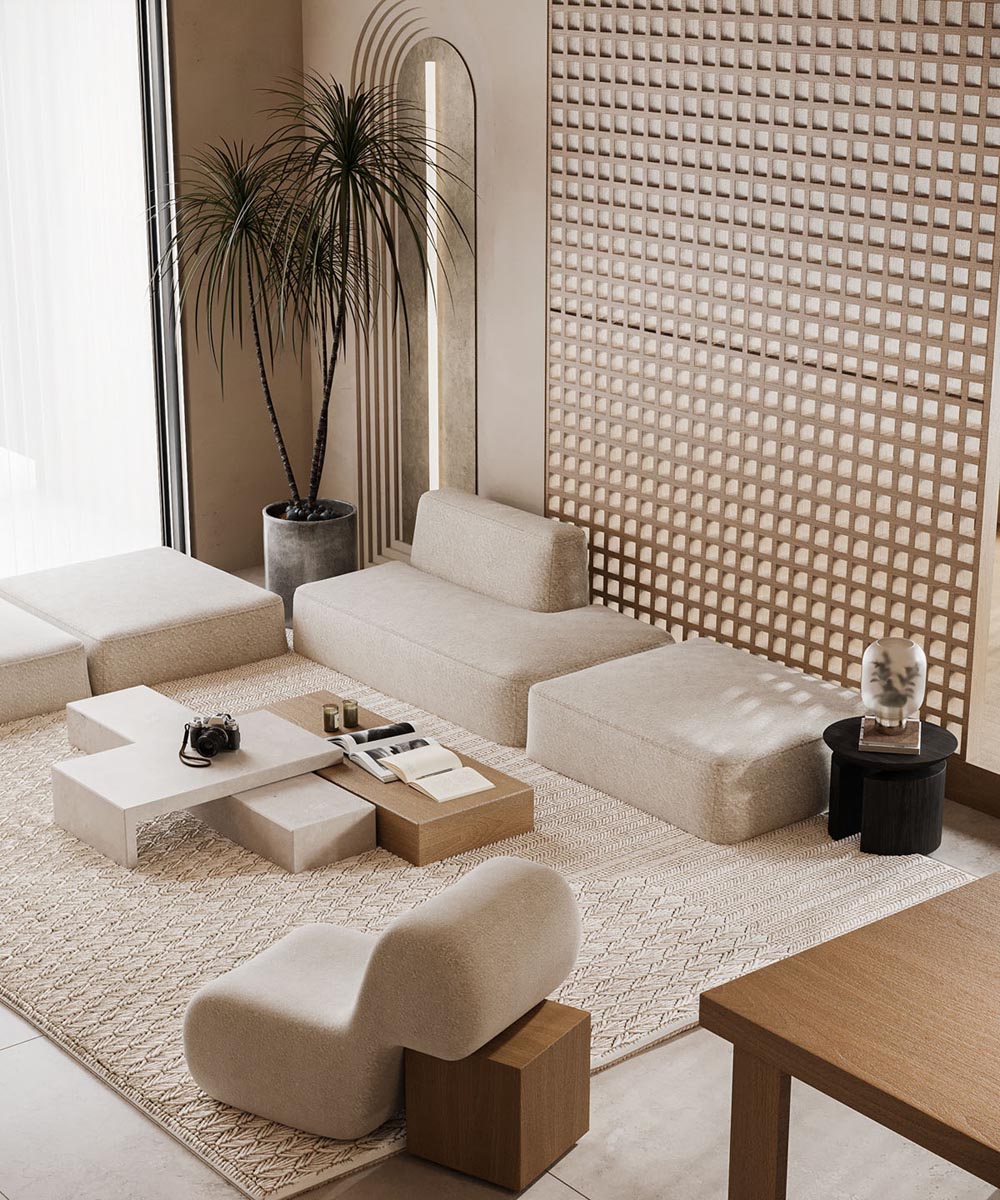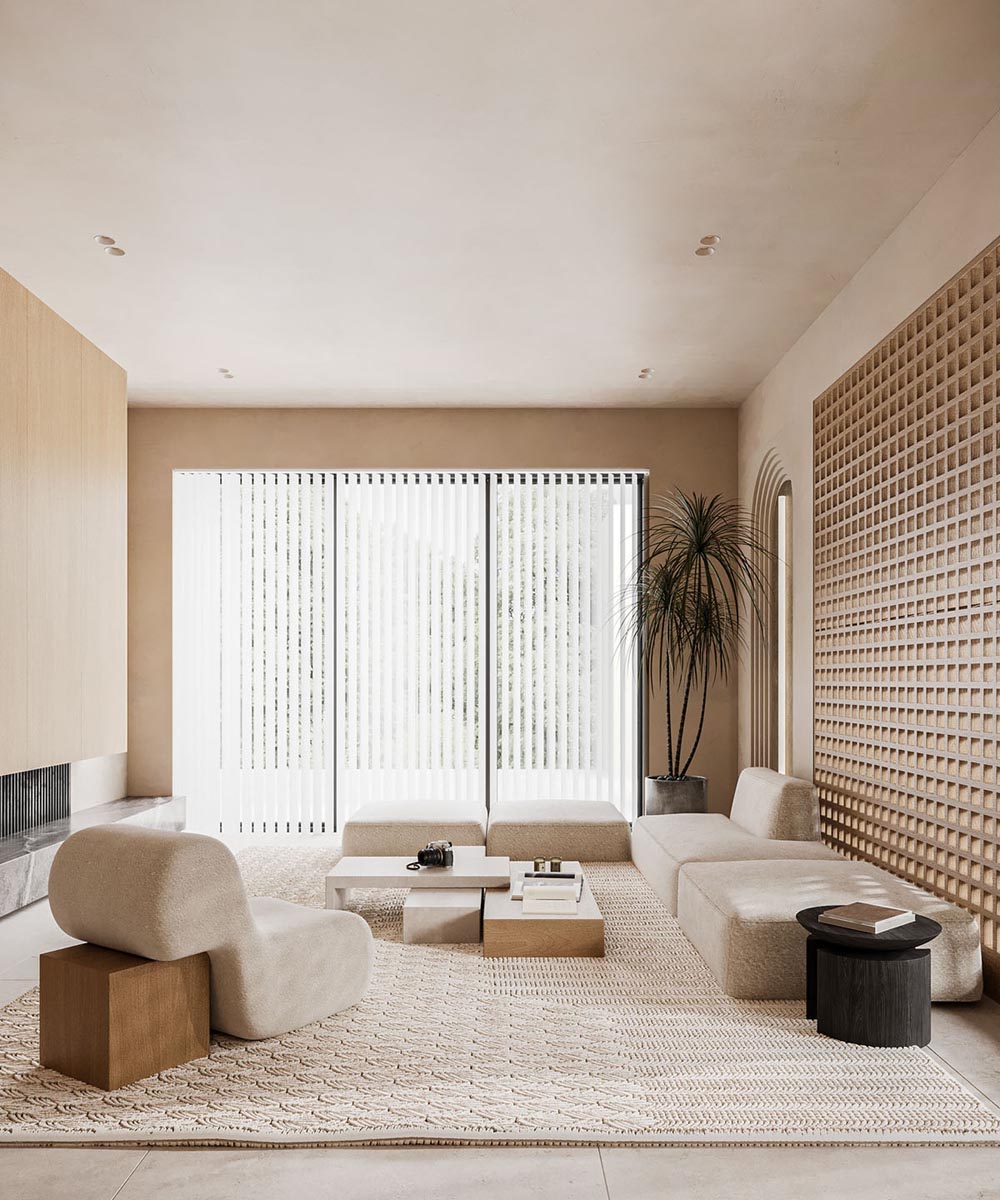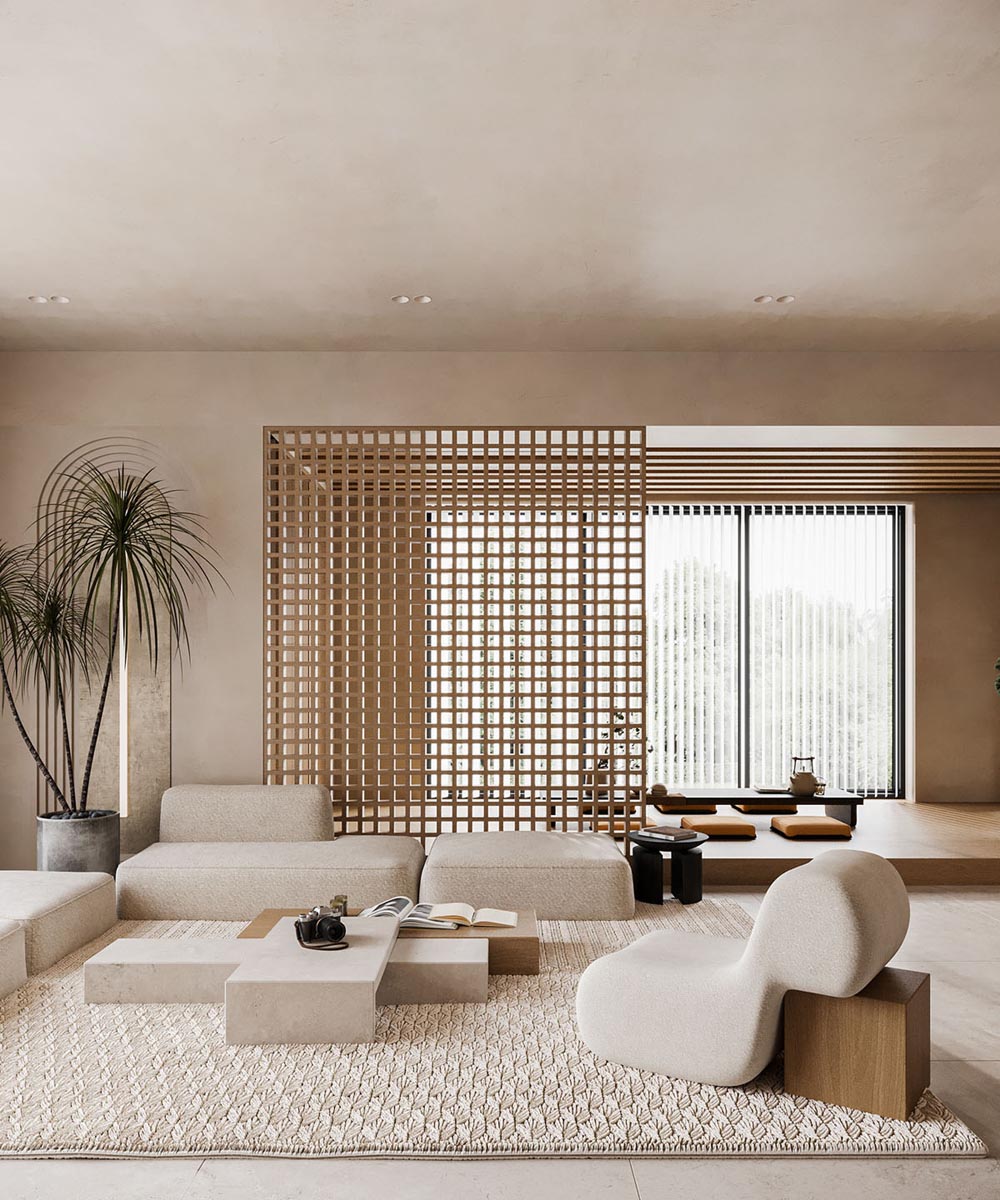 Tea Room with a Modern Twist
A traditional tea room design with a modern twist is elevated on a wooden plinth, creating a clear divide from the living room. A lattice screen, inspired by Japanese shoji screens, separates the tea room from the lounge area. Wood-slatted panels decorate the walls, and a traditional chabudai table and zabuton cushions furnish the space. The tea room has a unique feel with wooden slats bridging the ceiling.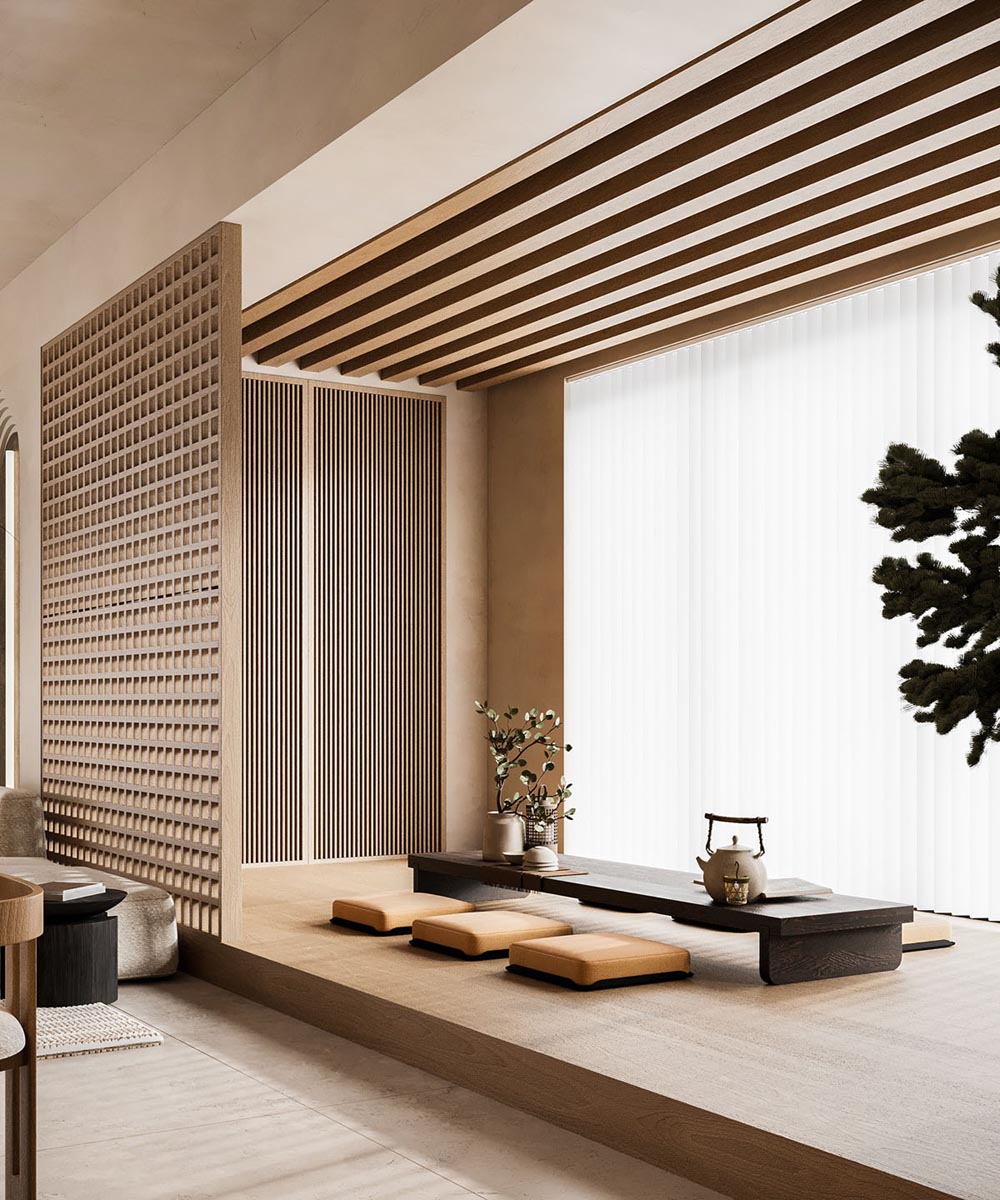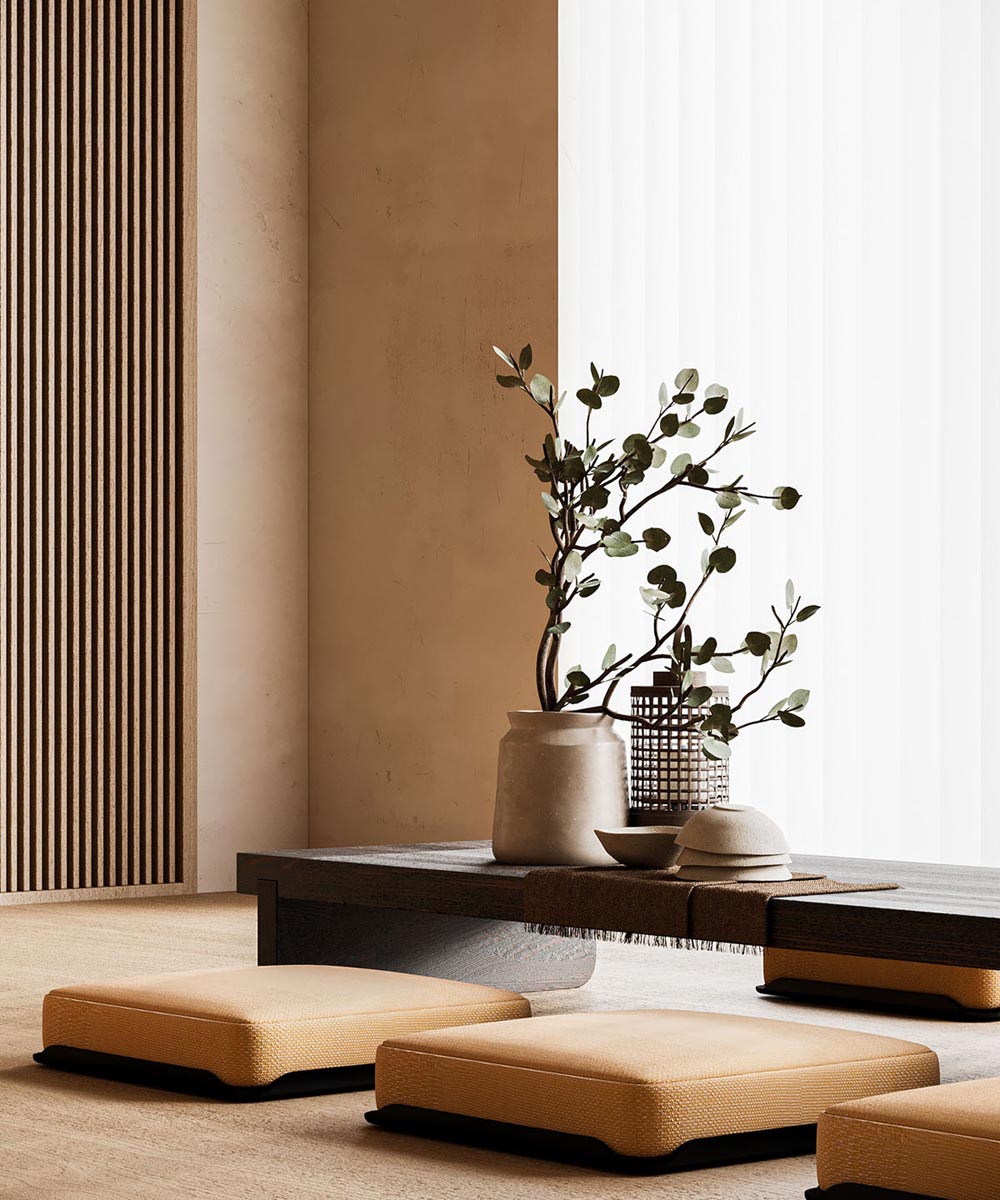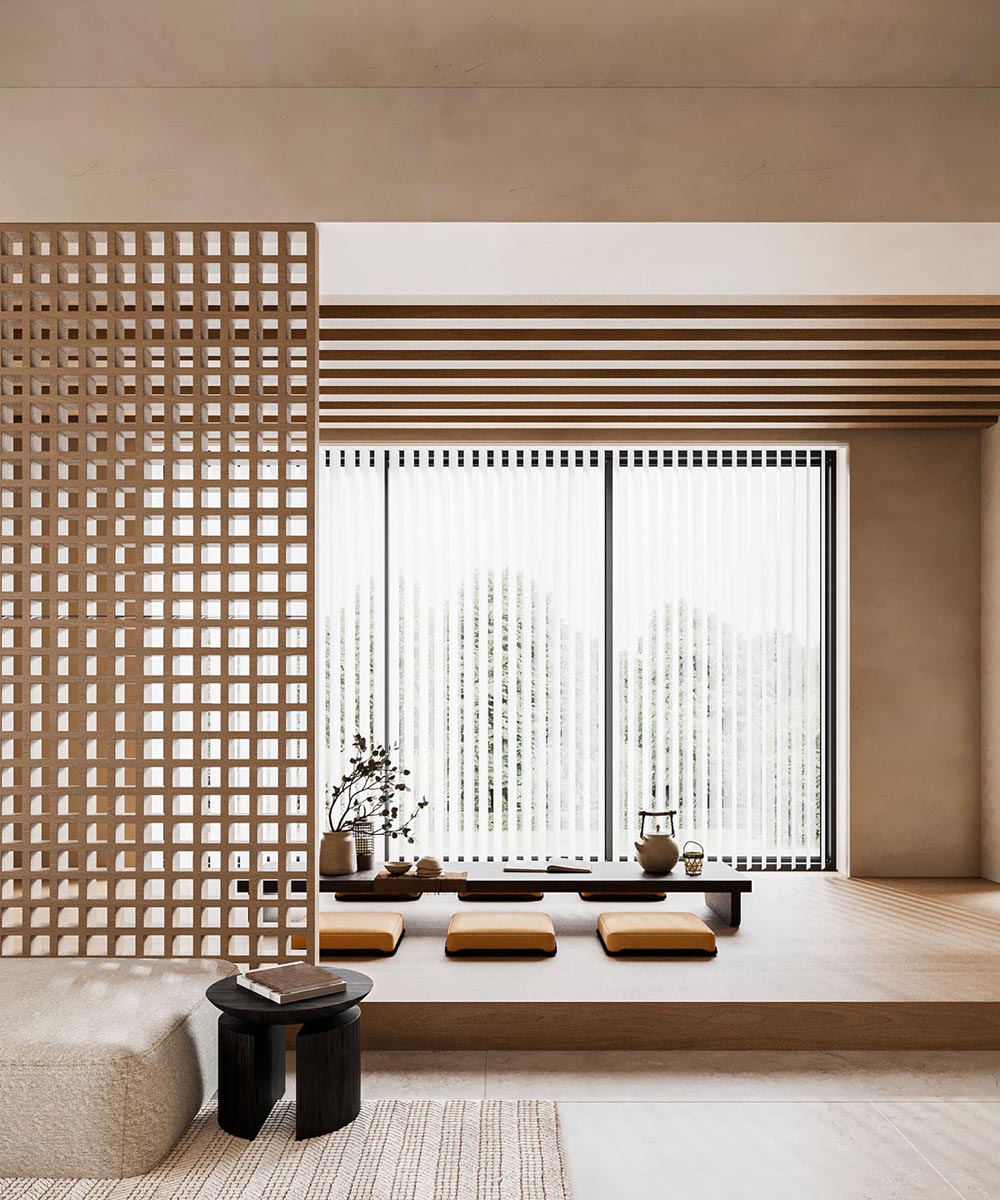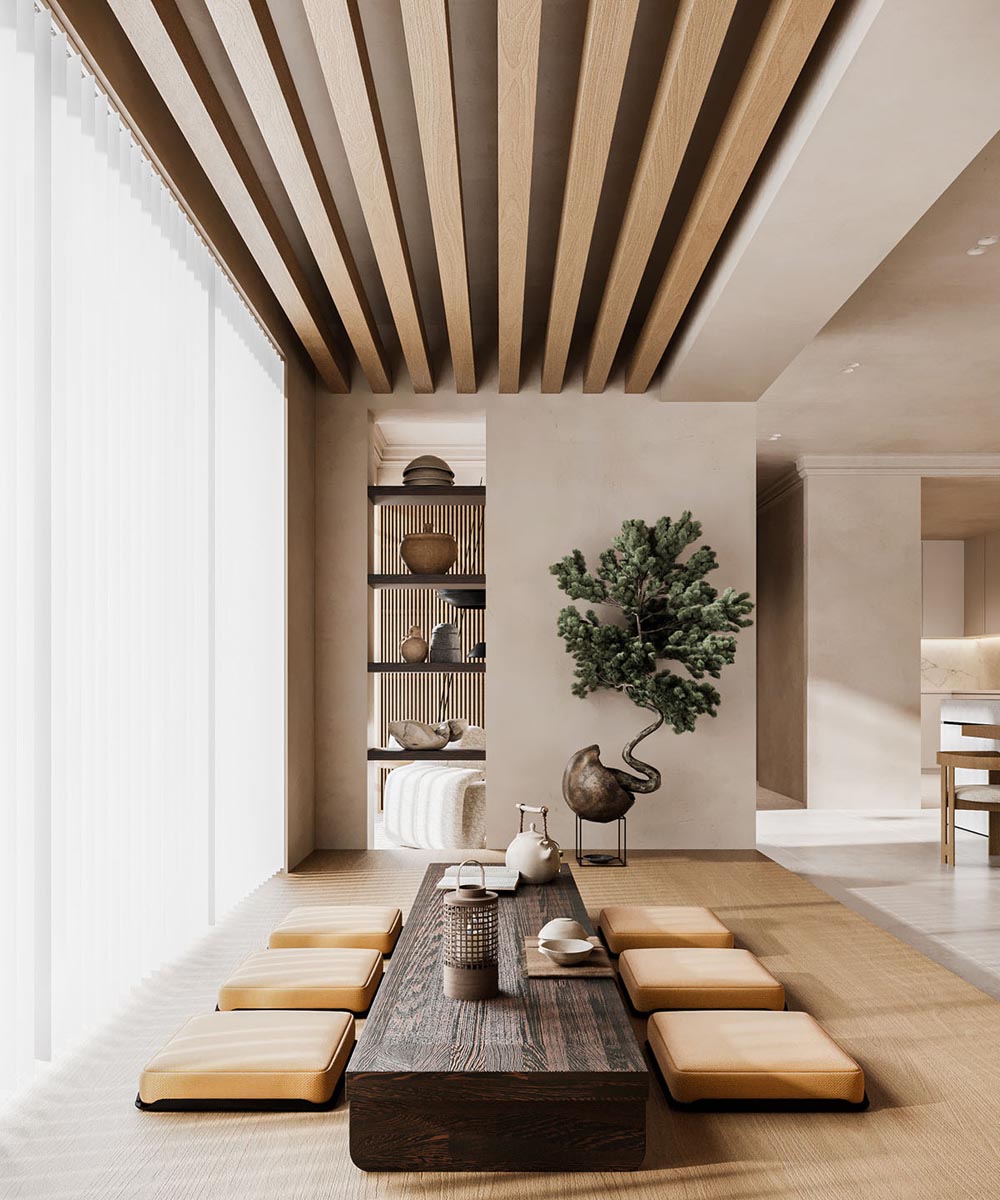 Open-Plan Kitchen and Dining Room
The kitchen and dining room design features a series of open-plan shelving installations that create a lively appearance. Three paper dining room pendant lights offer a nod to traditional Japanese aesthetics and draw focus to the eating area.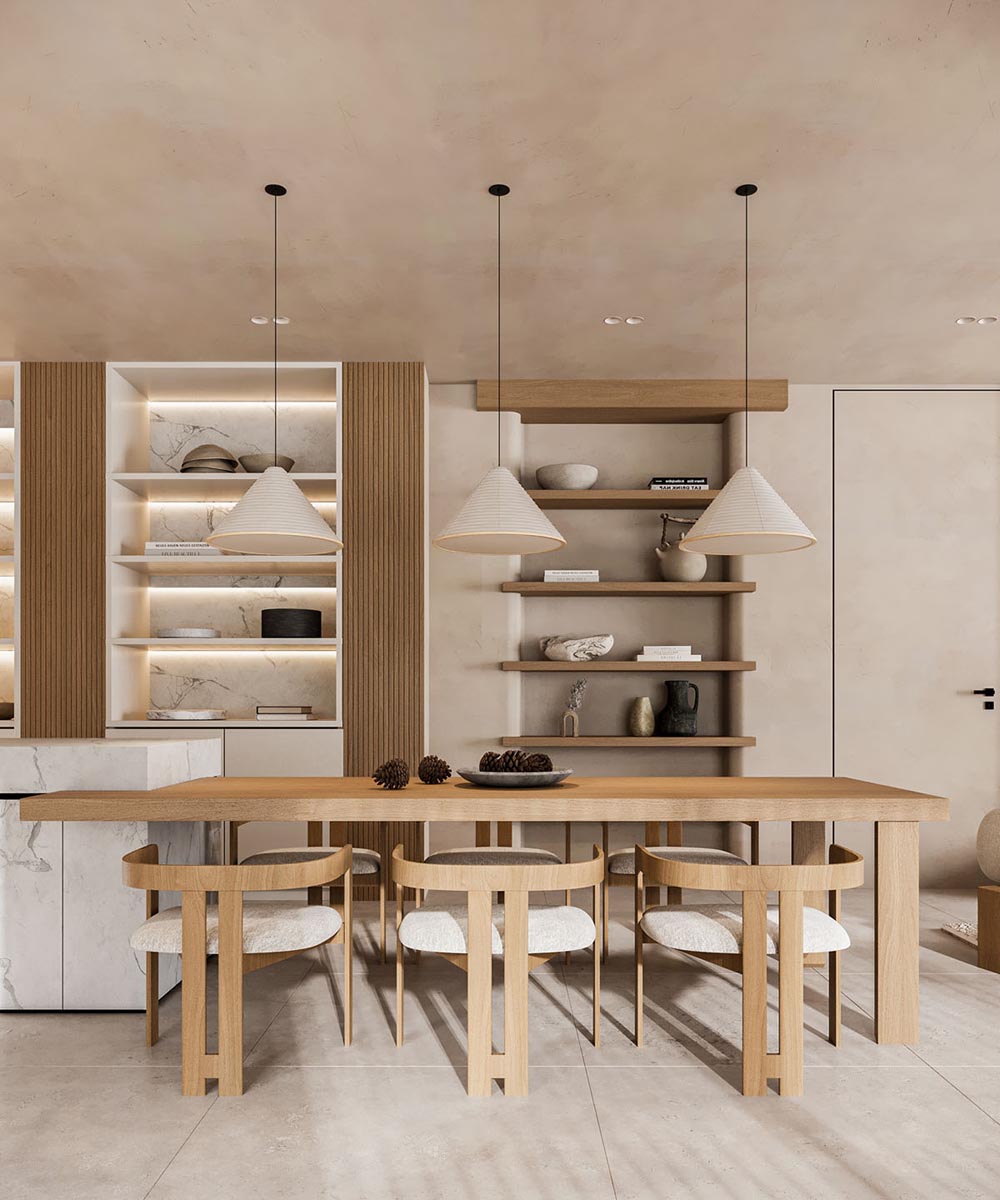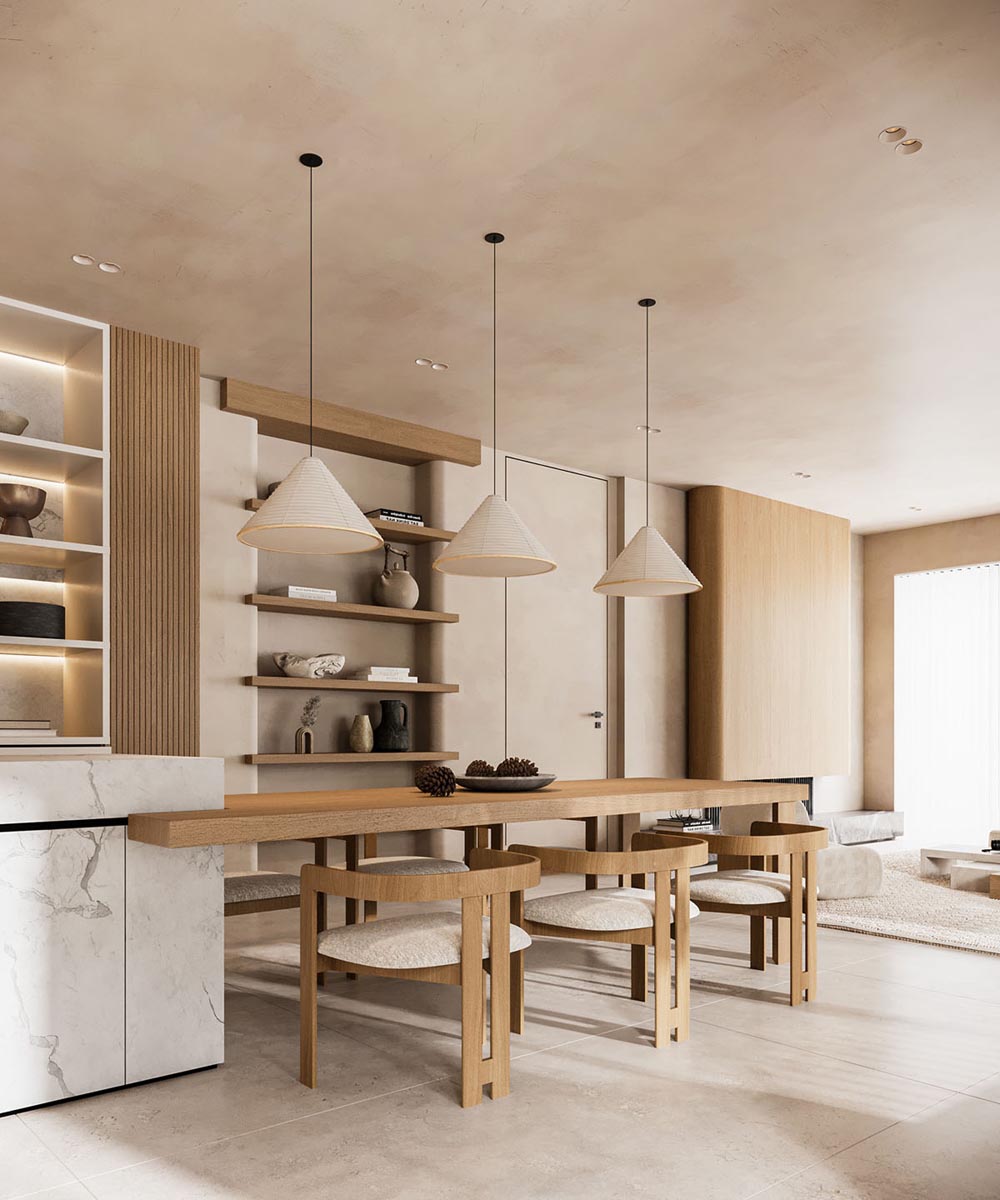 Cozy Reading Nook
A small reading nook is located next to the tea room, and an open-sided tower of shelving links the two areas. The wooden framework forms a circular vignette of the outdoor view. A black floor lamp extends over an Etcetera Lounge Chair by Jan Ekselius for Swedish brand Artilleriet.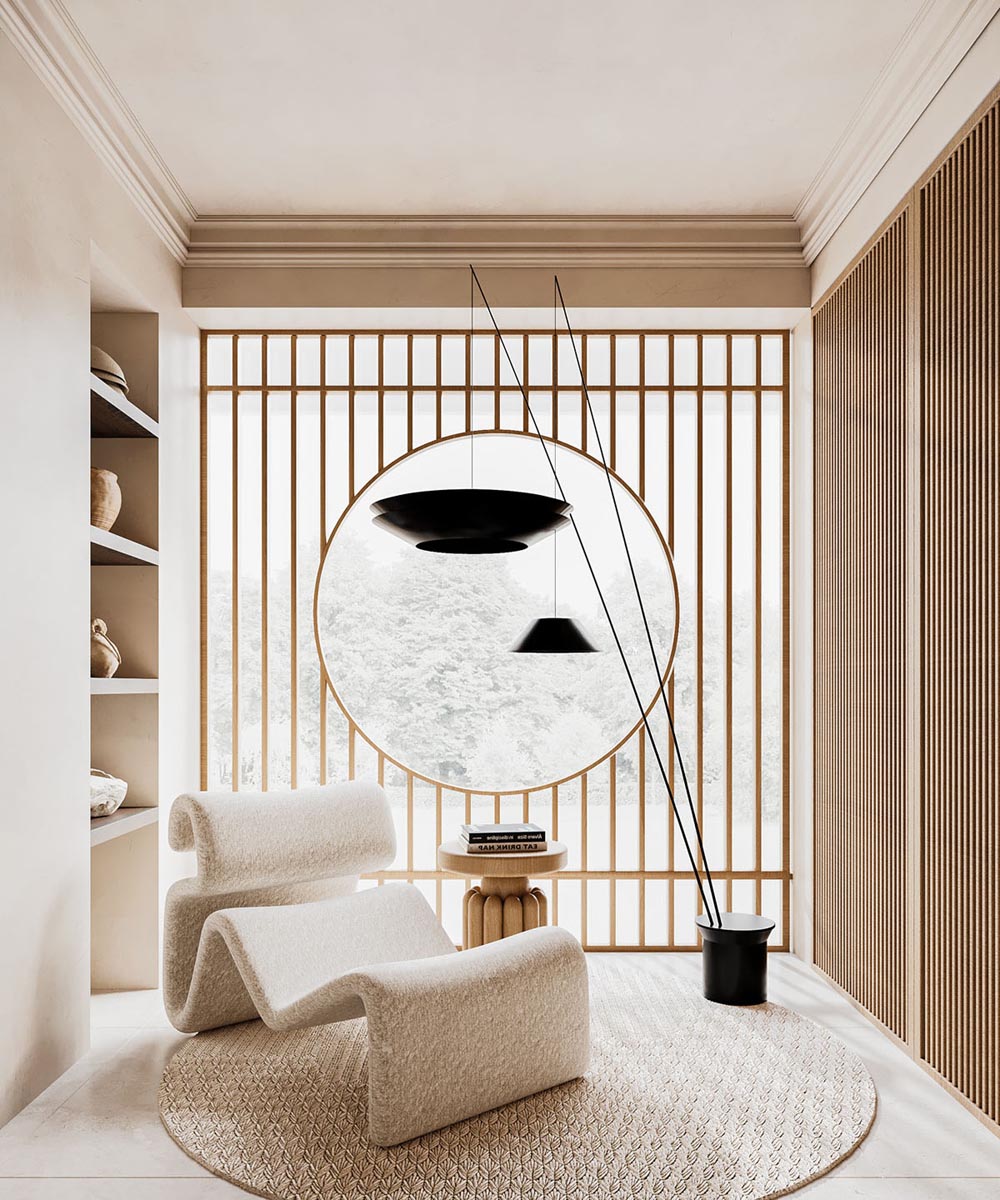 Minimal Master Bedroom
In the master bedroom, wood panels clad the window wall and frame a dreamy window seat. A brown upholstered bed complements the natural wood tone. The bedroom TV wall is underlined with a luxe marble console shelf, and slatted panels create texture around the TV screen. The bedroom also has a storage area with cupboards and open shelving. Brown scatter cushions add a cozy, welcoming appeal to the window seat.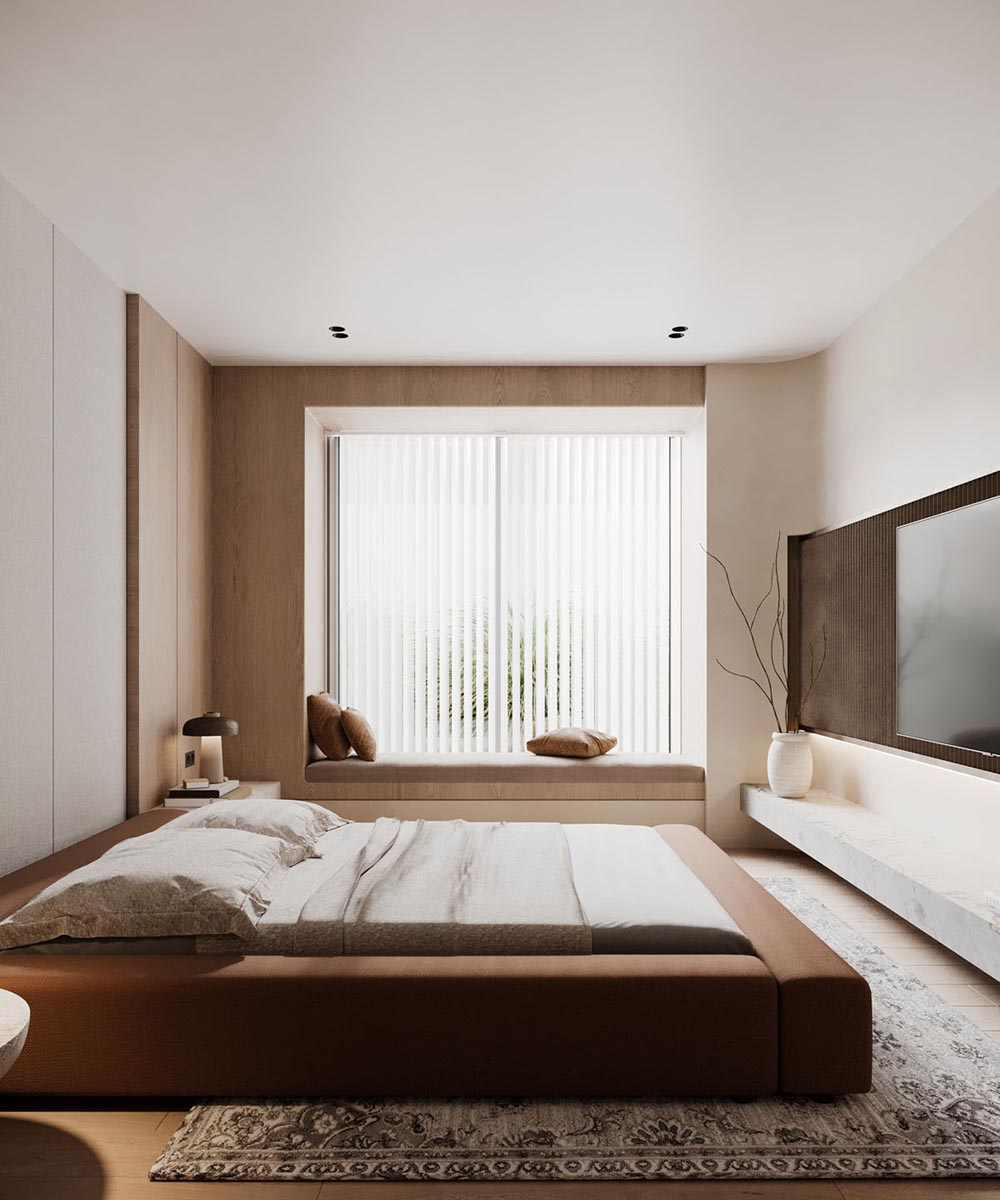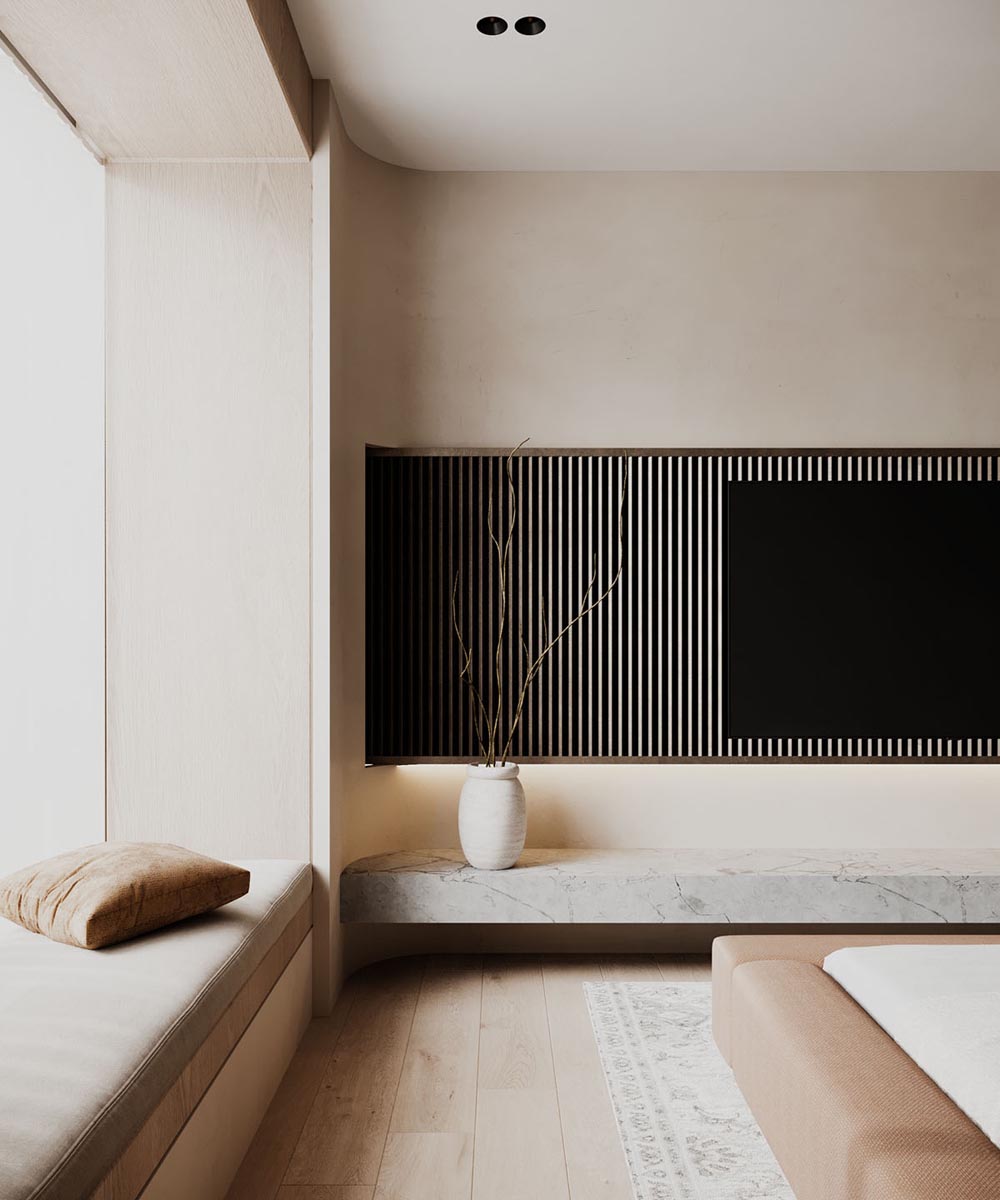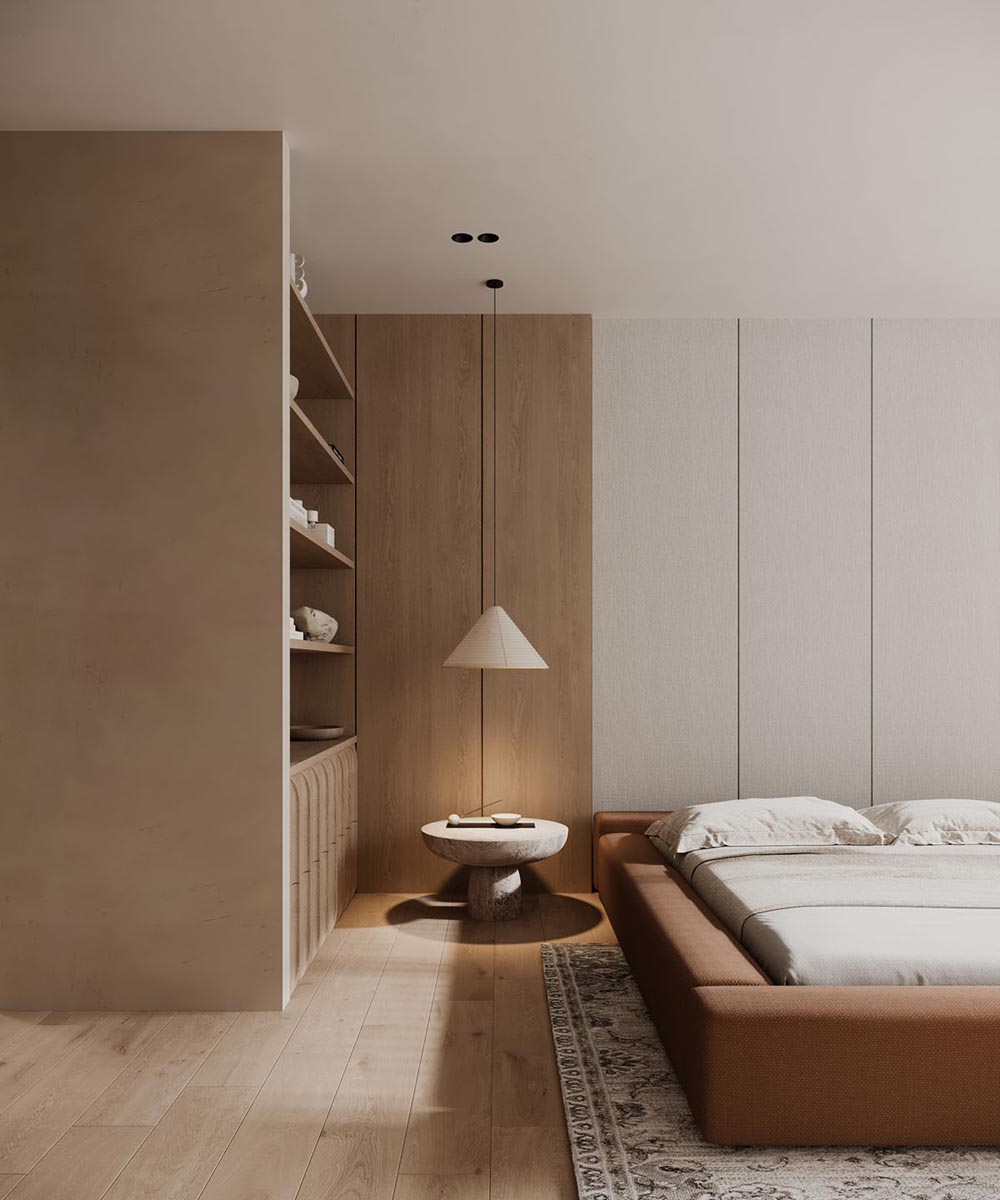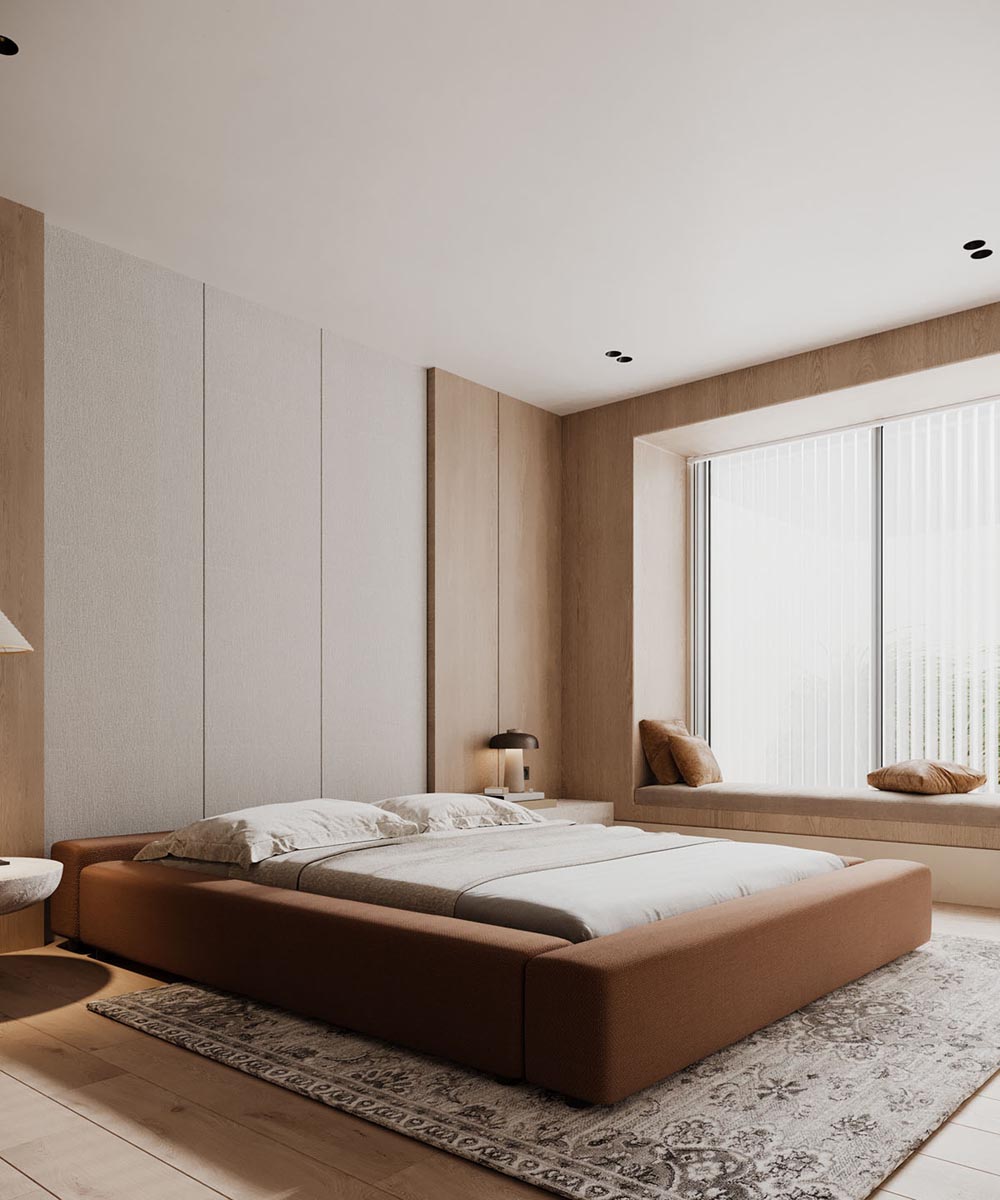 Relaxing Outdoor Terrace
The outdoor terrace features a small swimming pool bordered by plant beds with lush greenery. Two outdoor chairs are poolside, while an outdoor couch and coffee table are tucked back into the shade of the shrubs.