Home decor brand MindTheGap has collaborated with artist and interior designer Minnie Kemp to unveil a collection of playful and color-centric wallpaper ideas.
Comprising newly-created designs with those re-imagined from the brand's archive, the new wallpaper collection is a celebration of joyful colors and pays homage to Transylvania, the homeland of MindTheGap. Combining inspiration taken from the Romanian region's rich heritage with eccentric British design, the end result is a vibrant range of maximalist and artful designs with a playful edge that makes a statement in any home. 
Available in 30 different colorways, the collection of nine wallpaper designs spans intricate florals, contemporary bold graphics and stripes, and ikats as well as including MindTheGap's notorious Enchanted Woodland design, pictured below in a cozy living room.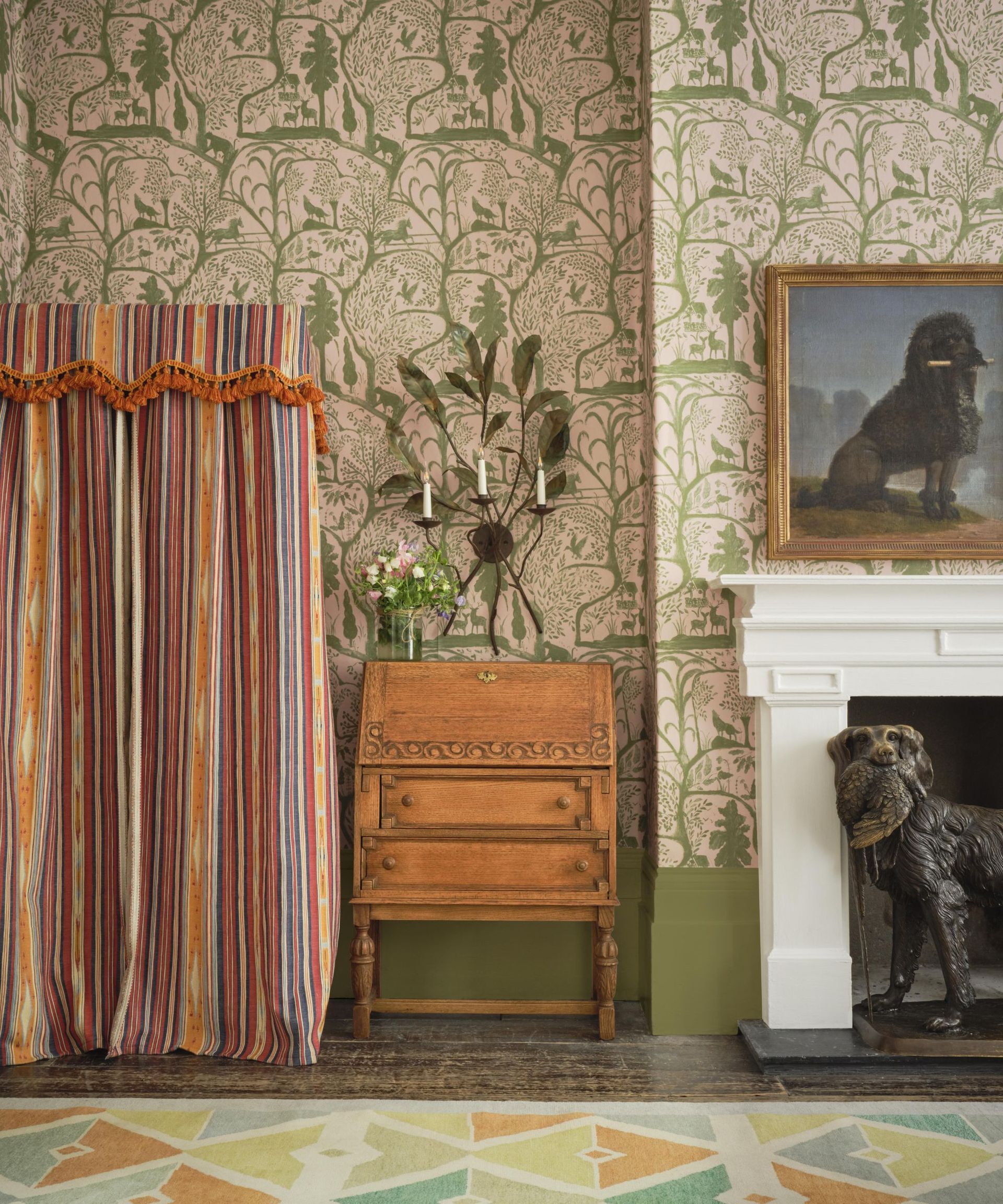 'Having launched MindTheGap over six years ago, this is the first time we have ever collaborated with another creative, it's been an amazing experience for us to see our designs through Minnie's eyes, with her natural design flair for pattern, print, and color delivering surprising and transformative new versions of our designs alongside beautiful new patterns inspired by her visit to our Transylvanian homeland,' says MindTheGap's Creative Director Stefan Ormenisan. 
'Transylvania is a melting pot of peoples and cultures, each bringing their own decorative details to the stunning landscape, it was such a pleasure to share some of this rich design heritage with Minnie. We can see Minnie's joy, spirit of adventure, and beautifully crafted design aesthetic imprinted on every wallpaper design in the collection,' adds Ormenisan.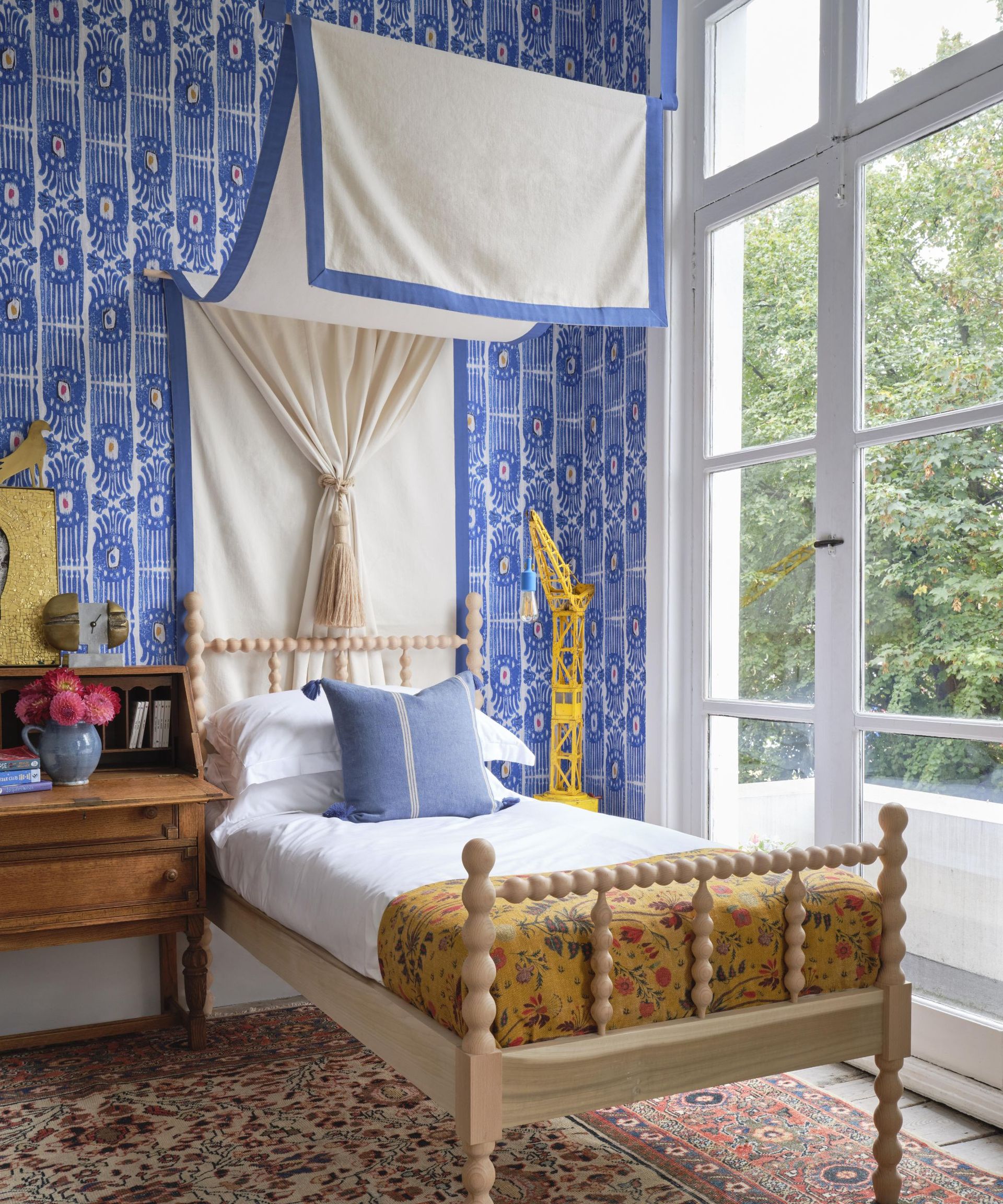 Speaking of the iconic heritage of Transylvania that is reflected in the wallpaper collection, Minnie Kemp, Design Director at Firmdale, who has a childhood connection to the region, explains: 'Transylvania has a wealth of remarkable architecture in its medieval towns and villages, its churches adorned with 14th-century paintings are breath-taking.'
'There is so much color, chalky blue painted houses gleam against verdant green that are covered in a carpet of wildflowers, dog roses, orchids, wild strawberries, bright yellows, violets, and everywhere there is music warming your soul with good vibrations!'
Thanks to the versatility of the wallpaper designs, they can be seamlessly translated into many rooms in the home: 'The designs are versatile and contemporary with tailored stripes perfect for a study and at-home office space. Textured "plains" like Samoa will make any space come alive in such a soft liveable way,' Kemp says. 
FAQs
Where can I shop the Minnie Kemp x MindTheGap wallpaper?
The new wallpaper collection is available to shop at MindTheGap.com, and is also available to purchase at various MindTheGap stockists and distributors worldwide.  
---
If you're feeling inspired to make a statement and incorporate patterned wallpaper into your home, we have lots of wallpaper designs to help you channel this maximalist decor style. 
link