A headboard can not only add striking height and grandeur to a bed, but it can also enhance a bedroom with an elegant shape, eye-catching color, and vibrant pattern.
A luxurious way to elevate your bed from the ordinary to the show-stopping, headboard ideas can establish a wonderful design feature and focal point in a room, creating a sense of drama and opulence. 
Renowned for her beautiful, bespoke headboard designs, interior designer Kit Kemp (opens in new tab) takes us through why a headboard should always sit at the center of your bedroom design.
Make the headboard count with these 8 inspiring ideas
'This furnishing is a real starting point to a bedroom; it's a statement piece that you can take the rest of your design cues from,' says Kit.
Whether you're planning bed ideas for a new space, or are looking into creating a custom headboard design for your bedroom ideas, a headboard is guaranteed to help make your bedroom feel like a luxury, five-star hotel.
British interior designer and founder of the hotel chain, Firmdale Hotels (opens in new tab), Kit Kemp has been creating and designing beautiful interior spaces for over 3 decades.
1. Showcase a beautiful fabric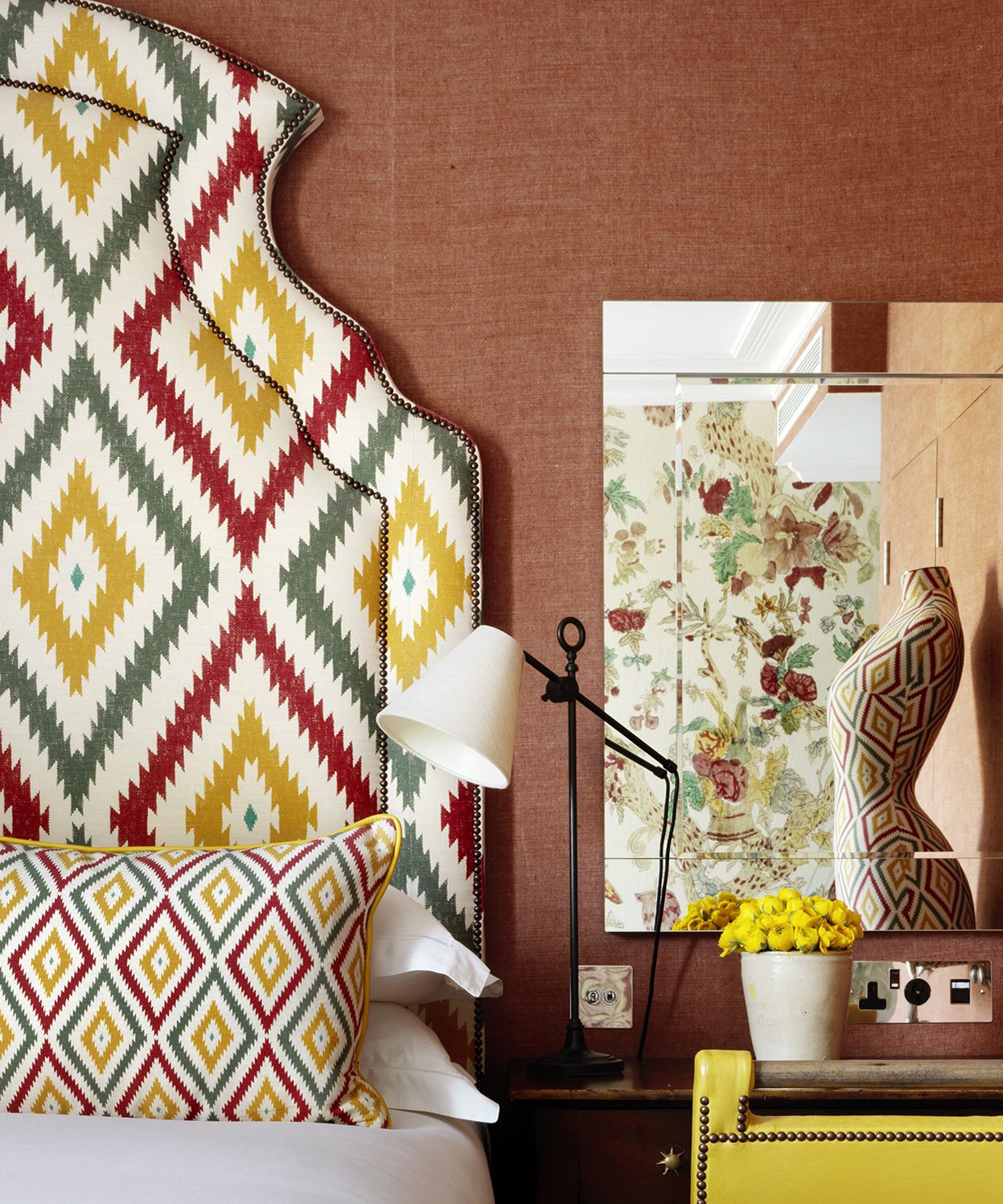 'What I love about a headboard is that it's an opportunity to really see the fabric; when you have a curtain it's gathered and bunched up, or on a chair, the fabric is often cut off and you can't see the repeat. But on a headboard, the fabric is stretched out flat and can be up to 2m across, so it's like a broad palette.'
When decorating with patterns in a bedroom, a headboard can be a brilliant way to showcase a favorite print. Sitting atop your bed like a wonderful work of art, this use of fabric can also bring in beautiful texture and a feeling of inviting comfort, perfect for use around a bed.
2. Get creative with your fabric choice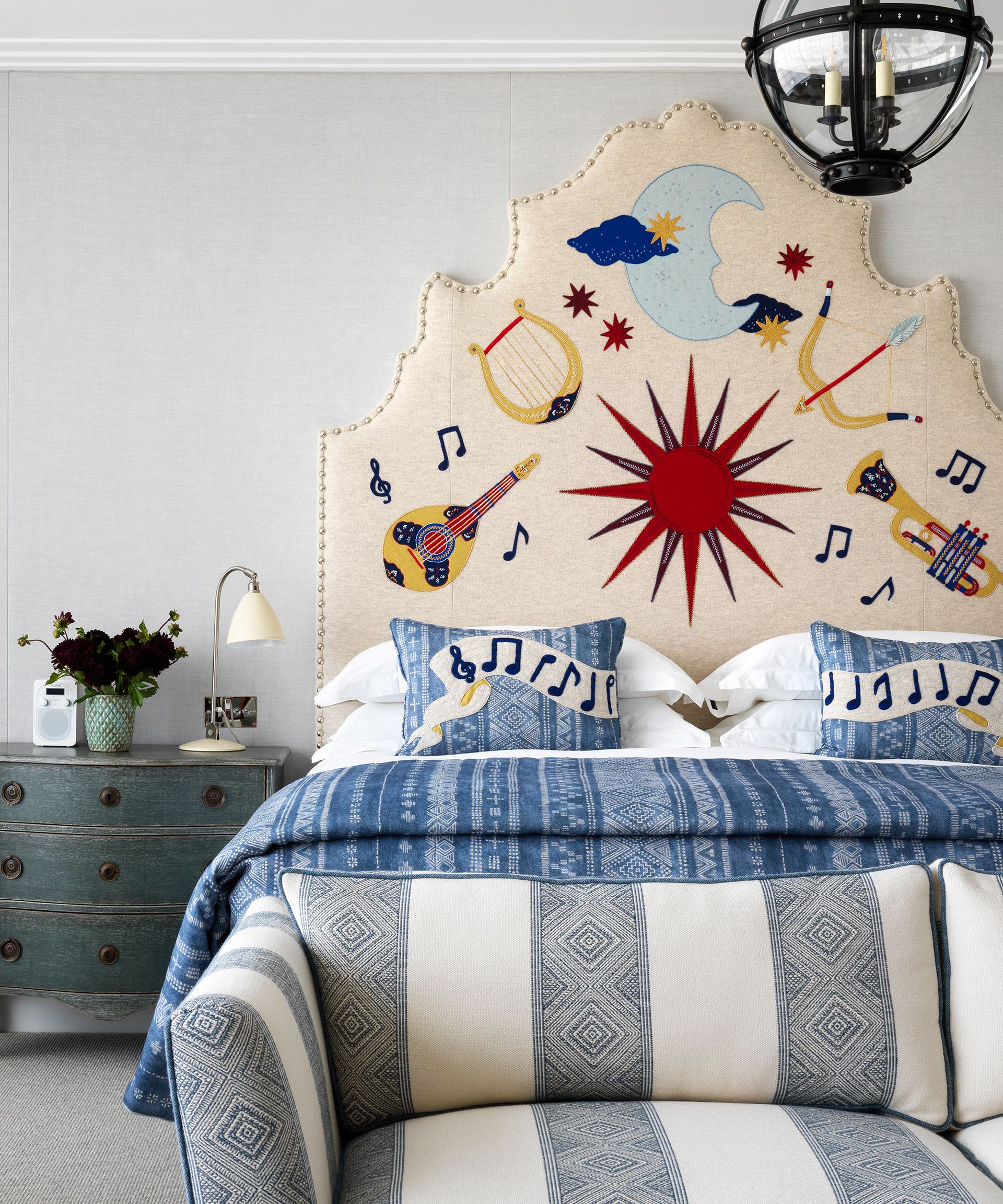 'Our design studio loves textiles and we've used everything for our headboards, from old headscarves and patchwork to found Indian or African pieces – or, of course, use your favorite fabric. A benefit is that because you don't need too much of it, you can push the boat out with a more expensive choice.'
This unique headboard is a result of a collaboration between Kit and London-based womenswear designer, Clio Peppiatt (opens in new tab). Featured in The Soho Hotel (opens in new tab) in London, the embroidered headboard design is a celebration of Soho's vibrant music scene.
3. Choose a high headboard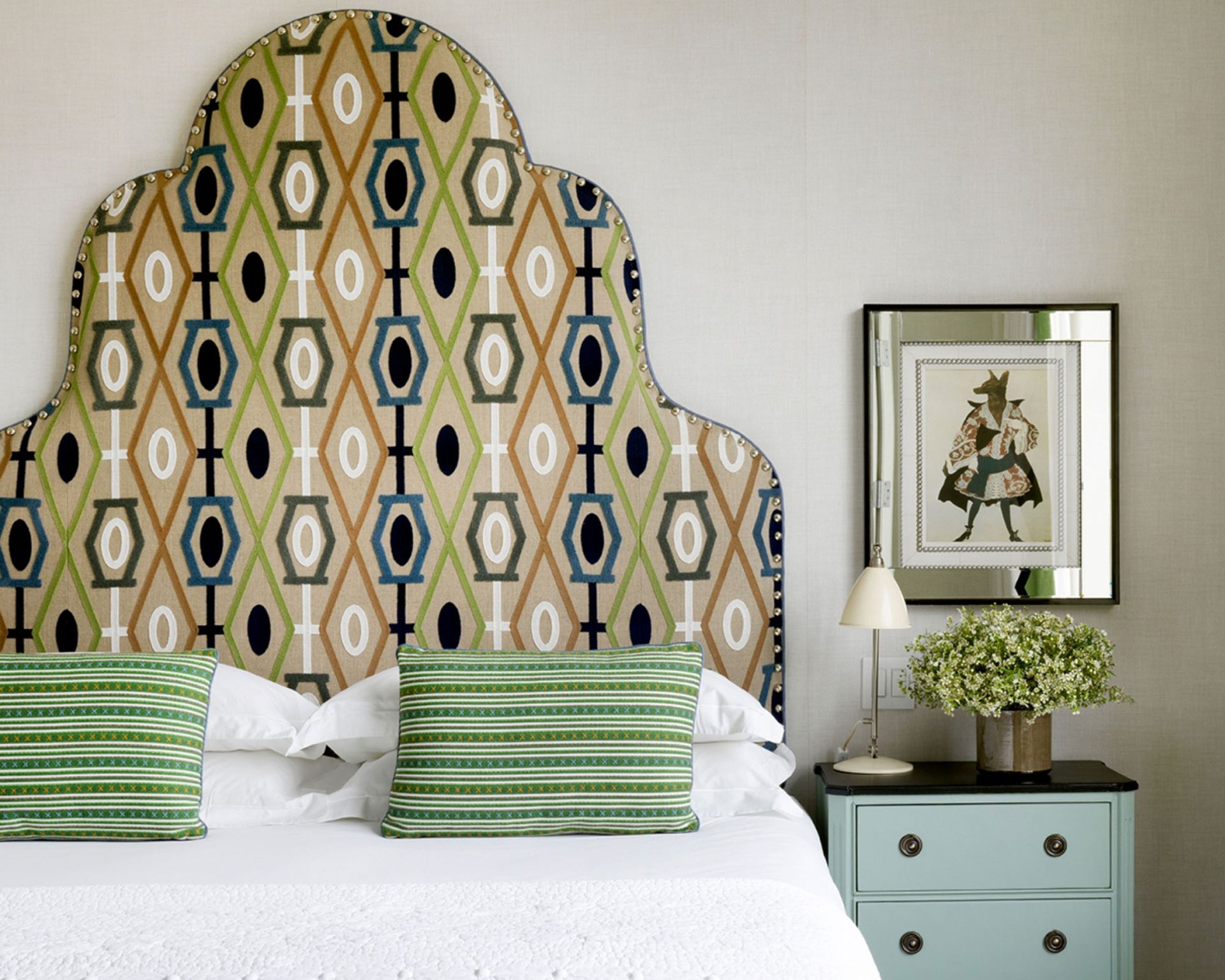 'Size really matters: we use a high headboard, often around 59 inches tall, which gives a lot of drama to a room and makes it a statement piece. We pair our tall headboards with a higher bed – the bed is about 27 inches high – so climbing up into it feels lovely and balances out visually.'
A tall headboard can really command a room and allows you to truly celebrate a chosen pattern or piece of fabric.
4. Create a cohesive look with a matching valance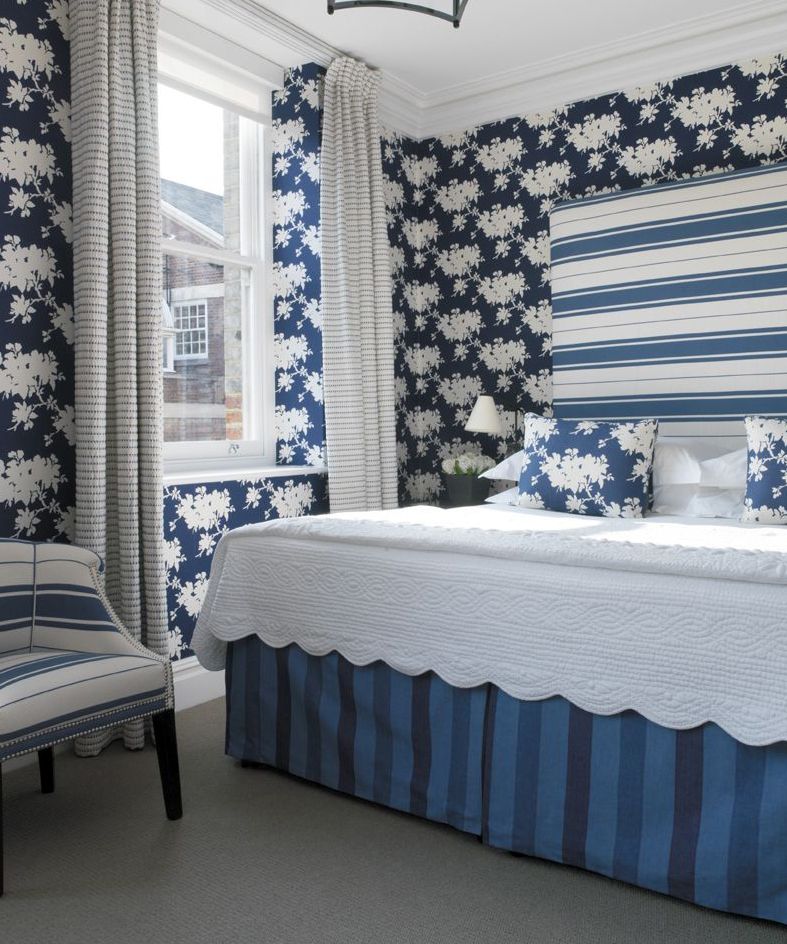 'We often have a valance underneath our beds – as we value beds with extra storage – and so match the fabric with the headboard. We use straight valances with kick-pleat corners, which use less material. 
It can also look stunning to match curtain ideas – but it's not necessary. You can have a less expensive fabric, like plain linen for the curtains. You can also pair the headboard with a footstool if you want something else in the room that uses very little fabric – they then talk to each other visually.'
A bed valance is great for covering under-bed storage and for introducing another layer of comforting texture and material. Coordinating your valance with your headboard, whether that be through color or the same or a similar pattern, will create a stylish and coordinated look.
5. Opt for a unique shape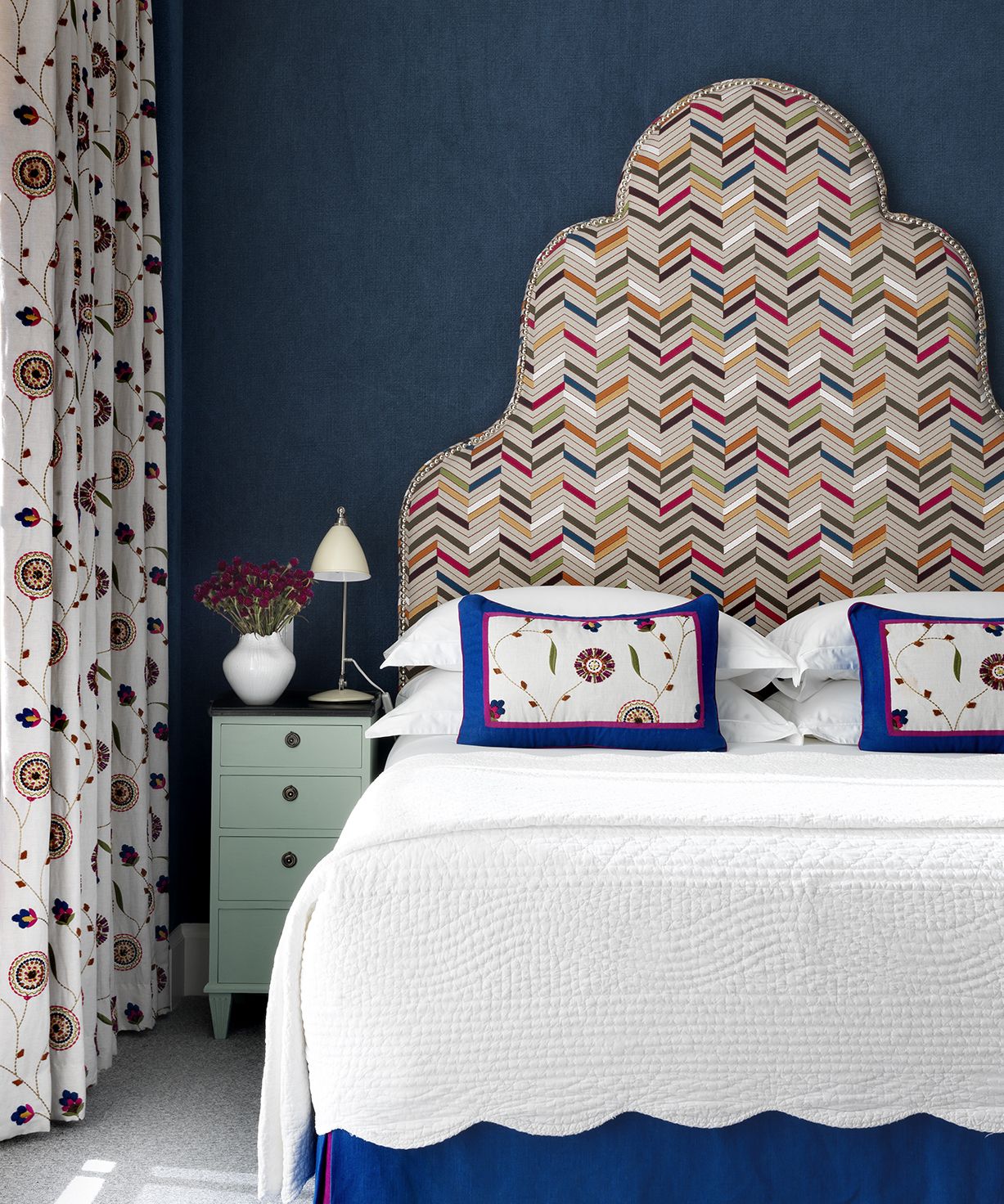 'In our hotels, we love having beautifully shaped headboards – waves or points. I call the different shapes after some of the people who have worked with me; I feel very fondly towards them all.'
We love the flowing, soft curves of this grand headboard and how it creates an elegant contrast with the sleek, linear geometric pattern. Beautifully framed by the dark blue wall, this playful use of shape enriches the bedroom with eye-catching visual interest.
6. Don't be afraid to use a large headboard in a small room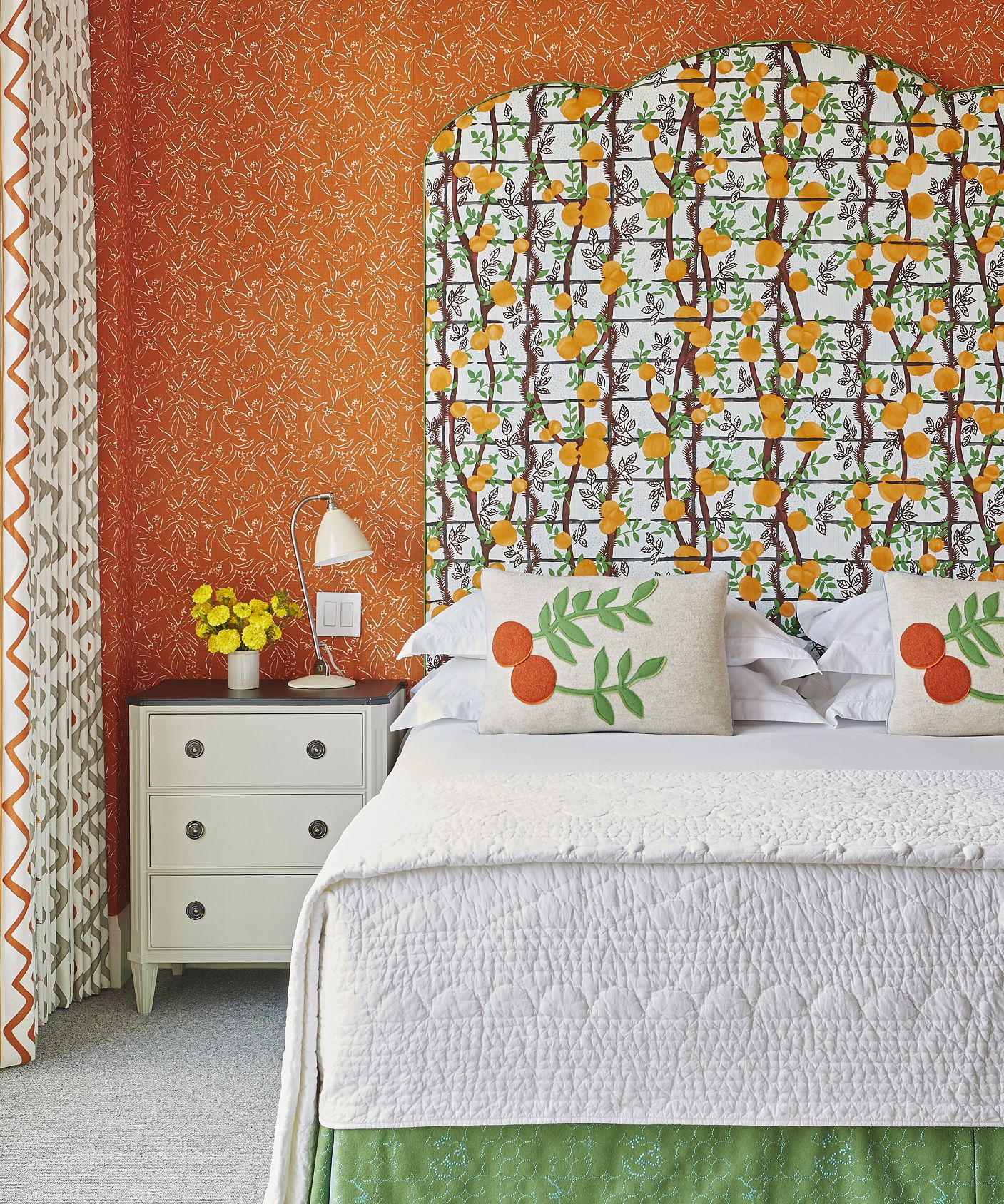 'You absolutely can have a big headboard in a small bedroom, in fact, I love the tall pointy headboard on a little 3ft bed that we did recently up in an attic. It looked very Gothic and grand.'
Decorating small bedrooms is all about being clever with color and scale, and a large headboard is an easy way to bring in color, texture, and pattern without over-decorating or cluttering the space.
7. Add drama with a canopy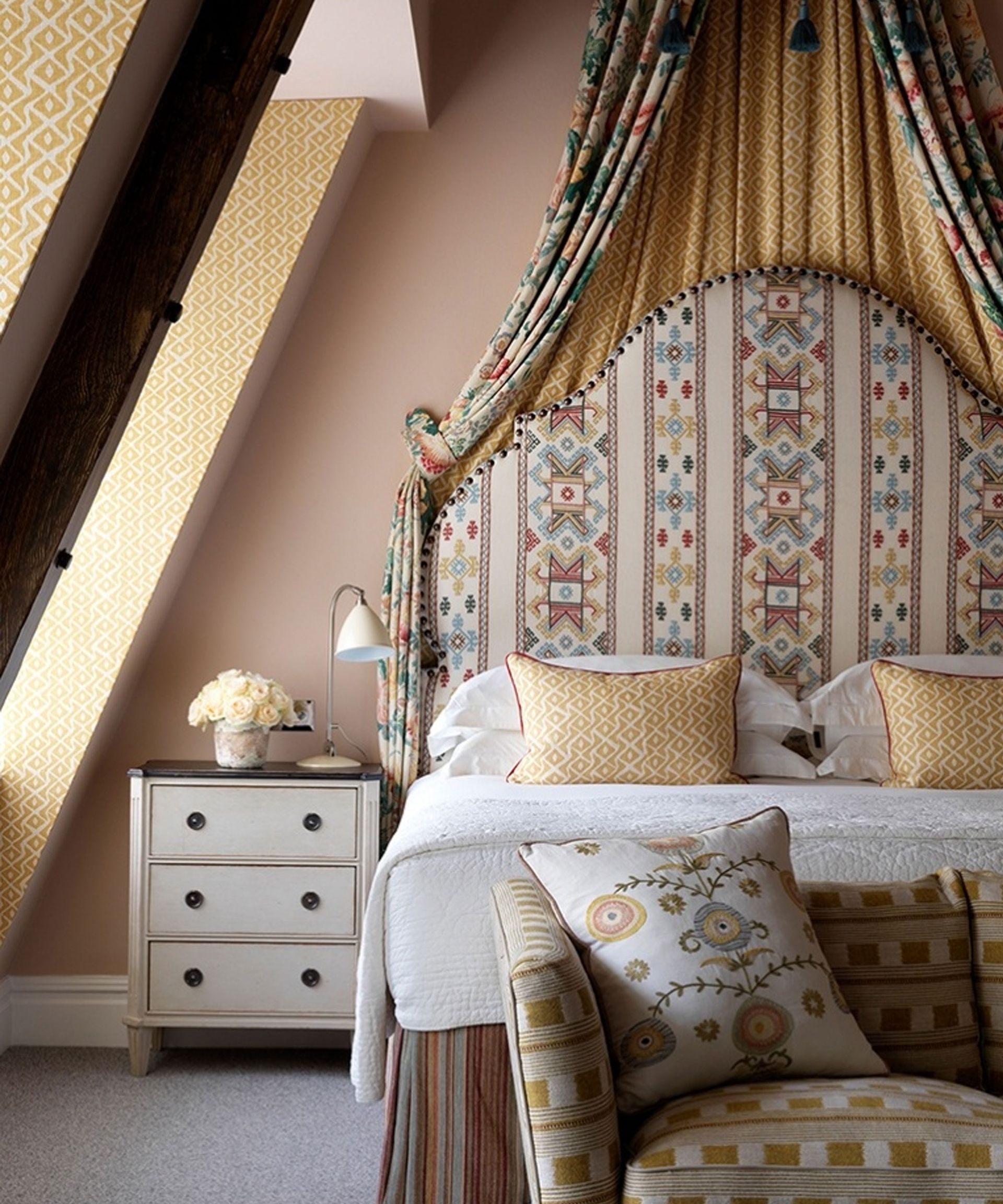 Be inspired by traditional bedroom ideas and pair a canopy with your headboard to establish an enhanced look of texture and beautiful pattern.
'A canopy over the top of a bed, along with a headboard, really ups the drama. It can look incredibly glamorous, even if you just have a white linen canopy with a headboard with slightly more pattern. It's simple but powerful.
'In this room, we have used a large-scale headboard, covered in one of my latest fabrics for Chelsea Textiles, Ashenwood in Summer (opens in new tab). Over the bed is a traditional corona half tester in a Lee Jofa floral fabric. The floral fabric on the outside of the canopy is contrasted with a vibrant yellow Tissus d'Helene print.
Half-testers are a wonderful way to bring a touch of opulence to your next scheme. Use this versatile and elegant design detail to bring together exciting combinations of textures and patterns.'
8. Enhance the headboard with elegant detailing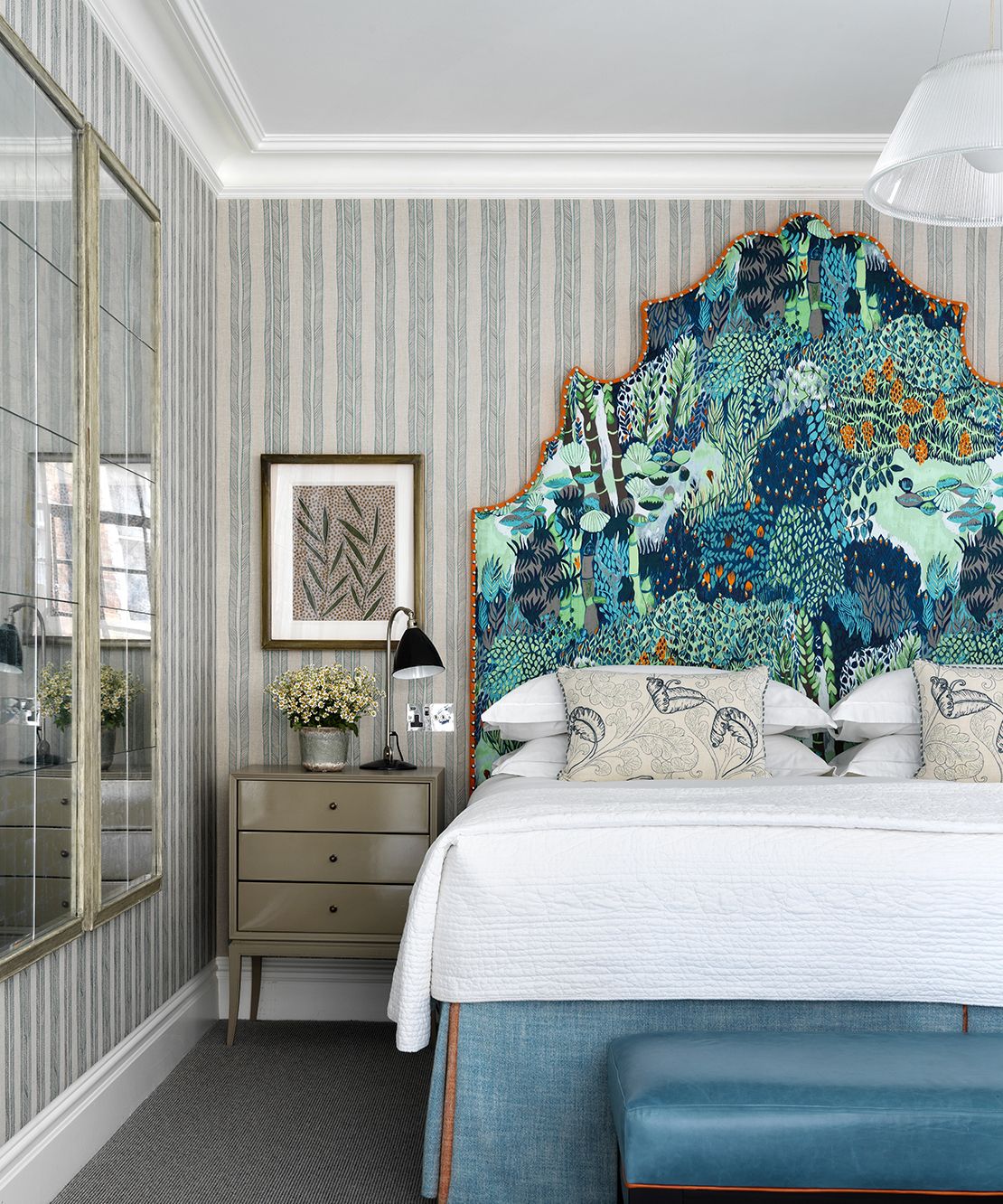 'The devil is always in the detail. Trims are a fantastic way of adding more glamour to the simplest scrim or linen. Also, large, spaced-out studding is a brilliant way of defining the line of the headboard. We might do a contrasting color for the backing material which then peeps around the edge. It really captures the imagination.'
This headboard features a vibrant orange trim with elegant stud detailing, and mirrors the use of blue and orange used across the bed valance and coordinating bench; a beautiful example of how contrasting patterns, shapes and colors can sit in perfect harmony – it's all about balance!
Kit's tips for shopping for headboards
'We make our own headboards, and do sell some, too, but it isn't difficult to find talented people who can make up headboards. 
We use our own fabrics much of the time, or vintage finds, but I also love Penny Morrison (opens in new tab), Chelsea Textiles (opens in new tab), Mulberry Home (opens in new tab) and GP&J Baker (opens in new tab). 
We very often choose Sleepeezee (opens in new tab) beds, which are the higher-up beds with lots of storage underneath.'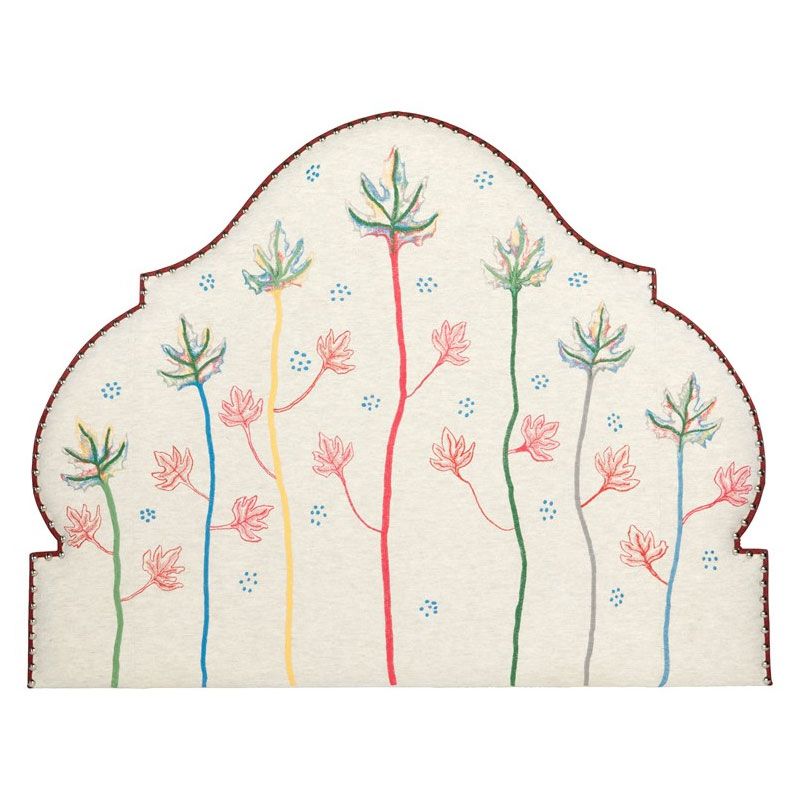 This limited-edition headboard is a beautiful celebration of nature and color. Crafted from luxurious boiled wool, this headboard was created by using a special Irish embroidery technique and machine, taking advantage of fabulous British craftsmanship.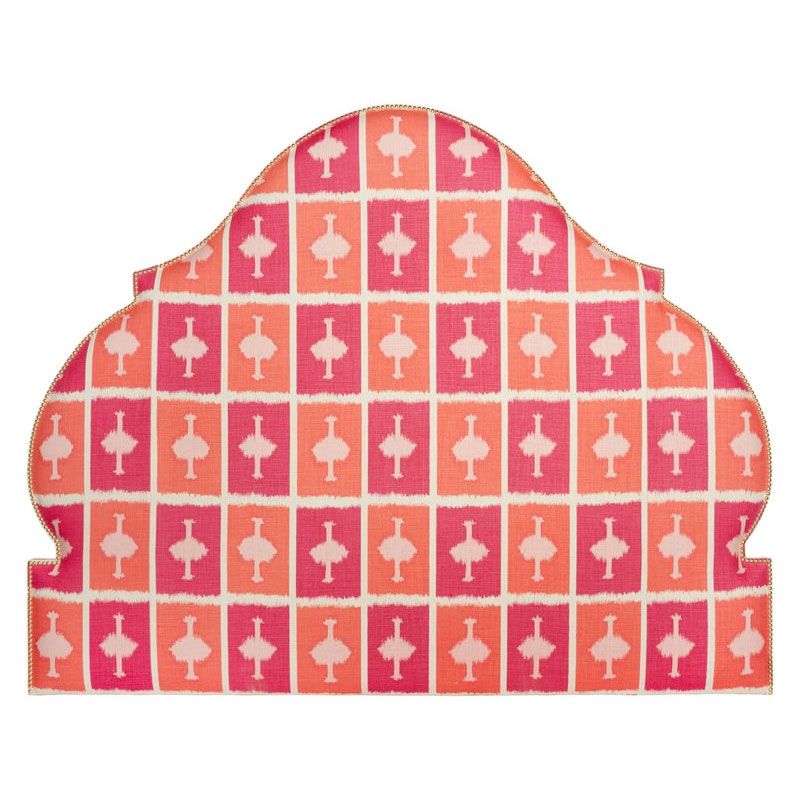 A pretty pink headboard that showcases the elegant Ozone fabric, the joyful design can uplift a bed with beautiful color, shape and pattern.
FAQs
What is the point of a headboard?
Headboards are both beautiful and wonderfully practical. They can not only enhance a bedroom with eye-catching decoration, but they can also protect your walls, offer insulation and create a more comfortable and supportive place to lean up against.
From fabric headboards to wooden paneling, there are so many different designs to choose from, all with different qualities. 
For example, the more decorative, fabric designs we have explored in this piece are perfect for elevating your bedroom's decor, whilst bespoke, wooden headboard designs that feature handy shelves and niches are ideal for providing additional surface and storage space!
---
Kit Kemp shows us how a humble headboard can be transformed into a luxurious, statement design feature in a bedroom; enriching the space with a unique shape, beautiful colors, eye-catching patterns and most importantly, individuality.