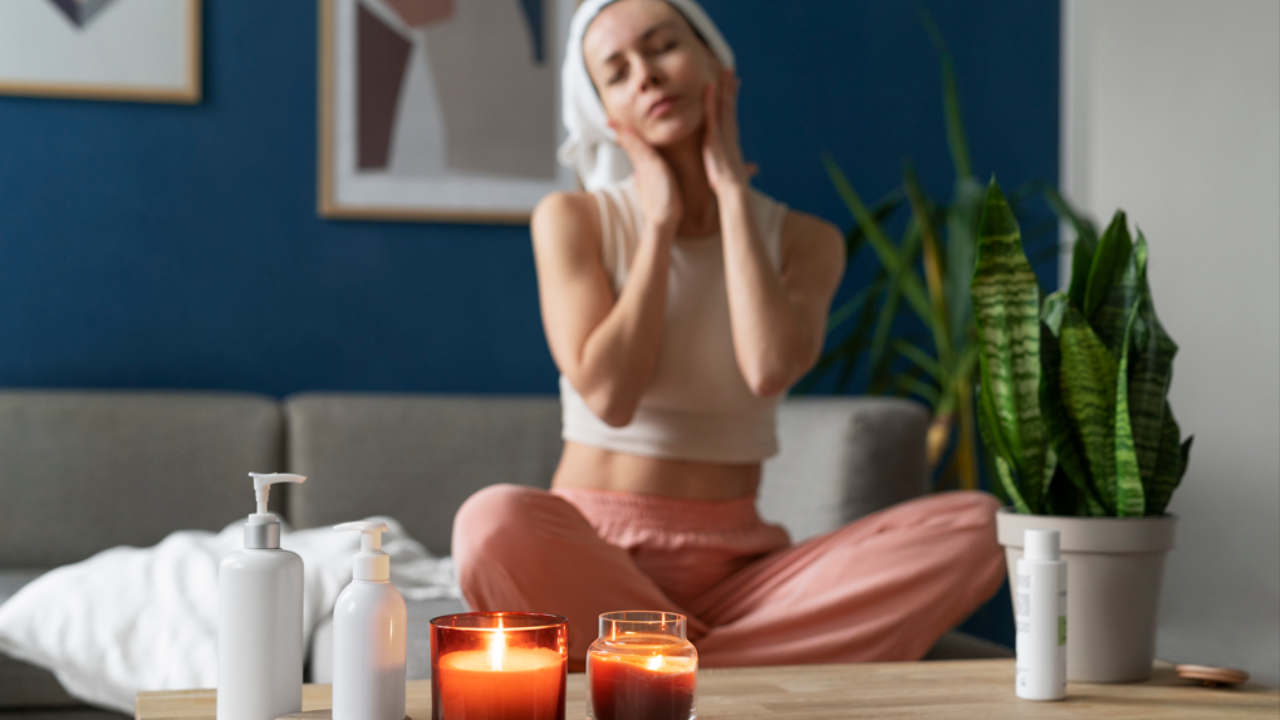 DIY Beauty Treatments For At-Home Spa. Pic Credit: Freepik
Elevate your self-care routine by embracing the world of DIY beauty treatments, transforming your home into a serene spa retreat. These simple yet effective techniques will help you achieve a rejuvenating spa day without leaving the comfort of your abode.
1) Steam Facial
Begin your spa journey with a steam facial to open up your pores and cleanse deeply. Boil water and pour it into a bowl, then drape a towel over your head and lean over the bowl. Let the steam envelop your face for about 5-10 minutes. This purifying ritual leaves your skin refreshed and glowing.
2) Exfoliating Scrubs
Mix natural ingredients like sugar, coffee grounds, or oatmeal with a carrier oil (such as coconut or olive oil) to create your own exfoliating scrub. Gently massage it onto your body in circular motions, sloughing away dead skin cells and promoting circulation.
3) Nourishing Hair Mask
Pamper your tresses with a homemade hair mask. Blend ingredients like avocado, banana, yogurt, and honey to create a deeply moisturizing mixture. Apply it to your hair, wrap it in a warm towel, and let the mask work its magic for 20-30 minutes before rinsing.
4) Relaxing Bath Soak
Craft a soothing bath experience by adding Epsom salts, essential oils, and dried flowers to your bathwater. Lavender, chamomile, and eucalyptus oils can provide relaxation, while rose petals or calendula add a touch of luxury.
5) DIY Face Masks
Utilize the goodness of natural ingredients like yoghurt, honey, clay, and mashed fruits to make nourishing face masks. These masks can address various skin concerns, from hydration to acne control, leaving your face feeling pampered and renewed.
6) Manicure and Pedicure
Treat your hands and feet to some TLC by creating your own spa-like manicure and pedicure session. Shape your nails, soak your hands and feet in warm water, exfoliate, moisturize, and finish with your favourite nail polish.
7) Aromatherapy
Elevate the ambience by using essential oil diffusers or scented candles. Scents like lavender, citrus, and vanilla can help alleviate stress and promote relaxation.
8) Meditation and Relaxation
Incorporate mindfulness into your home spa day. Set aside time for meditation, deep breathing, or simply lounging with a book and soothing music.
Incorporating these DIY beauty treatments into your at-home spa day can provide a sense of rejuvenation and tranquillity. Remember to personalize each step according to your preferences and skin needs. Whether it's a solo indulgence or a bonding experience with loved ones, these accessible and affordable treatments can elevate your self-care routine and promote a lasting sense of well-being.
Found this article helpful? Let us know @ZoomTv!
link