Scandinavian decor ideas are popular for several reasons: pared-back, unfussy, uncluttered spaces – and a winning combination of form and function create aesthetically pleasing, yet practical interiors. The combination of clean lines, a light and bright ambience, and natural materials that typify one of these rooms has enduring appeal, after all.
With busy modern lives, homeowners are now more aware of their furniture choices and aim to find a balance between streamlined minimalism and luxurious comfort for their decorating ideas.
Here we explore the very best of the Scandinavian décor trend – and how to effectively and beautifully use this popular interior design aesthetic in your home. 
Scandinavian decor ideas – how to embrace this minimalistic trend
What is Scandinavian design, you ask? Expect to see Nordic influences presented in their most refined form yet. Clean lines, sleek surfaces and a neutral palette strike a sophisticated smart-casual balance.
Adopt Scandinavian design principles to create a space that is focused, functional, and features only a few meaningful and cherished items. 
Here we look at the different features as well as the aesthetic of Scandinavian design, with expert guidance to help inform a new room.
1. Add subtle interest and detailing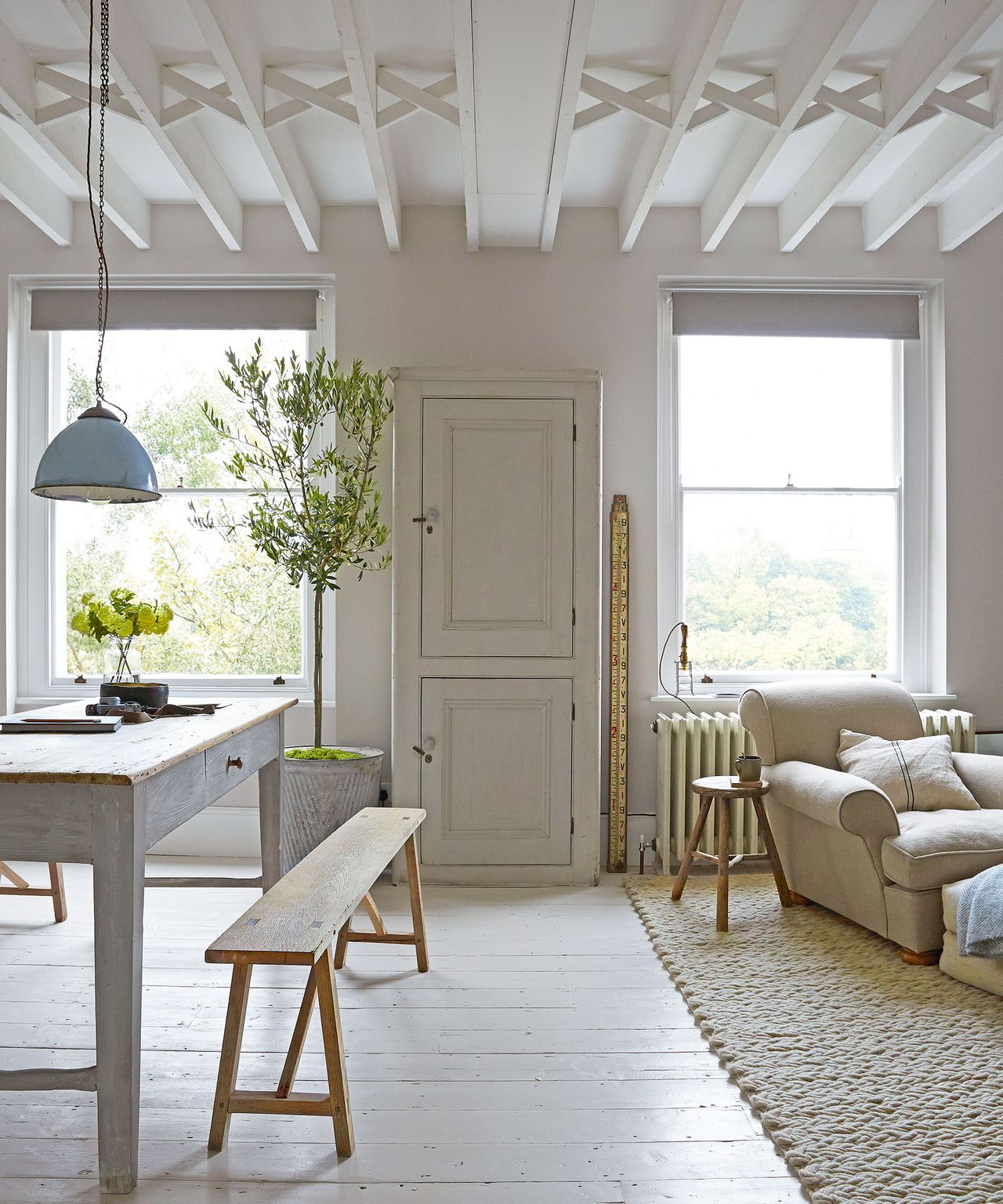 The lines and crosses of this Scandinavian living room ceiling reveal the beauty of its structure and architecture, and create a lively counterpoint to the calm space below. 
In old houses it can pay to investigate the original 'bones' of the house though it is important to consider the condition ceilings may be in if you expose them. 
The use of white paint here may have helped to conceal flaws as well as create a softer effect that blends in with the room. This versatile neutral is one of the most popular paint ideas for Nordic interiors, and it is easy to see why. Decorating with white offers a blank canvas that illuminates dark spaces –a common issue in Scandinavian countries – and can make even small rooms feel spacious, light and bright.
2. Work wood into your design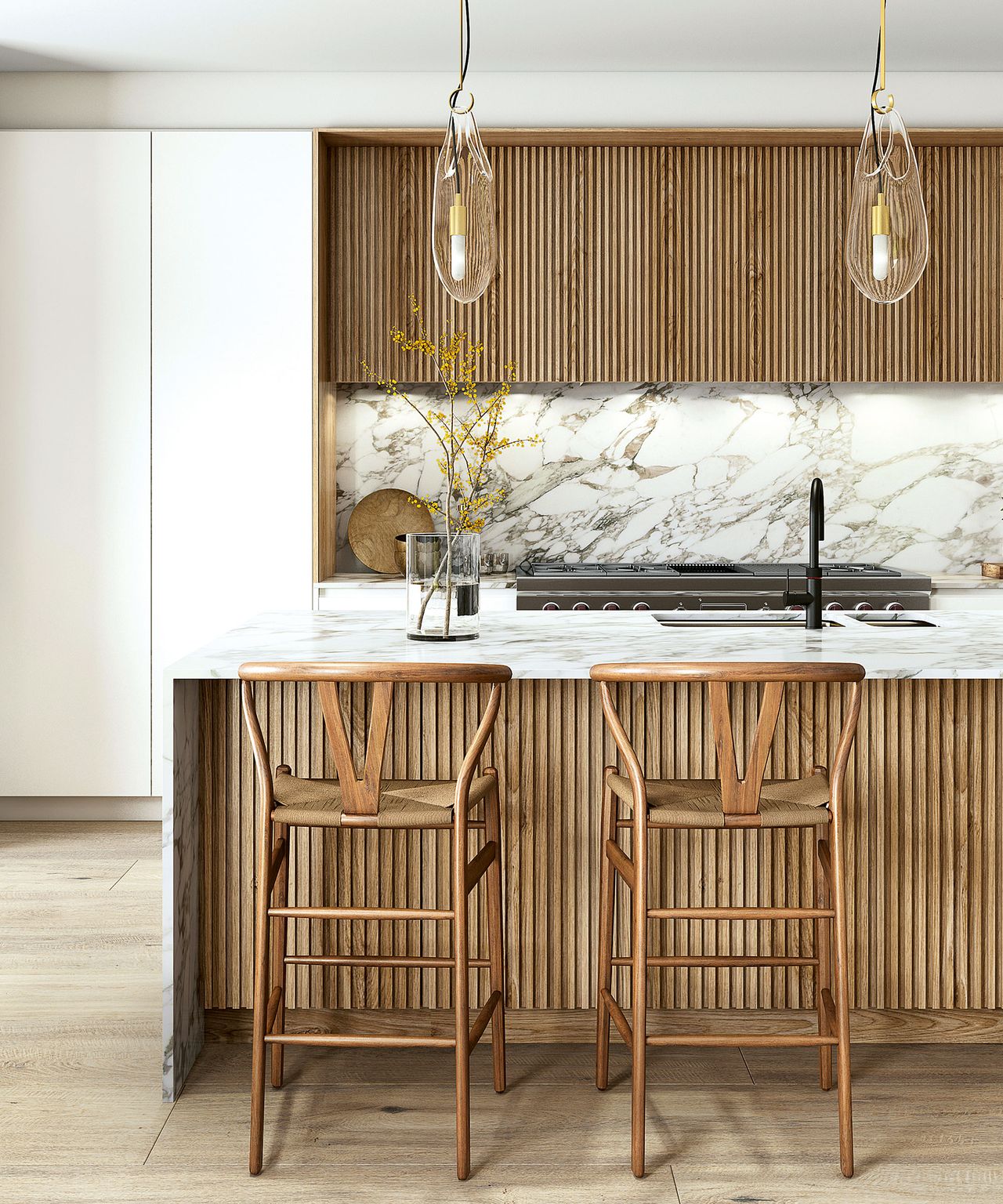 Wood is a staple in a Scandinavian kitchen, but this season it is being reinterpreted with fresh and interesting techniques.
Here, three-dimensional surfaces that shift with the light bring a modern twist to wood in the kitchen. 'Combined with sleek flat-fronted doors in crisp white, thin vertical wood slats provide texture and depth, enhancing the tension between plain and pattern,' explains Sofia Bune Strandh, CEO, Sola Kitchens (opens in new tab). 
SKOG, meaning 'forest' in Swedish, is the name given to this striking new wood-focused design from Sola Kitchens. 'It's called SKOG partly because the wooden slats resemble the outlines of trees, but also the name reflects the embracement of natural materials – a typical quality of Scandinavian design,' she adds.
3. Go for a white-one-white scheme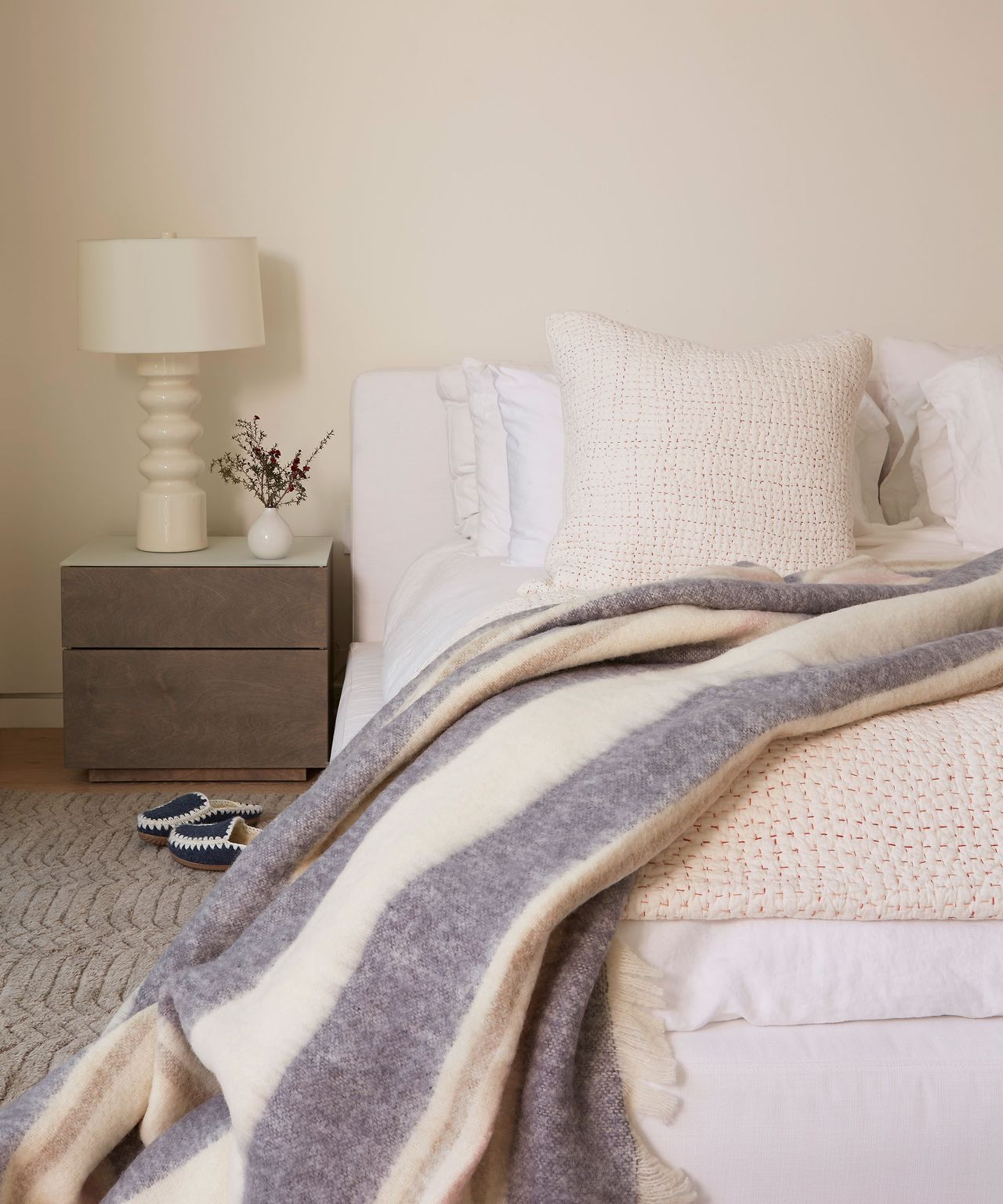 Evoking purity and cleanliness alongside confidence and sophistication, white bedrooms ideas are a timeless choice for a true Scandinavian scheme.
'The reason people like white room ideas is because it is so versatile,' says artist and color expert Annie Sloan (opens in new tab). 'There are so many varying shades of white from warm white to cool white and the great thing about decorating with it is that whatever your style of interior – be it contemporary or country – white-on-white is a scheme that is guaranteed to look chic in a Scandinavian bedroom.'
Designed by Lucie Ayres, founder of 22 Interiors (opens in new tab), this space utilizes texture to perfection. Texture in interior design is vital, and is not simply just about how décor and soft furnishings feel, but it's also about 'visual texture' – using different materials to add interest and breathe life into a room. This is an important element of the Scandinavian design ethos.
4. Put the focus on furniture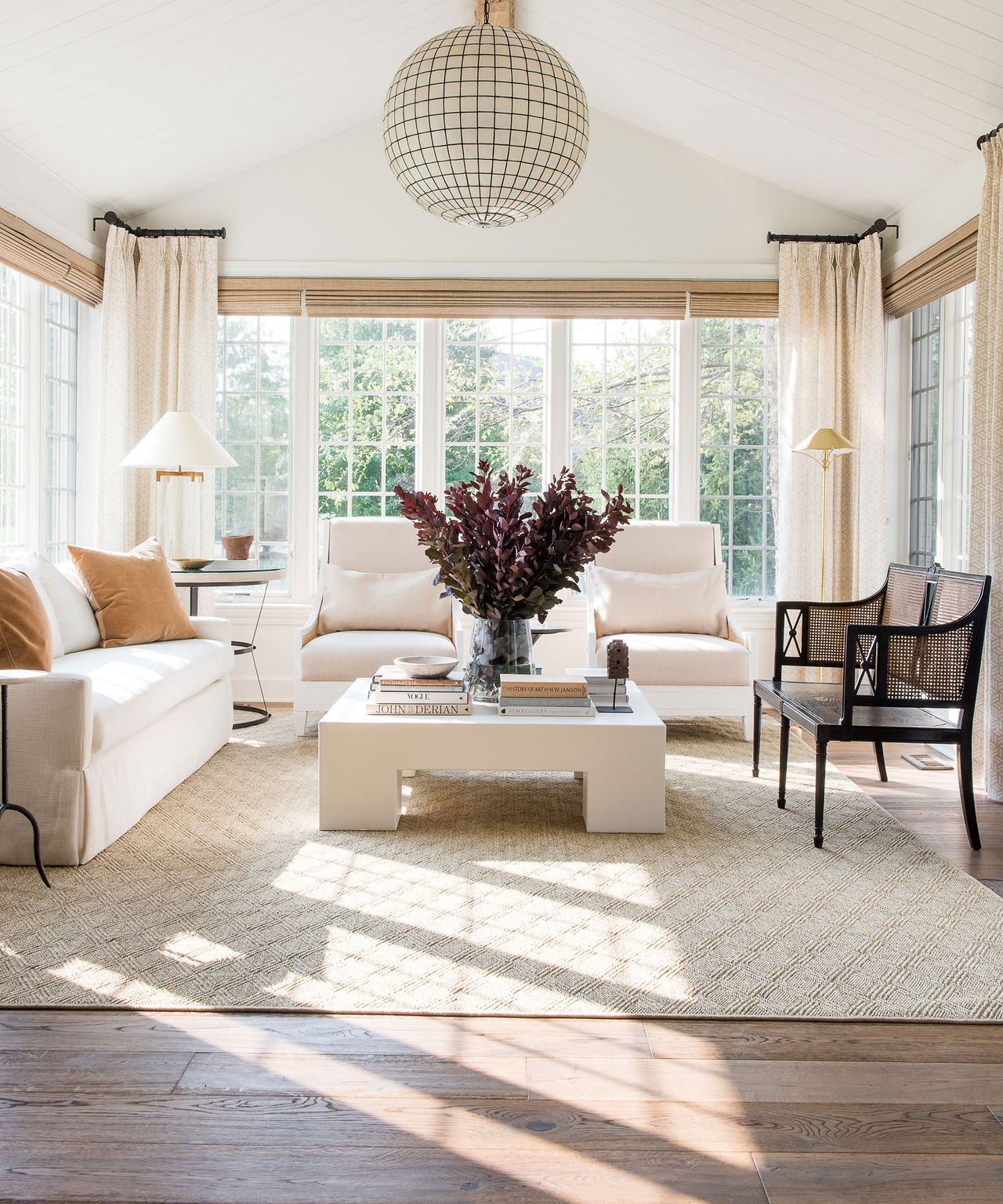 The main purpose of Scandinavian design is to improve daily life. Furniture is therefore not only about stylish elegance, but also about functionality – it should serve a purpose and stand the test of time.
'Select a few key pieces of furniture in each room that look good but also work hard, paired with a few carefully chosen accessories, fittings or soft furnishings to tie the room together,' says interior designer Whittney Parkinson, founder, Whittney Parkinson Design (opens in new tab).
For a Scandinavian sunroom, for example, a comfortable sofa and chair, simple floor lamp, a few large carefully placed houseplants, a woven rug, and accent cushions works well. Remember to only make space for items and furnishings that you truly love.
5. Go for a monochrome color palette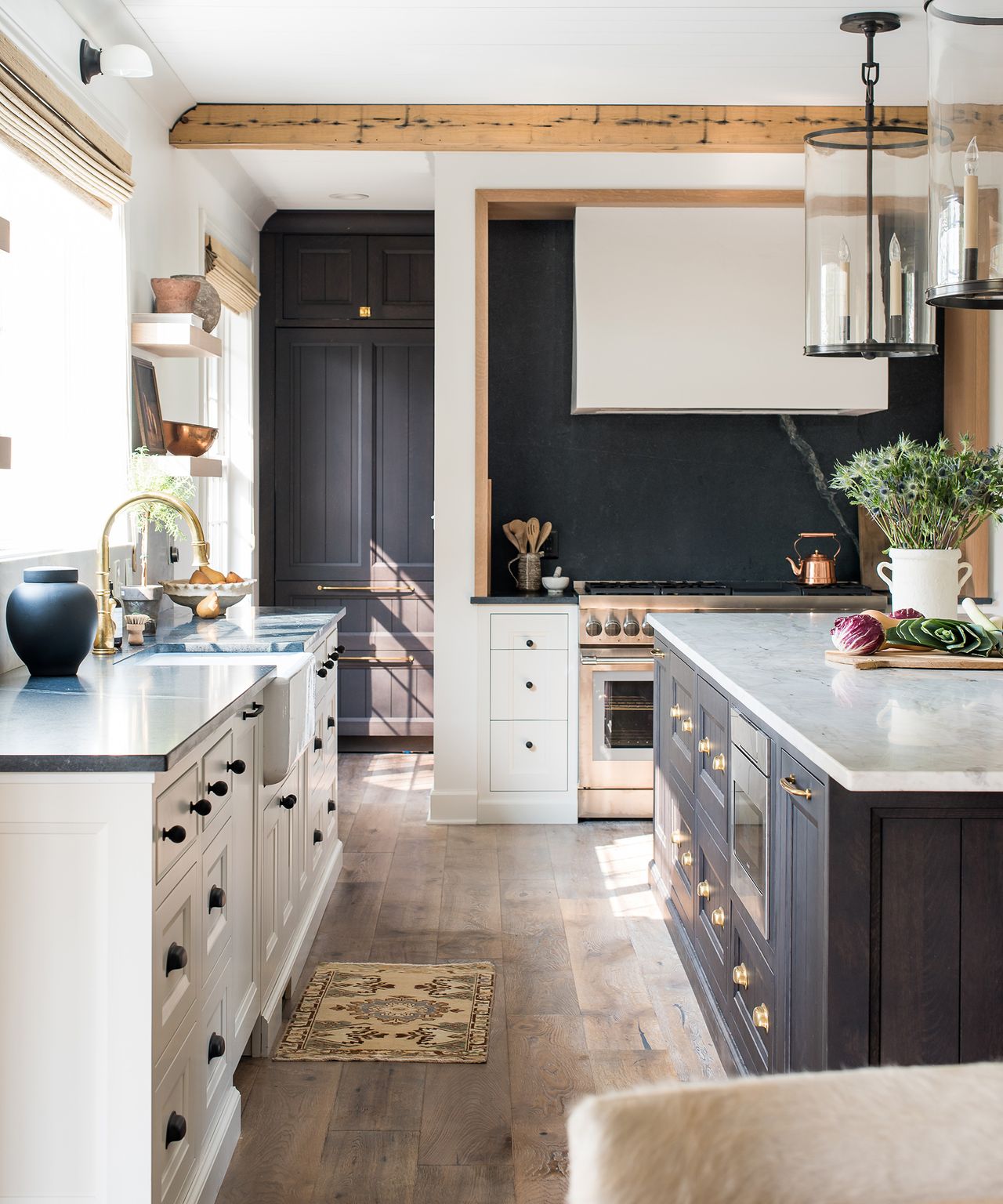 As a rule, Scandinavian design is simple and minimalist. When it comes to color, Scandinavian kitchens major in light hues for a practical reason – think white kitchen ideas or wood kitchen cabinet ideas in paler finishes. 'The Scandinavian countries are very dark in the winter and light colors and materials will reflect the little light there is,' says Sofia Bune Strandh, founder of Sola Kitchens (opens in new tab). 
A black and white decorating scheme is a brave choice, as it requires careful editing and a strong design eye. This type of Scandinavian interior can also appear 'flat' if you don't introduce texture and subtle tonal variety. But put together carefully, it's a great way to add drama and style. 'The client had one request for this space: black, white with a little warmth, says Whittney Parkinson. 'We achieved this by using a mix of wood finishes and paint colors. It really is a triumph of the senses. '
6. Instil a Scandinavian serenity in a work space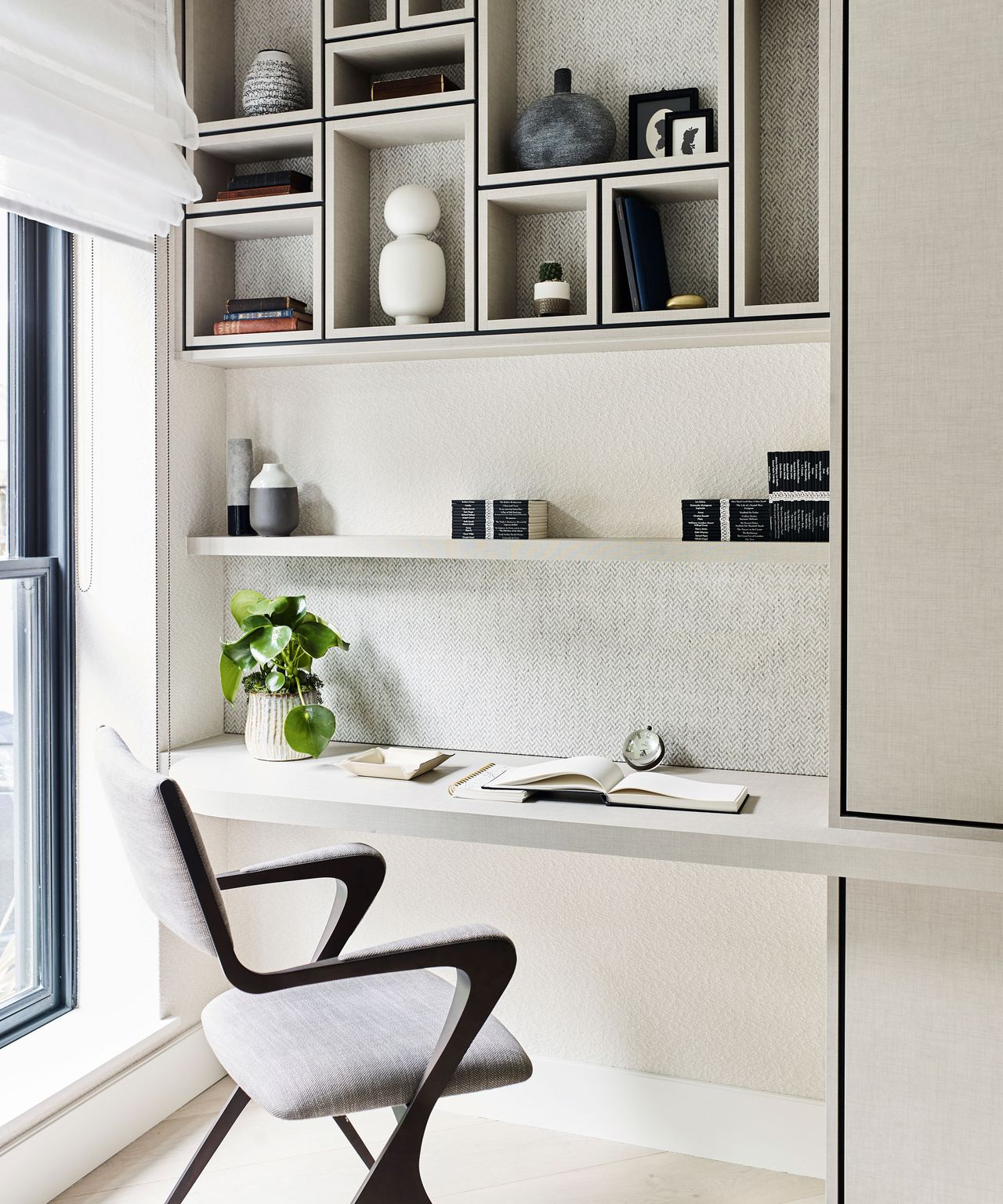 The home office is one room that has become essential in many of our spaces. Even though we all have different work styles and needs, there are some fundamental principles to follow. 
Consider a calm color scheme that stimulates and allows you to get focused,' says interior designer Bobby Berk (opens in new tab). 'For me, that means decorating with clean white walls and minimal color, often associated with Nordic design principles.'
'When I work I like to eliminate visual distractions and lots of 'stuff' – piles of paperwork and materials on a desk not only look messy, but they can also pull focus from the task at hand,' he says. 'Letter trays and filing containers keep clutter at bay, and, if you have the space, a cabinet allows you to keep that extra ephemera organized and out of sight.'
In this scheme, Irene Gunter of Gunter & Co (opens in new tab) has cleverly combined materials and textures to create contrast and a sense of dimension. A room without a lot of color can tend to look really flat when you stick with similar materials. That's why it's best to bring in warm wood tones, stone and textured accessories that will create a sense of depth.
7. Keep your space minimal and uncluttered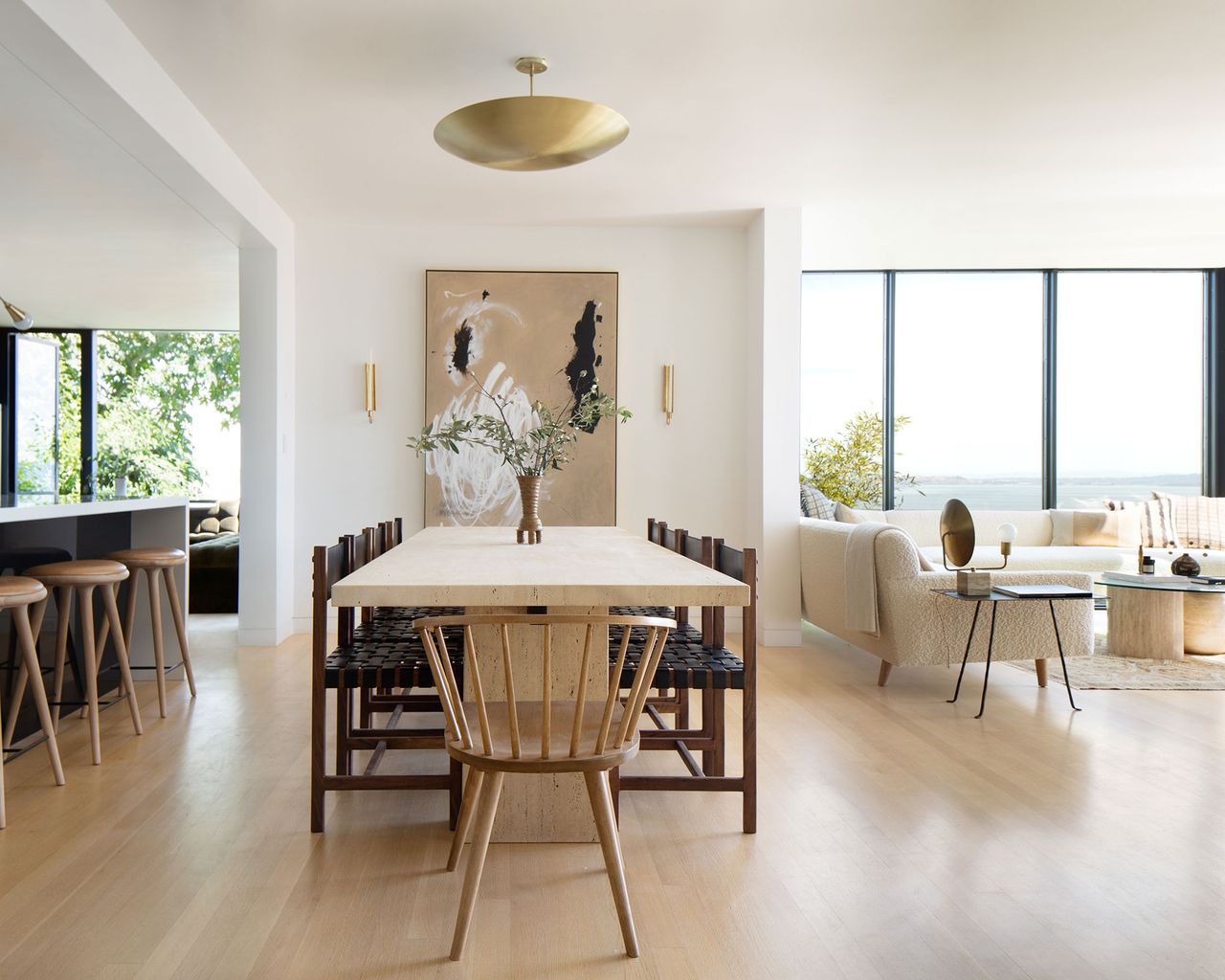 Designed by Joyce Downing Pickens of JDP Interiors (opens in new tab), this Scandinavian-inspired space in the Russian Hill neighborhood of San Francisco is a minimalists masterpiece. 
Minimalist living room ideas and Scandinavian décor ideas go hand-in-hand, so it pays to keep your color choices simple, understated and fuss-free. Authentic Scandinavian homes are becoming more obviously functional – with little or no decorative detailing. Instead, their style derives from simple, architectural lines, the sheer quality of the furniture and the materials used.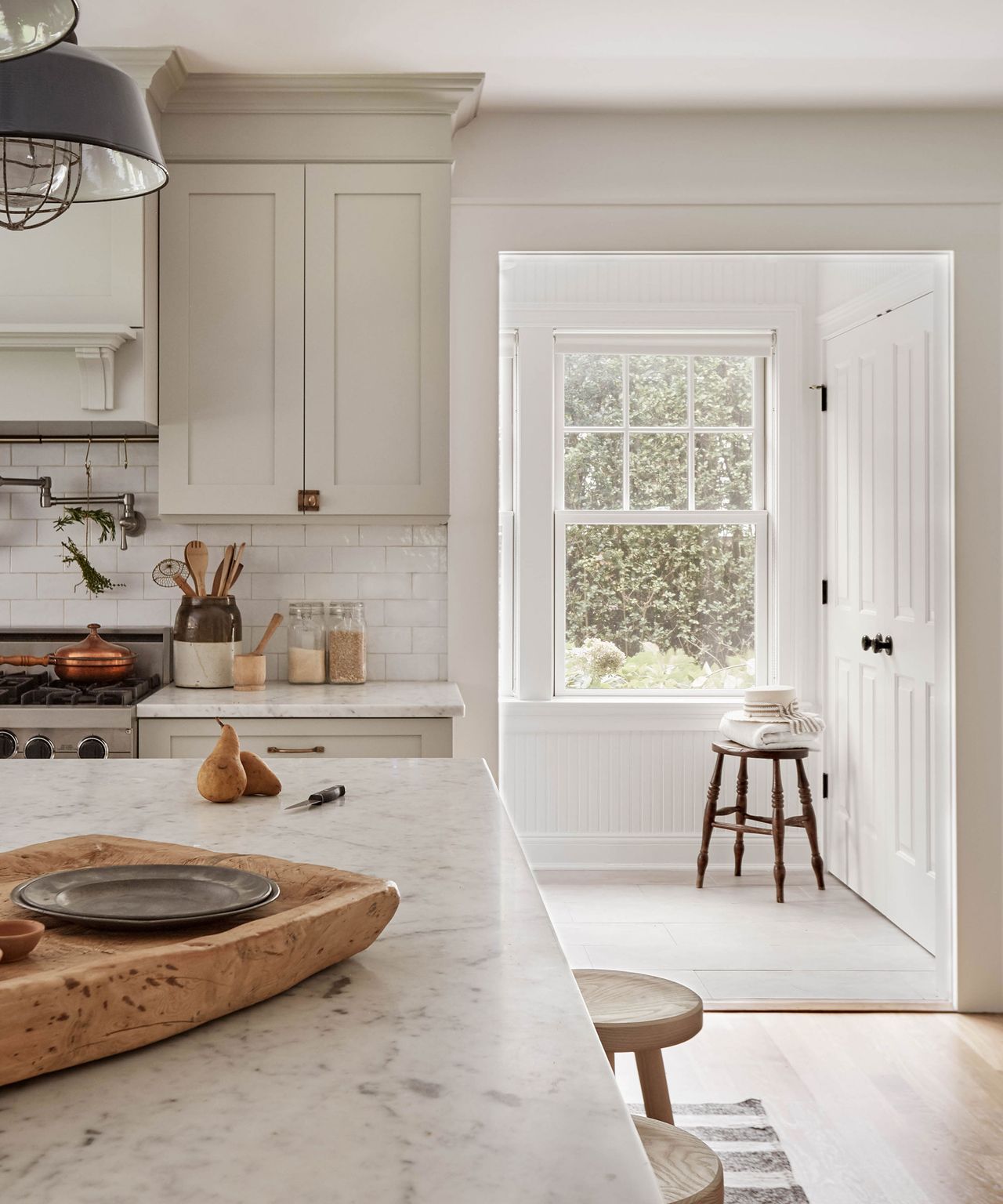 Scandinavian interior design is about functionality, so do consider bespoke, built-in cabinets, clever laundry room storage solutions and slimline seating to maximize every inch of space. 
An ideal solution could also be hidden shelving or 'pull out' cabinet, which does not encroach on living or cooking space – and can be opened and closed away as required. Not only will this ensure an orderly, calm area, but less fuss also means you'll be more able to relax and unwind.
9. Mix styles and trends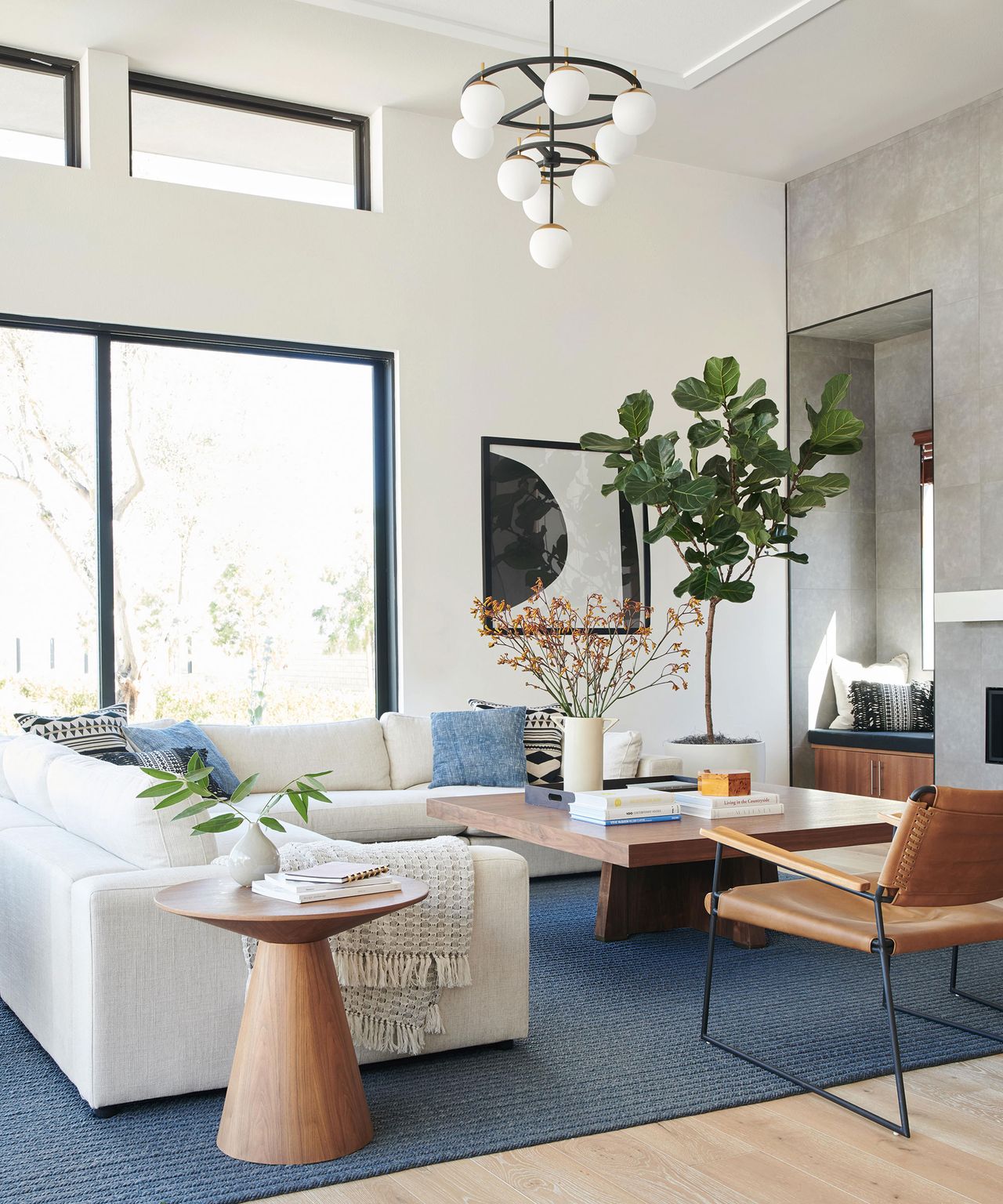 Give Scandinavian design a maximalist lift by pairing it with Bohemian living room ideas. 'Boho is one of those styles that is completely unique and able to be interpreted in so many ways,' says Bobby Berk. 'And for me, the most interesting and unexpected take is combining Boho with serene Scandinavian style for a truly 21st-century twist.'
'At the heart of this look is an eclectic mix of materials, patterns and eras. So when going modern, you still want to embrace those wide-ranging references, but instead of going maximal it's about being selective. Limiting your color palette to tone-on-tone is a good place to start, whether it's going with warmer or cooler shades. And bringing in white, black and wood tones will also help to amp up the modern feel.'
'For art, consider a large abstract painting or photograph to add visual interest. You could also opt for a framed textile to bring in something more eclectic. Accessories should also follow suit, with globally sourced items sitting next to simple ceramics and sleek pieces. Even the greenery you add can enhance the Scandinavian mood. Choose a large plant like a fiddle leaf fig that will bring in a sculptural feel.'
10. Decorate with natural materials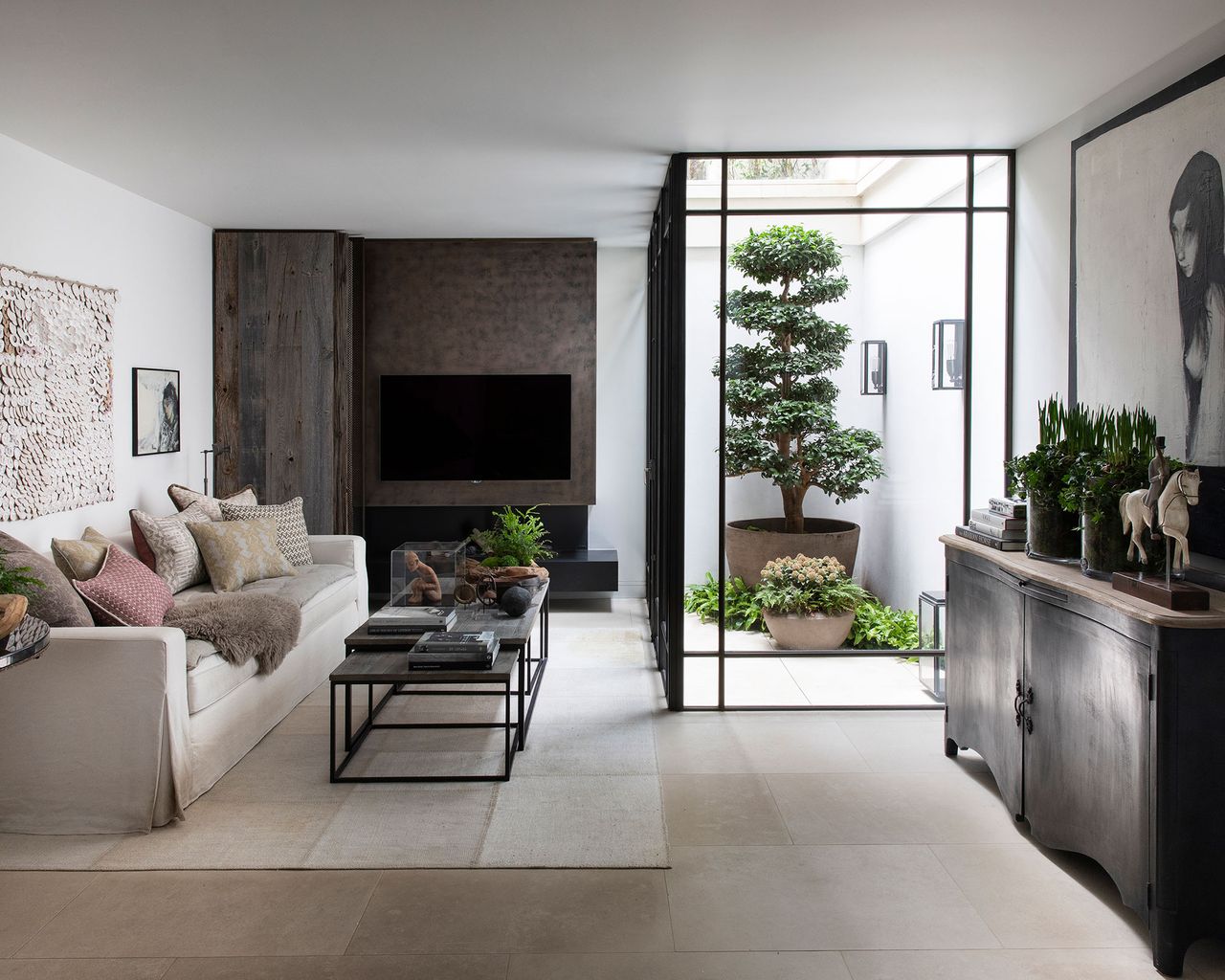 Bringing nature indoors doesn't only apply to plants. Use materials normally found outdoors and make them a part of your home's interior décor. Wood, wicker, rattan and stone all work well to enhance a Scandinavian scheme. 
Try adding natural elements into the home by decorating with natural materials such as wood, seashells, tree bark, flowers and feathers. The same feeling of being relaxed and free in nature can be brought into your home by stimulating the senses.
'The joys of nature cannot be underestimated,' lifestyle expert at Contura, Catharina Björkman. 'We feel peaceful and more relaxed in the company of nature; plants, raw materials and ethereal color schemes remind us that we're part of a much larger world – and that we're privileged to share it with nature.'
'There is also a possibility that natural materials may be good for our health,' says Sebastian Cox. 'Biophilic design has a set of clear principles, one of which is to use natural materials to reconnect us to the natural world.'
What are Scandinavian colors?
Pale color palettes are best associated with Scandinavian décor ideas.
Subtle nuances of color are why James Thurstan Waterworth, founder of Thurstan, favours neutral colors in his Scandinavian-inspired schemes because they create a soft springboard from which antiques, art and other embellishments are able to sing. 'You can then build out from here with tactile surfaces, patterned textiles, eclectic furnishings and more modern flourishes to create layers of interest, while still allowing all the individual elements of the interior to breathe.'
'I gravitate towards naturals palettes, and materials too, as for me they bring a certain timelessness and longevity to design.'