Steps to take to find the right person or team for the job
Reviews and recommendations are unbiased and products are independently selected. Postmedia may earn an affiliate commission from purchases made through links on this page.
Article content
When Sasha Kern and Matt Currie bought "an old, large" Vancouver Special in Riley Park for their family of five, they knew they would need help. Professional help.
Article content
"We had never hired an interior designer before," Kern said. "But we knew the house needed to be renovated. And my husband and I have done renovations before, but this had a layout that felt overwhelming. It wasn't just, like, redo the bathrooms. We were going to have to move walls and make everything work together stylistically. It felt like a lot. That's when we decided that we wanted to get a designer."
Article content
Choosing an interior designer to work with can be overwhelming. According to Andrew Gardiner, executive director at Interior Designers Institute of British Columbia, about 800 people are registered with the institute. Half of those are students, Gardiner said. Many more designers and decorators, perhaps hundreds, aren't registered.
Article content
To qualify, a member needs a formal education in interior design, a two-year apprenticeship with a certified interior designer, and a passing mark from the Council of Interior Design Qualification examinations.
"Interior designers bring an understanding of people's behaviour or the utility of a building to create that functional space as opposed to just kind of decorating or furnishing that space," Gardiner said.
"There are many interior designers out there who may decorate as well, but not many decorators do the actual interior design work."
Not everyone who calls themselves an "interior designer" has the training required by IDIBC. The industry lacks mandatory regulation in the province.
"There is currently no legislation that prevents unqualified persons from practicing interior design in B.C.," Gardiner said.
Article content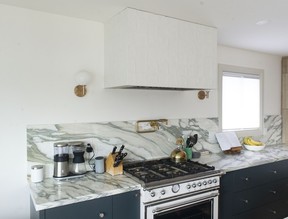 "One thing that is required for our members, and that we do advise the public on, is to ensure that your interior designer is using written contracts and quotes on services. And, of course, that the designer is carrying the appropriate liability insurance for any work done."
A fully qualified designer is trained in ergonomics, has access to products beyond Bed Bath and Beyond, is aware of building codes, trends, and new products on the market, and will have the knowledge and experience to work with architects.
That said, a homeowner might simply be looking for decorating tips. Then, an interior decorator or designer without the training required by IDIBC would do.
Ultimately, the decision comes down to the job size, budget, personality, and taste. Rates can vary from $50 to $500 per hour, depending on experience, the firm's size, and the project.
Article content
Ben Leavitt, of local design company PlaidFox, suggests that if a homeowner can't afford to hire a designer, they instead pay for just a consulting session. "They can give you ideas, and then you can kind of run with those ideas."
To find the right person or team for the job, checking out local designers' websites and social media feeds is a start. Attending home and design shows is another option.
Kern found her designer the old-fashioned way, through referrals.
The first person she met with, though, turned out to be a bust.
"It was not a great interaction," she said. "We had already had a contractor walk through at the same time we had the inspection, and he gave us a rough estimate of what it would cost. And I trusted him because he built a friend's house. So, we had a budget."
Article content
The first designer "was just kind of patronizing. They were like, 'Oh, you're not gonna be able to do that for this much.' It seemed like it was too small of a job for them." ("They still charged us for the consulting fee," interjects her husband.)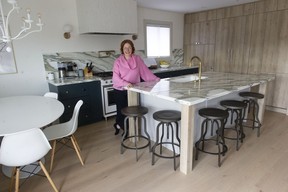 The couple clicked with their next designer, Gillian Segal. Referred to by Kern and Currie's realtor, Amy Trebelco of the Mary Cleaver Group, Segal turned out to have been a past client of Kern's. Kern works as a sleep coach for infants.
"I had totally forgotten that she was an interior designer," Kern said.
Segal is the principal and founder of local firm Gillian Segal Design.
"We didn't know what we were looking for, honestly," Kern said. "But Gillian was very much like, 'Yeah, we'll make it work.' She said, 'I can give you options in all budgets.' And we knew immediately that she had great style and great instincts. And working with her was fun. She had me start Pinterest boards of the stuff that I like, just compiling things that we liked, and sending her everything."
Article content
More importantly, Segal "thought of stuff that we never would have thought of."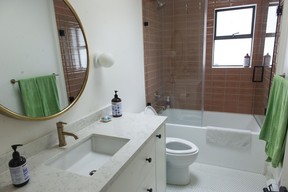 Her main contribution was in the kitchen, said Kern, who also wanted to give a shout-out to contractors Centurion Property Group for making "all of the crazy design choices possible."
"It has three different coloured cabinets. She mixes two different colours and then a wood, and she also mixes finishes, which is pretty revolutionary. We have gold and silver in our kitchen. Not everything matches. And it looks beautiful."
Other suggestions included tiling the hood fan.
"It took my husband some time to think about it, and now it's one of our favourite things."
The most eye-catching renovation was to a rounded staircase in the 1983 house.
Article content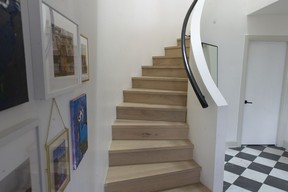 "Think of something out of the TV series Dallas, this large grand staircase that winds around. We knew we didn't want the wood spindle; it was just bad and dated. We were thinking, Oh, we have to replace it with a metal railing. And she drywalled it so that it's all one long line. It's gorgeous. She really thinks outside the box. She came up with a lot of things where we would just be like, Oh, I didn't think of three different tiles in our bathroom. But why not?"
Asked if she has any advice for people thinking about hiring an interior designer, Kern recommends "personal references, either from friends or your realtor. I think social media is probably overwhelming."
A designer's love of layered neutrals and clean-fresh style shines through in this Oakridge new build

A reimagined kitchen that's intimate in scale, but big on timeless style

Vancouver townhome reno a mix of 'saves' and splurges

A designer brings a restaurant-inspired layout and moody vibe to her own dream kitchen
link