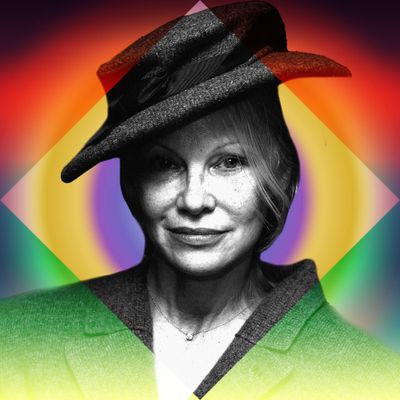 Photo-Illustration: The Cut: Photo: Getty
Last month during Paris Fashion Week, Pamela Anderson went makeup-free, and all hell broke loose. Of course, the New York Post had to comment on it, as well as other major news outlets like CNN, the Los Angeles Times, and many of the beauty-fashion sites like Elle and Allure. The response was wildly positive overall.
Admittedly, she sported an eye-catching look. But none of what I've read about it over the past couple of weeks fully explained why her choice was so potentially meaningful for her. Either completely barefaced except for moisturizer (a rose oil she says she makes herself) or with only a couple of swipes of mascara and lip gloss, her long hair air-dried and loose about her shoulders, she looked like an actual civilian human (rather than a celebrity one), which was — no question — refreshing. Her natural loveliness was evident in many ways; she described in a video for Vogue France that she's happier than she's ever been in her own skin; that she no longer feels she needs to compete to be the prettiest girl in the room; that at her advanced age of 56, she's feeling a little rebellious.
But most important, Anderson's message about going makeup-less strikes at the heart of why beauty culture is often so crippling for women. She said she "wants to be herself," which can mean a lot of things, among them that she doesn't quite feel comfortable when she's fully adorned. The larger message, though, is about objectification.
Photo: Arnold Jerocki/Getty Images
In the Vogue France video, Anderson talks longingly about being alone in Paris, unencumbered by a team of groomers, makeup artists, hairdressers, and stylists, and how much more content she is to be able to walk around the city alone, appreciating its beauty. (She mentions how many women at the shows — not models — have to spend hours in the makeup chair before they even can leave their hotel room.) What she's implying is that she's decided to assume the role of "looker" rather than her usual role as the passive "looked at," which, as she's evidently discovered, completely changes one's relationship with the world. It's easy to be very happy, noticing things to admire rather than looking only for ways to be admired.
"I feel like it's just freedom; it's a relief," Anderson said about going without makeup. But freedom from what? Freedom from the time spent in preparation from the small crowd of fixers, sure, but her most profound sense of freedom surely comes from recognizing and implementing her own agency: She's no longer tethered to the imprisoning template of what she admits is partly her own creation, Pamela Anderson: Object of Desire. She's Pamela Anderson: Person. Huzzah!
Still, the media hysteria. Anderson is a performer. And there's something inarguably performative about her choice to appear barefaced at the Paris shows. "I didn't want to distract from the clothes," she said (specifically when she was dressed in her friend Vivienne Westwood's ensemble). But, of course, that's exactly what she did by calling attention to her lack of makeup. So it feels fair to call her choice a stunt — a successful one.
Photo: Rachpoot/Bauer-Griffin/GC Images
And Anderson isn't the first celebrity to appear completely without makeup in a very public way. In 2002, Jamie Lee Curtis posed for More magazine in her underwear with no makeup and no retouching. Still fond of the idea, Curtis recently posted a supportive message on Instagram about Anderson's choice.
Marc Jacobs in 2014 sent his models down the runway completely barefaced. And a couple of years ago, Alicia Keys bared her soul in an essay for LennyLetter.com about why she eschewed adornment. Since then, we've seen the growing popularity of the "no-makeup" makeup look, along with many barefaced celebrity selfies  and videos, all of which have acclimated us to seeing them in their most unglamorous, natural condition.
Photo: Darren Gerrish/Getty Images for Victoria Beckham
It's worth keeping in mind that Anderson, even without makeup, even in her mid-50s, continues to very much align with the Eurocentric beauty ideal (with or without professional aesthetic assists): blonde hair; wide-set light eyes; button nose; clear, unlined skin; and full lips. She's also wealthy and enjoys the kinds of privilege unavailable to most of us, which makes her "rebellion" far less risky. In fact, she might even use her choice not to conform as a way to buoy her brand. Last spring, she debuted her first swimwear collaboration. The recent boatload of press couldn't be hurting that.

link